Commentary
Pierce's knee is the key to the series
Originally Published:
June 5, 2008
By
Marc Stein
| ESPN.com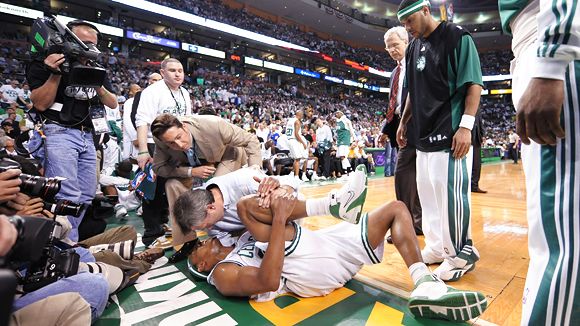 Brian Babineau/NBAE/Getty ImagesThe rest of the Finals looked bleak for Boston while Paul Pierce was clutching his knee in pain.

BOSTON -- After days of bar-raising buildup that pumped out all that purple and green and pretty much emptied the league's film vault, Game 1 of the NBA Finals finally arrived Thursday night, nagged by one pesky problem.

One stubborn question, really.

That question: Does this historic reunion of basketball's fiercest rivals, after more than two decades of waiting, have any chance of actually living up to its billing?

Our answer: It depends now on Paul Pierce's right leg.

If the first act was a trusty guide -- and if Pierce can indeed keep playing on his wounded knee as gamely as he did in his fairy-tale Finals debut -- Thursday's long-awaited reprise of Celtics versus Lakers on the game's grandest stage won't just be a nostalgia trip.

If we get more of this?

It's going to measure up better than you thought on the hype meter.

Yet we repeat: That depends on Pierce's health from here.

He will not be expected to rise up out of any more wheelchairs and throw in a pair of a game-turning triples shortly thereafter, as Pierce heroically did to cap a roller-coaster third quarter that propelled his Boston Celtics to a momentous 98-88 triumph over their auld enemy from Los Angeles.

But Boston knows it can't repeat that result three more times -- let alone come anywhere close to replicating these dramatic scenes -- unless Pierce can continue to grind through the pain. Which is no given judging by how Pierce, after registering 22 points in 31 minutes, looked as he exited the TD Banknorth Garden early Friday morning, drained of the adrenaline that kept him upright in Game 1.

I refer you to my ESPN.com colleague Chris Sheridan's story for the full details, after he tracked Pierce's agonizing walk to his car, but it's safe to say that there's a new question mark smothering this series.

Now you simply wonder how Pierce recovers. For as Celtics swingman James Posey helpfully reminds: "Paul's our guy."

Which is another way of saying that Pierce is probably Boston's most critical player in these Finals, no matter how much Boston had working in becoming the first team this postseason to put the Lakers in a hole, nor with any disrespect to defensive anchor/emotional compass Kevin Garnett (24 points, 13 rebounds).

The Celtics pounded the Lakers on the boards (46-33), got more from their reserves against the Lakers' celebrated bench and shamed L.A. -- so recently proclaimed by San Antonio coach Gregg Popovich to be "the best passing team in the league" -- with crisper ball movement. They also successfully hounded Kobe Bryant (24 points on 9-for-26 shooting) with their team defensive scheme in a manner that the Spurs could envy, with the Lakers contributing to their own decline by increasingly settling for jumpers and gradually forgetting about Pau Gasol (12 of his 14 points in the first half).

Not that the Celts are fooling themselves. Fast as he made it back onto the floor after teammate Kendrick Perkins slammed into his leg, Pierce didn't return as a rim-attacker. Ten of Pierce's 15 points in the third were amassed by adding those two late 3-pointers, separated by 22 seconds, to the four-point play he delivered in the first minute of the quarter on a banked three and foul shot courtesy of too-late contact from Vladimir Radmanovic. With his mobility compromised, Pierce then played less than half of the fourth quarter.

"A guy grabs his knee," Celtics coach Doc Rivers said, "there's no good thoughts."

Said Pierce: "I thought I tore something. Once I heard the pop and I couldn't move at first, I thought that was it. ... The doctor said I have a strained meniscus. We'll see how it feels tomorrow and the next day and we'll go from there."

And ...

"I was like, man, it can't be over like this," Pierce continued. "I think God just sent this angel down and said: "Hey, you're going to be all right. You need to get back out there. Show them what you've got."

History says he'll insist on playing hurt, even if a game off would help. Any doubts about Pierce's toughness were forever dispelled when he quickly recovered from that stabbing incident in 2000 that no one even brings up any more.

Yet you suspect that Pierce is facing an anxious weekend leading into Sunday night's Game 2. It probably won't go any faster for him that the unyielding stream of hype that framed his Willis Reed moment, which Pierce referred to as "the longest four or five days ever."

The good news? Boston was sufficiently thorough and impressive with its second-half comeback to suggest that this could wind up being more than "a nice little kick in the ass," as Kobe tried to dismiss it, should Pierce heal fast.

It's clear out here in the Northeast that they believe the hype. It was clear long before the comeback. The celebratory mood in the building was unmistakable when the assembled media gets served a pre-game meal of, yes, lobster.

Said Celtics teammate Ray Allen: "You can talk about [everything] going into it and the magnitude of the situation, what all this means for the history of the game and the history we all hope to make being a part of this. But, really, it depends on how everything [in the series] goes."

Marc Stein is the senior NBA writer for ESPN.com. To e-mail him, click here.
Senior Writer, ESPN.com

• Senior NBA writer for ESPN.com
• Began covering the NBA in 1993-94
• Also covered soccer, tennis and the Olympics
2008 NBA FINALS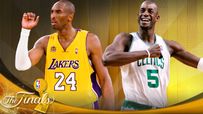 And then there were two -- the Lakers and Celtics. Who will win the NBA Finals? Let the games begin.
Finals schedule | Playoff bracket | Playoff home
Daily Dime
•
Celtics win 17th championship title
•
Did C's lose Regret Game?
•
A little help from Kobe's friends
•
Time for L.A. to go small
•
The Finals Can't Shake Donaghy Mess
•
Unlikely Game 4 comeback gives C's 3-1 lead
•
Rondo's ankle could change L.A.'s game plan
•
Kobe leads Lakers to Game 3 win
•
Lakers need to attack the paint
•
Lakers learn Powe's name in Game 2
•
Time for Gasol to step up
•
Lakers need better defense in Game 2
•
Pierce sparks Celtics in Game 1 victory
•
Expert predictions, clutch stats
•
Pierce loves playing Lakers
•
Celtics to meet L.A. in the Finals
Lakers vs. Celtics
•
Stein: Q&A after six-game "sweep"
•
MacMullan: Pierce's long road to greatness
•
Hollinger: From camp to champs
•
Stein: Boston's big three shine
•
Adande: Questions loom over Lakers' future
•
Hollinger: Celtics commit to defense
•
Scouts Inc.: Game 6 breakdown
•
Hollinger: Farmer steps up in Game 5
•
Sheridan: Late-game letdown for Celtics
•
Stein: Lakers ready to make history?
•
Adande: Greatness eluding Phil and Kobe
•
MacMullan: Doc adheres to dad's lessons
•
Jackson: Time for L.A.'s concession speech?
•
Stein: Game 4 not Kobe's finest hour
•
Adande: KG dominates Gasol again
•
Hollinger: Rivers makes all the right moves
•
Hill: Kobe's Laker legacy on the line
•
Hollinger: Vujacic lends helping hand in Game 3
•
Jackson: Jump shot Jesus has returned
•
Stein: Lakers need to earn sympathy
•
Adande: Lakers feel foul over whistle disparity
•
Jackson: Leading role suits Pierce
•
Adande: Kobe turns away from the pass late
•
Stein: Pierce's knee key to rest of series
•
Finals factor 1: Kobe Bryant
•
Finals factor 2: Celtics Defense
•
Finals factor 3: Paul Pierce
•
Finals factor 4: Home-court advantage
•
Finals factor 5: Battle of the benches
•
Hollinger: Lakers offense vs. Celtics defense
•
Broussard: Turning back the clock

•
Adande: How did Kobe get here?
•
Scouts Inc. breakdown: Lakers vs. Celtics
•
Coaching comparison: Red vs. Phil
•
Smith: Kobe's moving forward
•
Scoop: Fiendin' for a ring
•
Top 10 moments of Lakers-Celtics rivalry
•
ESPN Classic schedule: Relive the rivalry
TrueHoop
•
TrueHoop: Finals reflections
•
TrueHoop: Doc Rivers' redemption
•
TrueHoop: Lakers got Rondo'd
•
Tough night for Allen
•
Game 5 live blogging
•
Laker nation vs. NBA refs
•
Pierce and the evaporating knee story
•
Game 2 live blogging
•
Coaxing Kobe Bryant into hero mode
•
Game 1 live blogging
•
Today's game isn't so different
Simmons
•
Notes from the C's winning night
•
Boston's X factors
•
Game 4 running diary
•
Time for NBA Finals answers
•
The C's and city both look good
•
The Truth comes out in Game 1
•
NBA Finals forecast
•
Chat: NBA Finals preview
•
Simmons: You want a piece of Kobe, Boston?
ESPN The Magazine
•
Sporting Equivalency: NBA Finals meets hip hop
•
Broussard: Reporting from the NBA Finals
Fantasy
•
Join the fun of NBA Finals: Playcaller
Audio
•
Dish: NBA Finals recap
•
Wyc Grossbeck on C's championship
•
Ray Allen on how the Celtics evolved
•
Bob Ryan compares '86 C's to current one
•
Jon Barry credits Tom Thibodeau's team defense
•
Game 4 reactions
•
Rajon Rondo on Pierce, Game 2 plans
•
Bill Walton on Celtics-Lakers history
•
Dr. J on Finals, '80s hoops

MOST SENT STORIES ON ESPN.COM
ESPN.COM PARTNER: NBA.COM