Scouts Inc. Update: Spurs vs. Hornets, Game 4
Originally Published:
May 10, 2008
By
David Thorpe
| Scouts Inc.
• Spurs-Hornets series scouting report | Series page


In Games 1 and 2, New Orleans carved up the Spurs with an offense that featured Peja Stojakovic stretching the defense while Chris Paul made everything happen for himself and others inside the line. San Antonio came out in Game 3 determined to defend Stojakovic better, hoping to tighten things up for Paul and isolate him (somewhat) into being primarily a scorer. The fact that the Spurs accomplished that mission, while playing much better on offense, is the reason why we have a pivotal Game 4 and a series that is very much alive.
San Antonio defended Peja largely with
Bruce Bowen
, in a move that ended up helping the Spurs in two distinct ways. Peja is one of the best shooters in basketball, and like most shooters, he is dangerous when he gets into a rhythm. Bowen, though, is terrific at working to prevent his man from finding that flow. Bumping, pushing and blocking cuts and movements -- all within the rules -- are the effective ploys he uses. He also is so in tune with his assignments -- which helps him to locate and close out Peja in transition on half-court rotations before the other Spurs' defenders would. He is very aware defensively. While Peja found many open looks in Games 1 and 2, he saw few in Game 3. He was able to jab and drive past
Manu Ginobili
back in New Orleans, but couldn't against Bowen. He's also an effective post scorer, but cannot effectively back down Bowen. Peja finished just 2-for-7 from the field, and scored just eight points total, after averaging 23.5 points in the first two games of the series. The small number of shots taken by Peja will likely be corrected in Game 3 (he averaged 13.6 shots per game in 53 wins this season) by running him off pin-downs or flare screens. New Orleans needs an active Peja to open up the floor for Paul, and his 3-point game increases its overall scoring efficiency, which plays a big factor in road games. In Game 3, New Orleans made the same number of field goals as San Antonio did (41) and only two less free throws (15), but lost by 11 points. San Antonio made nine more 3-pointers in Game 3 than the Hornets. Defending Peja with Bowen had an added bonus, because it helped to limit Paul's outlet options after his dribble drives. San Antonio tried to keep its perimeter defense extended, forcing Paul to score or make short passes to his bigs. The Spurs consistently went under ball screens as well, literally giving Paul open jumpers. He finished the game 15-of-25 for 35 points, with nine assists, only the fourth time since March 22 he's had less than 10 assists in a game. It was also just the fourth game all season Paul took that many shots in regulation, so San Antonio was successful in making Paul play a game he's not accustomed to playing. He played extremely well, but it might have bothered the other Hornets, because his teammates depend so much on Paul to make things happen for them. Paul isn't guardable at this point in his career, and forcing him to be a scorer is very dangerous territory. San Antonio can continue to play under ball screens, but it needs to recover much faster to at least contest Paul's shot, or he may get 45 in Game 4. The Spurs were sharp on offense, taking advantage of New Orleans' strategy of forcing
Tim Duncan
to deal with multiple defenders when he has the ball. Gregg Popovich turned
Tony Parker
and Ginobili (who started the game -- an indication of just how desperate San Antonio needed this win) loose, letting them create by feel instead of asking them to grind out each possession. It was smart: Parker and Manu were able to penetrate and finish on paint shots and midrange jumpers, all while cutting down their mistakes by not worrying about breaking off the offense. San Antonio finished with 10 turnovers after committing 21 in Game 2, and their two guards combined for 62 points. They allowed Duncan to be a perfect decoy instead of forcing things to him. And they got great performances from their weakside shooters (11-of-25 from 3), something they'll need again because it is likely New Orleans will force them to make shots again rather than allow TD to get loose inside. Parker really pushed the pace with the ball, an adjustment the Hornets will make in Game 4 -- they must do a better job in transition defense after made shots. The Spurs also ran Parker off some "single-doubles," taking some pressure off of him to constantly create his own shot. As long as the Hornets make defending Duncan with more than one player their top priority, Parker and Manu will have an open court to attack.
Fabricio Oberto
did not put up any kind of impressive numbers on offense, but he played a pivotal role on that side of the floor. In order to create good looks for the crowded Duncan, the Spurs worked some post-to-post sets, relying on Oberto to deliver short and crisp passes to him for layups or to set up another pass for a bucket (a "Gretzky"). Good strategy, because his size and the spacing between him and Duncan make it more difficult for New Orleans to react and take that away. The Hornets may start denying Oberto, hoping to take away this option in Game 4. San Antonio has to be encouraged by its offense in Game 3, but discouraged that it played so well but still had to work so hard to get the win. The Spurs finally performed well in the third quarter, and a good thing too. New Orleans will not be beat with anything less than four solid (if not spectacular) quarters. The Spurs still are having difficulty countering the athleticism and energy provided by New Orleans, especially from their bench players. They showed some zone in an effort to slow Paul, but could not get a defensive rebound out of it. The Spurs played terrific basketball overall, and yet they had to fight for 46 minutes to get the win. That's how good New Orleans is. If Game 4 was to be played after just one off day, I'd strongly believe that the Hornets would be the more advantaged team. But with an extra day of rest, the teams are more even. And in a tight game, I'll give the edge to the best playoff closers in basketball. This will be a must-watch game.
PREDICTION: Spurs win Game 4

David Thorpe is an NBA analyst for ESPN.com and the executive director of the Pro Training Center at the IMG Academies in Bradenton, Fla., where he oversees the player development program for NBA and college players. To e-mail him, click here.
Synergy Sports Technology systems were used in the preparation of this report.
NBA Analyst for ESPN.com
Executive director of Pro Training Center
Started coaching career in 1987
SPONSORED HEADLINES
MORE NBA HEADLINES
MOST SENT STORIES ON ESPN.COM
2008 NBA PLAYOFFS Round 2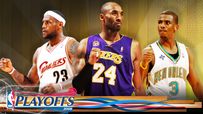 LeBron, Kobe and CP3 dominated Round 1 of the 2008 NBA playoffs, where the top four seeds in each conference advanced to the second round.
Playoff schedule | Playoff bracket | Playoff home
Daily Dime
•
Daily Dime: Lakers end Jazz season in Game 6
•
Daily Dime: Spurs dominate Hornets in Game 6
•
Daily Dime: Rondo gets C's rolling in Game 5
•
Daily Dime: Hornets one win from advancing
•
Daily Dime: Celtics with road woes
•
Daily Dime: Williams puts Utah on his back
•
Daily Dime: Cavs roll in Game 3 victory
•
Daily Dime: Boozer makes impact in Game 3
•
Daily Dime: Spurs keep head above water
•
Daily Dime: Kobe's most valuable promise
•
Daily Dime: Beauty is in eye of beholder
•
Daily Dime: CP3 making Spurs look old
•
Daily Dime: Kobe free to reign in Game 1
•
Daily Dime: Hornets sting the champs
Columns
•
Hollinger: Handing out some playoff awards
Cavaliers vs. Celtics
•
Windhorst: LeBron's chance to be Jordanesque
•
Sheridan: Legacies on the line for Celtics
•
Sheridan: Screwball finish to Game 6
•
Sheridan: Allen finds his range
•
Windhorst: Cavs search for offense
•
Windhorst: LeBron likes his chances
•
Scouts Inc.'s series breakdown
•
Wojciechowski: Rest easy, Celtics ... for now
•
Jackson: Do you still love the Celtics?
•
Series page: More coverage
Magic vs. Pistons
•
Magic eliminated, but won't disappear
•
Hollinger: Hunter dusts off rust
•
Hollinger: Pistons win without Billups
•
Scouts Inc.'s series breakdown
•
Series page: More coverage
Jazz vs. Lakers
•
Adande: Kobe plays supporting role
•
Adande: Jazz find Lakers out of tune
•
Wojciechowski: Miller won't listen on the Sabbath
•
Adande: A year to remember for Fisher
•
Scouts Inc.'s series breakdown
•
Series page: More coverage
Spurs vs. Hornets
•
Stein: Spurs knew Hornets were trouble
•
Neel: Enjoy Chris Paul while you can
•
Hollinger: Champs back to winning ways
•
Palmer: Birdman's redemption bittersweet
•
Adande: Chris Paul's mean streak
•
TrueHoop: Spurs stung twice by Hornets
•
Scouts Inc.'s series breakdown
•
Series page: More coverage
TrueHoop
•
Stat Geek Smackdown: 2008 playoffs
SportsNation
•
Which teams will advance to conference semis?
•
Rank the remaining eight playoff teams