If Cavs keep it close, mighty Celtics could collapse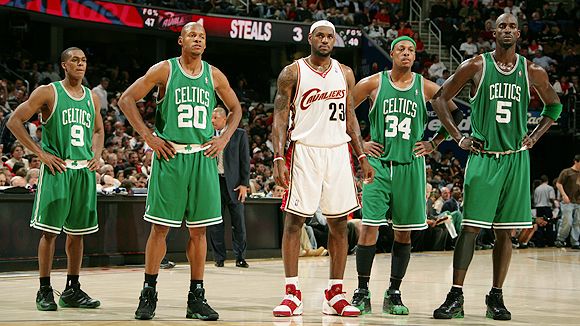 David Liam Kyle/NBAE via Getty ImagesKeeping LeBron James surrounded by four defenders all series long might be a good idea for Boston.

BOSTON -- The Cleveland Cavaliers don't want to see Gino.
The popular facet of the reinvented Boston Celtics mystique -- the one with a dance team and a dunking leprechaun mascot -- is the new version of the Red Auerbach victory cigar. It's a 1970s-era "American Bandstand" clip with a resplendent male dancer in bell bottoms, a glorious coiffure and beard, and a T-shirt that reads "Gino." When the game is in hand and the clip hits the videoboard, the faithful at the new Garden go as wild as the fans at Fenway during "Sweet Caroline."
Most of the time this season, Gino has been called in by the middle of the fourth quarter, as the Celtics have made a habit of blowing out opponents at home. Try 14 wins of 20 or more points during the regular season and four wins by an average of 25 points over the Atlanta Hawks in the first round.
"They try and hit people early like a lot of heavyweight prize fighters who try to knock people out in the first round," said Cavs guard Wally Szczerbiak, whose team begins its East semifinal series with the Celtics on Tuesday in Boston.
The style of the Celtics is the antithesis of the style of the Cavs, who, purposely or not, have made fourth quarters must-see TV during most of the season. No other team in the NBA has had as many fourth-quarter comeback victories. Most of the time, it has been due to heroics from LeBron James, who led the NBA not only in fourth-quarter scoring during the regular season but also in so-called clutch time, the final five minutes of a game when neither team is ahead by more than five points.
[+] Enlarge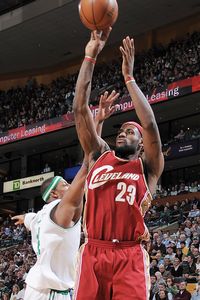 Brian Babineau/Getty ImagesThe Cavs like their chances with LeBron in clutch situations.
All that was before the Cavs watched the Celtics fail to put away the Hawks in any of the three close games in the opening series, even when it looked like Boston had safe leads late in the games. When a game was close, the Celtics couldn't close. They couldn't stop Joe Johnson, their poise was questionable at best and some noticed their conditioning didn't appear to be sound after they spent much of the season on cruise control late in games.
There's plenty of other strategy to deal with, but the Cavs know one thing as they try to unseat the East's No. 1 seed for a second straight season: The longer the game stays close, the better chance they have.
"It is going to be vital for us to keep our poise and play through their runs," Cavs coach Mike Brown said. "That is a great team at home because they have self-motivators that feed off that crowd."
This will be especially important in the first two games in Boston, when the confident Cavs might have their best shot against the still-shaky Celtics, following Boston's unexpected troubles against the Hawks.
"We're going to approach it like we approach every series," James said. "We're going to try to get stops and execute on the offensive end. We want to compete and give ourselves a chance to win as many games as possible."
By now, that simple formula has become gospel for James. Although the personnel around him has changed, the style and the substance of the team are the same, and he has reason to believe in it. This is James' eighth playoff series in just his third postseason, and he already has a pretty impressive 5-2 record. Those five series wins, by the way, are more than either Kevin Garnett, Ray Allen or Paul Pierce has, and Boston's big three have a combined 35 NBA seasons.
When they made their unexpected playoff run in 2007, the Cavs allowed the fewest points per game in the postseason (86.7). This year, they picked up where they left off in the first round against the Washington Wizards, a team known for its offense. The Cavs held the Wizards to 88 or fewer points in four of the six games and to 42 percent shooting in the series. That effort kept them in almost every game and, in every game, they had the best player at the end.
Until the 2007 Finals, when they let two home games slip through their fingers, the Cavs were 8-3 in playoff games decided by five or fewer points. Most of the time, James was the difference-maker.
During this regular season, the Cavs beat the Celtics twice, both times by five or fewer points and both times with James making the plays down the stretch to deliver the wins. He averaged 35.5 points in those wins. Until the streak was snapped in February in a loss in Boston, James had scored 30 or more points in nine straight games against the Celtics, a feat equaled only by Wilt Chamberlain.
The Celtics play some of the most physical defense in the NBA, especially on the perimeter, where they apply pressure to the ball handlers. When the Cavs lost to the Celtics in February in Boston, they marveled at just how aggressively the Celtics played defense. A week later, Tracy McGrady said the same thing when the Celtics shut him down and ended the Houston Rockets' 22-game winning streak.

If they double-team me, it won't be something I haven't seen before. It may have caught Joe [Johnson] off guard, but it won't catch me off guard.
-- LeBron James
That physical style doesn't work so well on James, who handles pressure well because of all his experience with double-teams. He has the ability to sense where the defenders are coming from and, at 6-foot-8, he often can see over them to find an open man. As he said, "If they double-team me, it won't be something I haven't seen before. It may have caught Joe [Johnson] off guard, but it won't catch me off guard."
It does, however, affect the Cavs' point guards. Daniel Gibson and Delonte West both have trouble dealing with pressure, and in the past each has been an inconsistent ball handler. The Cavs hemorrhaged turnovers at times against the Wizards, and turnovers lead to fast breaks and runs, which the Cavs can't afford against the Celtics.
But West, Gibson, Szczerbiak and the now-healed Sasha Pavlovic will have even more important roles against the Celtics, beyond dealing with the pressure, defensive and otherwise, that comes with playing a deep, talented, 66-win team. They will need to hit shots. The Cavs' defense is a constant, and so is their rebounding, but their shooting and offense have been spotty. When the players around James maintain their composure and hit shots, the Cavs suddenly have the look of a championship team.
Both West and Gibson shot 50 percent from 3-point range in the series victory over the Wizards, and Szczerbiak made six 3s in the clinching Game 6. It was not unlike the performance last May when the Detroit Pistons' defense on James was shredded by his aggressive drives and the shooters who burned them when they brought help.
The Cavs believe that if they get it all working with James' talent, there isn't any team they can't beat.
"My teammates need to be confident, and I'm going to help them. I am excited about the way we played in the first round; this is the best time to be playing well," James said. "When I'm on the court, we always have a chance."
Brian Windhorst covers the Cleveland Cavaliers for the Akron Beacon Journal.
ESPN.com
ESPN.com NBA writer since 2010
Covered Cleveland Cavs for seven years
Author of two books
2008 NBA PLAYOFFS Round 2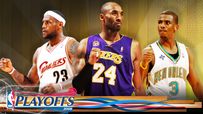 LeBron, Kobe and CP3 dominated Round 1 of the 2008 NBA playoffs, where the top four seeds in each conference advanced to the second round.
Playoff schedule | Playoff bracket | Playoff home
Daily Dime
•
Daily Dime: Lakers end Jazz season in Game 6
•
Daily Dime: Spurs dominate Hornets in Game 6
•
Daily Dime: Rondo gets C's rolling in Game 5
•
Daily Dime: Hornets one win from advancing
•
Daily Dime: Celtics with road woes
•
Daily Dime: Williams puts Utah on his back
•
Daily Dime: Cavs roll in Game 3 victory
•
Daily Dime: Boozer makes impact in Game 3
•
Daily Dime: Spurs keep head above water
•
Daily Dime: Kobe's most valuable promise
•
Daily Dime: Beauty is in eye of beholder
•
Daily Dime: CP3 making Spurs look old
•
Daily Dime: Kobe free to reign in Game 1
•
Daily Dime: Hornets sting the champs
Columns
•
Hollinger: Handing out some playoff awards
Cavaliers vs. Celtics
•
Windhorst: LeBron's chance to be Jordanesque
•
Sheridan: Legacies on the line for Celtics
•
Sheridan: Screwball finish to Game 6
•
Sheridan: Allen finds his range
•
Windhorst: Cavs search for offense
•
Windhorst: LeBron likes his chances
•
Scouts Inc.'s series breakdown
•
Wojciechowski: Rest easy, Celtics ... for now
•
Jackson: Do you still love the Celtics?
•
Series page: More coverage
Magic vs. Pistons
•
Magic eliminated, but won't disappear
•
Hollinger: Hunter dusts off rust
•
Hollinger: Pistons win without Billups
•
Scouts Inc.'s series breakdown
•
Series page: More coverage
Jazz vs. Lakers
•
Adande: Kobe plays supporting role
•
Adande: Jazz find Lakers out of tune
•
Wojciechowski: Miller won't listen on the Sabbath
•
Adande: A year to remember for Fisher
•
Scouts Inc.'s series breakdown
•
Series page: More coverage
Spurs vs. Hornets
•
Stein: Spurs knew Hornets were trouble
•
Neel: Enjoy Chris Paul while you can
•
Hollinger: Champs back to winning ways
•
Palmer: Birdman's redemption bittersweet
•
Adande: Chris Paul's mean streak
•
TrueHoop: Spurs stung twice by Hornets
•
Scouts Inc.'s series breakdown
•
Series page: More coverage
TrueHoop
•
Stat Geek Smackdown: 2008 playoffs
SportsNation
•
Which teams will advance to conference semis?
•
Rank the remaining eight playoff teams