Cavs searching for answers on offense
Originally Published:
May 10, 2008
By
Brian Windhorst
| Special to ESPN.com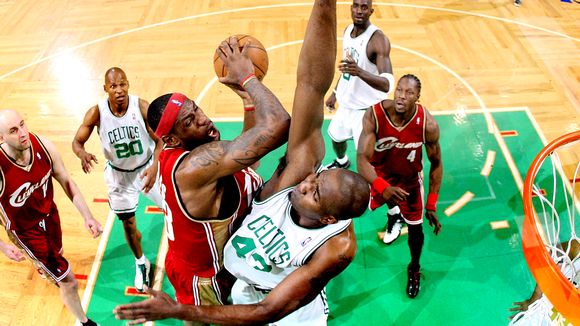 Elsa/Getty ImagesThe Celtics always have at least one defender to meet LeBron James wherever he goes on the court.

CLEVELAND -- As part of their preparation for Game 3 tonight against the Boston Celtics, the Cleveland Cavaliers and their coaching staff thoroughly reviewed game film of their weak offensive efforts in Games 1 and 2. The question is, was it the right game film?
As the Cavs attempt to figure out how to dent the Celtics' rough and athletic defense, they may want to look to the past to help them with the present. Going back to the strategy -- and the type of lineup -- that won them the Eastern Conference title last year may be the best medicine. A bit of the old could certainly provide a more positive outlook.
It's hardly new territory for Cleveland, which trails Boston 2-0 in the series and is looking to figure out how to exploit one of the NBA's greatest offensive talents in LeBron James.
This is the fourth time in the past three seasons the Cavs have lost the first two games of a series, and offensive woes have been the common thread. These struggles are an extreme sore point for the team's fans, who have watched three different offensive systems grind to a halt around James in the postseason.
But the Cavs and coach Mike Brown do have some positive memories to look back on, which may be just what they need to do.
Last season the Cavs' offense was a mess in their first two losses to the Pistons in the Eastern Conference finals. They averaged only 76 points and shot just 38 percent in the first two games at the Palace of Auburn Hills.
James averaged 14.5 points and shot 35 percent in those games as the Pistons employed a defense very much like the one the Celtics are using now. Detroit's Tayshaun Prince, a very long perimeter defender, made it tough for LeBron to shoot over him, and the Pistons played a mini-zone around the paint behind Prince to stop James' drives, usually with Rasheed Wallace and Antonio McDyess stepping up.

This is very similar to what happened with Detroit. We found a way last year and I am confident in myself and my teammates that we can do it again.
--LeBron James
In this series against the Celtics, the early results are even worse for LeBron and Cleveland: He's shooting just 8-of-42 (19 percent) for 16.5 points per game, and the Cavs have collectively bottomed out at 34 percent shooting and 72.5 points a game.
The Celtics are using Paul Pierce and James Posey on James, and playing a mini-zone in which big men Kevin Garnett and Kendrick Perkins are discouraging drives and daring the officials to call defensive three seconds in the lane. The one addition the Celtics have made is they haven't been trapping James on pick-and-rolls and are allowing him to take jumpers if he wants them. This is similar to how the Spurs played James in the Finals: denying his passing lanes and challenging him to make jumpers. As a result, the Cavs' offense has degenerated, with James dribbling on the perimeter and looking for a hole -- making it easy for the Celtics to set up and prepare for an endless series of ineffective pick-and-rolls.
This general defensive scheme is known as "shrinking the floor," with defenders collapsing to the middle when James or the ball gets in there. Many teams run this system on defense, but the Celtics and the Pistons happen to be among the best because of their length on the outside and the talents of their big men inside.
Last postseason, the Cavs countered the Pistons by going to a spread offense. Starting in Game 3, the first of four straight wins for Cleveland, Brown went to a small lineup of shooters, with James as playmaker, for chunks of the game. In the middle was Anderson Varejao, who at his best is a perfect pick-and-roll partner because he's so athletic. Daniel Gibson, Sasha Pavlovic and Donyell Marshall stationed themselves around the perimeter and waited to catch and shoot.
James would operate from the top of the key, putting him in position to go a number of different directions with his driving and passing skills. Detroit ended up getting burned by the shooters, especially Gibson. By the time Games 5 and 6 came around, the Pistons were often unsure whether they needed to continue to pack the paint for LeBron's drives or stay out on the shooters. James exploited their indecision for 48 points in Game 5; Gibson capitalized on their preoccupation with James for 31 points in Game 6.
[+] Enlarge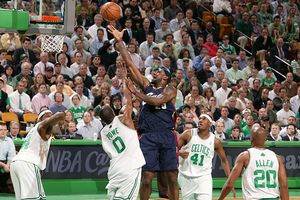 Jesse D. Garrabrant/NBAE/Getty ImagesIt seems like every Boston Celtics defender has at least one eye on LeBron James at all times.
The personnel has changed somewhat since, but the Cavs still have the pieces to try to spread things out and potentially force the Celtics into some lineup changes. Both Varejao and
Joe Smith
can defend centers and power forwards, allowing the Cavs to play small in the frontcourt. James can play point power forward, especially with
Ben Wallace
doubtful for Game 3 with a viral inner ear infection.
Wally Szczerbiak
and
Delonte West
are normally proficient 3-point shooters, though they've been streaky during the playoffs. Gibson, in only his second season, has already built his reputation on his playoff marksmanship.
Brown isn't tipping his hand on what he might do, but he says the ball has to start moving and the shooters have to get to the correct spots.
"We have to move bodies and move the ball from one side of the floor to the other," Brown said. "We haven't been completing plays; we've been stopping them. We also have to improve our spacing."
Of course, the players have to execute as well. Varejao is shooting just 25 percent this postseason after shooting 51 percent last year. Gibson and West have been ineffective in the series, after both shot 50 percent from 3-point range in the first round against the Wizards. James hasn't made anything from outside, open or not, against the Celtics.
If the shots won't go down, the system matters only so much. And playing small won't work for 48 minutes. But it may be solution the Cavs are searching for.
"We just have to continue to try to keep our heads up on offense and try to make the extra pass and get some teammates open, get some guys some good looks," James said. "We have to just try to adjust, get me to a comfort zone, and get everybody else to a more comfort zone.
"This is very similar to what happened with Detroit. We found a way last year and I am confident in myself and my teammates that we can do it again."
Brian Windhorst covers the Cleveland Cavaliers for the Akron Beacon Journal.
ESPN.com
ESPN.com NBA writer since 2010
Covered Cleveland Cavs for seven years
Author of two books
2008 NBA PLAYOFFS Round 2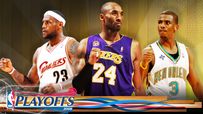 LeBron, Kobe and CP3 dominated Round 1 of the 2008 NBA playoffs, where the top four seeds in each conference advanced to the second round.
Playoff schedule | Playoff bracket | Playoff home
Daily Dime
•
Daily Dime: Lakers end Jazz season in Game 6
•
Daily Dime: Spurs dominate Hornets in Game 6
•
Daily Dime: Rondo gets C's rolling in Game 5
•
Daily Dime: Hornets one win from advancing
•
Daily Dime: Celtics with road woes
•
Daily Dime: Williams puts Utah on his back
•
Daily Dime: Cavs roll in Game 3 victory
•
Daily Dime: Boozer makes impact in Game 3
•
Daily Dime: Spurs keep head above water
•
Daily Dime: Kobe's most valuable promise
•
Daily Dime: Beauty is in eye of beholder
•
Daily Dime: CP3 making Spurs look old
•
Daily Dime: Kobe free to reign in Game 1
•
Daily Dime: Hornets sting the champs
Columns
•
Hollinger: Handing out some playoff awards
Cavaliers vs. Celtics
•
Windhorst: LeBron's chance to be Jordanesque
•
Sheridan: Legacies on the line for Celtics
•
Sheridan: Screwball finish to Game 6
•
Sheridan: Allen finds his range
•
Windhorst: Cavs search for offense
•
Windhorst: LeBron likes his chances
•
Scouts Inc.'s series breakdown
•
Wojciechowski: Rest easy, Celtics ... for now
•
Jackson: Do you still love the Celtics?
•
Series page: More coverage
Magic vs. Pistons
•
Magic eliminated, but won't disappear
•
Hollinger: Hunter dusts off rust
•
Hollinger: Pistons win without Billups
•
Scouts Inc.'s series breakdown
•
Series page: More coverage
Jazz vs. Lakers
•
Adande: Kobe plays supporting role
•
Adande: Jazz find Lakers out of tune
•
Wojciechowski: Miller won't listen on the Sabbath
•
Adande: A year to remember for Fisher
•
Scouts Inc.'s series breakdown
•
Series page: More coverage
Spurs vs. Hornets
•
Stein: Spurs knew Hornets were trouble
•
Neel: Enjoy Chris Paul while you can
•
Hollinger: Champs back to winning ways
•
Palmer: Birdman's redemption bittersweet
•
Adande: Chris Paul's mean streak
•
TrueHoop: Spurs stung twice by Hornets
•
Scouts Inc.'s series breakdown
•
Series page: More coverage
TrueHoop
•
Stat Geek Smackdown: 2008 playoffs
SportsNation
•
Which teams will advance to conference semis?
•
Rank the remaining eight playoff teams