LeBron's monster slam gives Cavs momentum for Game 5
Originally Published:
May 14, 2008
By
Brian Windhorst
| Special to ESPN.com
Jesse D. Garrabrant/NBAE/Getty ImagesLeBron's Cavs have won Game 5s on the road before and they expect the same result tonight in Boston.

BOSTON -- The Cavs have been here before, and the memories are nothing but fond.

They're in a playoff series against the No. 1 seed tied 2-2 heading on the road for Game 5, a classic "mini Game 7," as some say in the NBA. It's happened twice in the past two years, and both times the Cavs left the road arena, the Palace of Auburn Hills, with a victory. The Cavs also are 3-0 the past three seasons in Game 6 road games.

So as they prepare to enter the thus-far-impenetrable TD Banknorth Garden for tonight's vital Game 5 with the Celtics, they do so not only with experience but also with confidence. Boston has been a dominant home team throughout the regular season and especially in the playoffs. But recent history has shown that the Cavs and LeBron James tend to have a cumulative wearing effect on their playoff opponents, which makes Game 5 a tantalizing opportunity.

The Cavs, coming off two solid home victories, think they've got a great chance.

"We've done it before," James said. "That's something we'll remember."
LeBron in Game 5s (When series tied 2-2)

| | | | |
| --- | --- | --- | --- |
| Year | Opponent | Pts-Reb-Ast | Result |
| 2007 | at Pistons | 48-9-7 | Won* |
| 2006 | at Pistons | 32-5-5 | Won |
| 2006 | Wizards | 45-7-6 | Won* |
*Cavs went on to win series
The Celtics, facing what amounts to a must-win considering their 0-5 postseason road record, are feeling some heat. In the regular season that was no problem; they thrived in those spots. In the postseason, though, their batting average under pressure has plummeted, and with it has dropped a chunk of their poise.
"We have to play better under stress," Celtics coach Doc Rivers said. "We can't just go home and assume. We have to play."
James' best playoff games have been late in series; the two most recent examples of that are his historic 48-point outburst in the double-overtime Game 5 win in Detroit last May and his triple-double to eliminate the Wizards in Washington two weeks ago. Offensively, his foray with the Celtics has been a struggle -- but though he's still shooting a wicked 26 percent, he's shown signs of emerging from his slump.
In the past two games, James has shot 5-of-10 on 3-pointers, which are the weakest part of his game. But when he's successful at shooting 3s, they can be quite a weapon. When James makes his 3-pointers, the game is often over for the opponent because defenses often are set up to force him into the jumper. Plus, James is starting to find some driving cracks in the Celtics' stiff scheme.
Last season it took James several games to develop a comfort level in dealing with the Pistons' defensive setup against him. After a couple of bad games, he exploded down the stretch of the series after he discovered when and how to attack. It isn't an exact science; he never solved the Spurs in the Finals, but he never got this deep in that series, either.
Instead of charging headlong into the pack of Celtics that usually collects around the rim on his drives -- which he needed to do against the Wizards, thanks to their plan to issue hard fouls -- James is starting to take his time as he goes to the hoop. By spending more time reading that bullying, he's found more space. That was evident especially in Game 4 in this series, when he picked up two 3-point plays and his now-famous windmill dunk over Kevin Garnett in the fourth quarter, when he successfully worked against three defenders.
"He's been staying aggressive, which is what we want," Cavs coach Mike Brown said. "He's been picking his spots more, he's just got to keep being himself."
[+] Enlarge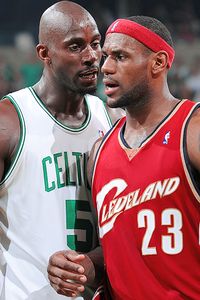 Brian Babineau/NBAE/Getty ImagesKG and LeBron James might be in for a contentious Game 5.
The dunk, while so far being one of the highlights of the series, also may have been a flashback to another past facet of the Cavs' playoff formula. After two losses to the Pistons to open last season's conference finals, the Cavs gutted out a Game 3 victory that ended up turning the series. The key play was a thunderous fourth-quarter dunk by James over Rasheed Wallace, which ended up signaling a psychological switch in the series.
There is no guarantee this jam will have the same effect; the Celtics' defense hasn't let down much this series. But the emotion the play unleashed gave an injection to the team as it headed back out on the road, an extremely hostile and loud environment.
"There was a lot built up [before the dunk]; that was a play we needed as a team," James said. "I was glad I was able to give it to them."
Then there is the defense, which has been the Cavs' calling card throughout Brown's tenure as coach. It has been the only constant in the postseason and especially in this series, but it's an influential constant. The Cavs had a few bad spells in their past visit to the Garden, a 16-point Game 2 loss, but they didn't have key defensive stopper Ben Wallace after the first three minutes of that game. When Wallace played all of Game 1, the Cavs narrowly lost, and the key basket (a Garnett spinning drive on Joe Smith) came when Rivers caught Brown with an offensive lineup in and Wallace on the bench.
The Cavs think that if they bring the same defensive effort and give James, who may just be poised for a breakout performance, a chance at the end, they just may be able to steal another Game 5.
"Yes, we can win," said Cavs guard Daniel Gibson. "It's a matter of us getting out and understanding that we have to take care of the ball and do the little things you need on the road. But, yes, we think we can win."
Brian Windhorst covers the Cleveland Cavaliers for the Akron Beacon Journal.
ESPN.com
ESPN.com NBA writer since 2010
Covered Cleveland Cavs for seven years
Author of two books
2008 NBA PLAYOFFS Round 2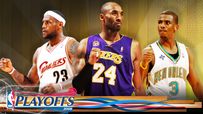 LeBron, Kobe and CP3 dominated Round 1 of the 2008 NBA playoffs, where the top four seeds in each conference advanced to the second round.
Playoff schedule | Playoff bracket | Playoff home
Daily Dime
•
Daily Dime: Lakers end Jazz season in Game 6
•
Daily Dime: Spurs dominate Hornets in Game 6
•
Daily Dime: Rondo gets C's rolling in Game 5
•
Daily Dime: Hornets one win from advancing
•
Daily Dime: Celtics with road woes
•
Daily Dime: Williams puts Utah on his back
•
Daily Dime: Cavs roll in Game 3 victory
•
Daily Dime: Boozer makes impact in Game 3
•
Daily Dime: Spurs keep head above water
•
Daily Dime: Kobe's most valuable promise
•
Daily Dime: Beauty is in eye of beholder
•
Daily Dime: CP3 making Spurs look old
•
Daily Dime: Kobe free to reign in Game 1
•
Daily Dime: Hornets sting the champs
Columns
•
Hollinger: Handing out some playoff awards
Cavaliers vs. Celtics
•
Windhorst: LeBron's chance to be Jordanesque
•
Sheridan: Legacies on the line for Celtics
•
Sheridan: Screwball finish to Game 6
•
Sheridan: Allen finds his range
•
Windhorst: Cavs search for offense
•
Windhorst: LeBron likes his chances
•
Scouts Inc.'s series breakdown
•
Wojciechowski: Rest easy, Celtics ... for now
•
Jackson: Do you still love the Celtics?
•
Series page: More coverage
Magic vs. Pistons
•
Magic eliminated, but won't disappear
•
Hollinger: Hunter dusts off rust
•
Hollinger: Pistons win without Billups
•
Scouts Inc.'s series breakdown
•
Series page: More coverage
Jazz vs. Lakers
•
Adande: Kobe plays supporting role
•
Adande: Jazz find Lakers out of tune
•
Wojciechowski: Miller won't listen on the Sabbath
•
Adande: A year to remember for Fisher
•
Scouts Inc.'s series breakdown
•
Series page: More coverage
Spurs vs. Hornets
•
Stein: Spurs knew Hornets were trouble
•
Neel: Enjoy Chris Paul while you can
•
Hollinger: Champs back to winning ways
•
Palmer: Birdman's redemption bittersweet
•
Adande: Chris Paul's mean streak
•
TrueHoop: Spurs stung twice by Hornets
•
Scouts Inc.'s series breakdown
•
Series page: More coverage
TrueHoop
•
Stat Geek Smackdown: 2008 playoffs
SportsNation
•
Which teams will advance to conference semis?
•
Rank the remaining eight playoff teams