Defining performance for James could provide difference for Cavs
Originally Published:
May 18, 2008
By
Brian Windhorst
| Special to ESPN.com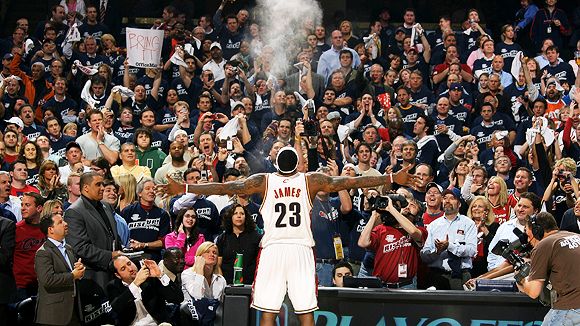 Jesse D. Garrabrant/NBAE/Getty ImagesLeBron wears MJ's number on the back of his jersey. Now Game 7 is his chance to become Jordanesque.

BOSTON -- Some 19 years ago this month, a deep, heavily favored Cleveland Cavaliers team found itself in an unexpected playoff series finale against a superstar and his still unproven teammates.

That Sunday afternoon, Michael Jordan climbed another rung to superstardom by dropping 44 points on the higher-seeded Cavs, who had been a perfect 6-0 against the Bulls in the 1988-89 regular season before meeting Chicago in the first round of the playoffs. The last bucket came, as we've all seen, on a floating, buzzer-beating jumper from the top of the key that served as a gut punch to the 20,273 fans at the Richfield Coliseum. It's a moment forever remembered simply as "The Shot."

That Cavs team had three players whose numbers now hang from the rafters: Brad Daugherty, Larry Nance and Mark Price. But they didn't have Jordan, whose famous dagger turned out to be the first blow of many that kept Cleveland down.

Which is one reason LeBron James is such a meaningful player to the often self-loathing Cleveland fan base. He's more than just a local hero. He seems to be the destined antidote to the woes that struck the franchise's golden years when Jordan stepped on them again and again.

When I work hard in the offseason, it is because I am preparing myself to play into June. This is what I work for; I have been getting ready for this.
--LeBron James

This brings us to today's Game 7 against the Boston Celtics. The circumstances are not exactly the same, but the spirit is. Last season, James began to deliver on his promise by taking his game to Jordanesque levels in the Eastern Conference finals, slaying the No. 1-seeded Pistons and taking the Cavs to their first-ever NBA Finals. The stage is set for him to add to those résumés.
"When I work hard in the offseason, it is because I am preparing myself to play into June," James said. "This is what I work for; I have been getting ready for this."
Leading the Cavs to a win at the TD Banknorth Garden would not bring an Eastern Conference title trophy. But it would be an even bigger upset than last season's because the Celtics' magical ride through the regular season. Like those earlier Cavs teams, the Celtics have their own big three with unfulfilled dreams of reaching the NBA Finals. For the Cavs, this was a season in which they hoped to take the next step and seriously contend for the NBA title.
Wide-ranging injury issues, unprecedented holdouts and a huge and somewhat unnerving trade stripped them of their rhythm, which they battled to regain leading up to the playoffs. During the regular season, they won five fewer games than last year and finished two spots lower in the East, as the Celtics and Orlando Magic passed them and the Pistons widened the gap.
But now James and his teammates hold a chance to score another blow that would reaffirm their status as an elite team and would demonstrate just how quickly he could assume the mantle Jordan left.
[+] Enlarge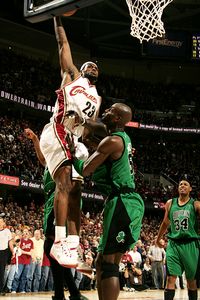 David Liam Kyle/NBAE/Getty ImagesJames' dunk over KG in Game 4 was impressive. But Game 7 could be his defining moment.
This series hasn't been nearly as elegant as Jordan's final shot back then, when he hung in the air over Craig Ehlo as he released the ball. In fact, it's been aesthetically rough, and even gruesome. The defense has been winning the battles each game, making the series seem more like a rugby scrum at times with the two sides pushing into each other but neither budging.
This is why a defining performance from James could provide the difference after the six-game stalemate.
After a hideous start to the series, in which he shot just 8-of-42 in the first two games, James has been slowly but surely heating up. Over the past three games he's averaged 29.3 points, eight rebounds and seven assists, right at his season averages. Though his recent numbers may point to his being on the cusp of a difference-making performance, his 35 points in Game 5 in Boston were not enough.
Instead, it may take a more well-rounded effort. The point total may not be as vital as his other weapons.
The Cavs, like the Celtics, have struggled getting their role players to step up on the road during the series. James needs his teammates' support, but he also has to trust them.
He's shown before that he can. In the 4-2 series win over the Wizards in the first round, James had 46 assists and just 17 turnovers, including a 13-assist, one-turnover performance in the series-clinching game.
In the battle with the Celtics, James has been less trusting, especially on the road. He has 47 assists and 35 turnovers in the six games, and he's often gotten into ruts in which he's dominated the ball and made it easier for the Celtics to set up their defense.
How well he balances the impulse to play the classic Jordan role with the need to get others involved, as he does when he's at his best, just may tell us how his season will be remembered.
"I've learned how to close out games, how to prepare better for playoff games," James said. "You've got to give it all you've got."
Brian Windhorst covers the Cleveland Cavaliers for the Akron Beacon Journal.
ESPN.com
ESPN.com NBA writer since 2010
Covered Cleveland Cavs for seven years
Author of two books
2008 NBA PLAYOFFS Round 2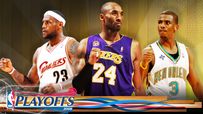 LeBron, Kobe and CP3 dominated Round 1 of the 2008 NBA playoffs, where the top four seeds in each conference advanced to the second round.
Playoff schedule | Playoff bracket | Playoff home
Daily Dime
•
Daily Dime: Lakers end Jazz season in Game 6
•
Daily Dime: Spurs dominate Hornets in Game 6
•
Daily Dime: Rondo gets C's rolling in Game 5
•
Daily Dime: Hornets one win from advancing
•
Daily Dime: Celtics with road woes
•
Daily Dime: Williams puts Utah on his back
•
Daily Dime: Cavs roll in Game 3 victory
•
Daily Dime: Boozer makes impact in Game 3
•
Daily Dime: Spurs keep head above water
•
Daily Dime: Kobe's most valuable promise
•
Daily Dime: Beauty is in eye of beholder
•
Daily Dime: CP3 making Spurs look old
•
Daily Dime: Kobe free to reign in Game 1
•
Daily Dime: Hornets sting the champs
Columns
•
Hollinger: Handing out some playoff awards
Cavaliers vs. Celtics
•
Windhorst: LeBron's chance to be Jordanesque
•
Sheridan: Legacies on the line for Celtics
•
Sheridan: Screwball finish to Game 6
•
Sheridan: Allen finds his range
•
Windhorst: Cavs search for offense
•
Windhorst: LeBron likes his chances
•
Scouts Inc.'s series breakdown
•
Wojciechowski: Rest easy, Celtics ... for now
•
Jackson: Do you still love the Celtics?
•
Series page: More coverage
Magic vs. Pistons
•
Magic eliminated, but won't disappear
•
Hollinger: Hunter dusts off rust
•
Hollinger: Pistons win without Billups
•
Scouts Inc.'s series breakdown
•
Series page: More coverage
Jazz vs. Lakers
•
Adande: Kobe plays supporting role
•
Adande: Jazz find Lakers out of tune
•
Wojciechowski: Miller won't listen on the Sabbath
•
Adande: A year to remember for Fisher
•
Scouts Inc.'s series breakdown
•
Series page: More coverage
Spurs vs. Hornets
•
Stein: Spurs knew Hornets were trouble
•
Neel: Enjoy Chris Paul while you can
•
Hollinger: Champs back to winning ways
•
Palmer: Birdman's redemption bittersweet
•
Adande: Chris Paul's mean streak
•
TrueHoop: Spurs stung twice by Hornets
•
Scouts Inc.'s series breakdown
•
Series page: More coverage
TrueHoop
•
Stat Geek Smackdown: 2008 playoffs
SportsNation
•
Which teams will advance to conference semis?
•
Rank the remaining eight playoff teams