Scouts Inc. Update: Cavaliers vs. Celtics, Game 4
Originally Published:
May 12, 2008
By
Mike Moreau
| Scouts Inc.
• Cavaliers-Celtics series scouting report | Series page


On Sunday morning, coach Doc Rivers reportedly put the Celtics through their most intense practice session since the playoffs began. After watching film of Game 3, the players shouldn't have to wonder why. They won't see any of the defensive intensity and energy they displayed in Games 1 and 2 in Boston. Game 3 did not feature any chest-to-chest, full denials of LeBron James, or any of the help-side anticipation and perfectly synchronized rotations we described in our earlier reports. Cleveland beat the Celtics to loose balls and outfought them on rebounds.
What should concern Rivers and his staff even more was the lack of basic defensive fundamentals: Shooters were not contested, hands were not active and the Celtics let the offensively challenged Cavaliers have their way.
From Sam Cassell making no effort to contest a Delonte West 3-point shot, to Ray Allen cheating toward James in the corner while his man, Wally Szczerbiak, spotted up for a 3 at the top of the key, to Paul Pierce allowing James easy catches on the wing, the Celtics were not the same defensive team they were in Boston. The Sunday morning practice was meant to address these defensive deficiencies.
Team defense starts and ends with great effort and intensity, so look for the NBA's best defensive team to show more of both in Game 4. Expect a more physical, confrontational defense. First and foremost, look for James Posey and Pierce to go back to the hard denials of James.
The Cavaliers entered Game 3 needing some adjustments to jump-start their sputtering offense, and credit coach Mike Brown for opening things up for them. Cleveland went away from the ball-screen action for James that had been unsuccessful in Games 1 and 2, and went to more open, flowing sets that kept James and the four players off the ball in constant motion.
Cleveland had players cutting and flashing all over the floor. With the ball moving faster and changing sides of the court more quickly, Boston's defense had to continuously move and adjust. There was just too much activity going on for Boston to dig in and gang up as it had in Games 1 and 2. Expect more of this action from the Cavs in Game 4.
The Cavs' motion helped them to get 31 points from Ben Wallace, Joe Smith and Anderson Varejao -- power forwards who were able to just settle in a spot on the weak side or step to the open area when the Celtics rotated or the Celtics' bigs cheated toward James.
The Cavs clearly learned from their film study sessions, as these looks were there in Game 2, just as we said in our earlier reports. James took his time when he caught the ball and was able to find his 4s for easy baskets because the Celtics paid extra attention to him.
This also allowed Wallace to grab seven offensive rebounds, which provided a huge emotional lift for Cleveland because they saved possessions and kept Boston from getting out in transition.
In Game 4 Boston must adjust and play more straight-up on the weak side. In the first three games of the series, Kendrick Perkins, Kevin Garnett and Leon Powe literally turned their backs to each of their men and moved toward James on the catch. In Game 4, that trio must stay close and keep their men in sight. Look for James to drive the lane, and when he makes his move, look for Cleveland to have its shooters stationed opposite him for spot-up shots.
The Cavs showed different looks and variations of sets on nearly every possession. James and Szczerbiak switched roles in sets previously seen by the Celtics. By changing the order and direction of their cuts, they prevented the Celtics from anticipating their off-the-ball action. Some of this had to do with the Celtics' lack of aggression getting through the screens, so look for Allen, Posey and Pierce to be more physical in fighting the cutting action in Game 4.
The Celtics will also look to disrupt some of this offensive flow with more ball pressure on West, who was mostly uninhibited in orchestrating the Cavs' offense in Game 3.
Boston also has an offensive problem to solve because Cleveland is paying no attention to Rajon Rondo off the ball. When Rondo cuts through or goes to the weak side, West stays in the middle to clog drives, fronts Perkins on flashes or sneaks behind Garnett for steals in the post.
Even with Cassell in the game, Cleveland stayed with this strategy, and Boston was unable to skip the ball to the weak side and attack with any consistency. When the ball was skipped to Rondo, he shot when he had the drive, or he drove when he should have passed. Boston needs Rondo to initiate the offense, but Cleveland put Rondo in a position in which he has to finish the play at the end of the possession.
To counter this, look for Boston to keep Rondo on the ball-side wing or corner after the initial pass, and to move Pierce and Allen opposite Garnett, with Perkins in the high post. This spacing will keep West out of the middle, and give Allen and Pierce better scoring opportunities from the weak side.
Perkins can be the facilitator of ball reversals and also set ball screens. Plus, he has been able to find Powe and Garnett for easy scores in the Cavs rotations.
The Celtics also want to utilize the passing ability of Garnett, so look for them to run much more of their offense through Garnett in Game 4.
Cleveland is now in a defensive rhythm and the Cavs are dictating the action. Boston may be forced to consider playing Cassell more minutes, or playing Allen at the point with Pierce and Posey at the two and three, giving Boston shooters and scorers at every perimeter position. The Celtics are now the ones who must make the adjustments.
Game 4 may also be the time for Allen and Pierce to be more assertive offensively. In Games 3 Perkins got the same number of shots as Pierce -- and Rondo got more -- so Pierce must take the initiative to see that doesn't happen in Game 4. If Allen can't make perimeter shots, he must also take the initiative and get into his dribble and pull-up game to get into the lane or to the free-throw line.
The change of venue and Boston's lack of defensive presence have the Cavaliers back in this series. The Cavs are getting offensive contributions from everyone, and James isn't feeling the pressure to do it all by himself, as evidenced by his 3-for-5 3-point shooting in Game 3. In spite of Boston's intense practice session, the Celtics, in four road playoff losses, have shown no sign that they can take control of a series.
In Game 4, expect a monster performance from Garnett on the offensive end and the most complete game of the series from James. This will be a close game that goes down to the wire.
PREDICTION: Cavaliers win Game 4

Mike Moreau is the director of basketball for the Pro Training Center and The Basketball Academy at the IMG Academies in Bradenton, Fla. He also serves as an NBA analyst for Hoopsworld.
Synergy Sports Technology systems were used in the preparation of this report.
SPONSORED HEADLINES
MORE NBA HEADLINES
MOST SENT STORIES ON ESPN.COM
2008 NBA PLAYOFFS Round 2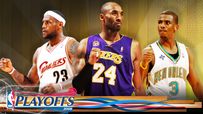 LeBron, Kobe and CP3 dominated Round 1 of the 2008 NBA playoffs, where the top four seeds in each conference advanced to the second round.
Playoff schedule | Playoff bracket | Playoff home
Daily Dime
•
Daily Dime: Lakers end Jazz season in Game 6
•
Daily Dime: Spurs dominate Hornets in Game 6
•
Daily Dime: Rondo gets C's rolling in Game 5
•
Daily Dime: Hornets one win from advancing
•
Daily Dime: Celtics with road woes
•
Daily Dime: Williams puts Utah on his back
•
Daily Dime: Cavs roll in Game 3 victory
•
Daily Dime: Boozer makes impact in Game 3
•
Daily Dime: Spurs keep head above water
•
Daily Dime: Kobe's most valuable promise
•
Daily Dime: Beauty is in eye of beholder
•
Daily Dime: CP3 making Spurs look old
•
Daily Dime: Kobe free to reign in Game 1
•
Daily Dime: Hornets sting the champs
Columns
•
Hollinger: Handing out some playoff awards
Cavaliers vs. Celtics
•
Windhorst: LeBron's chance to be Jordanesque
•
Sheridan: Legacies on the line for Celtics
•
Sheridan: Screwball finish to Game 6
•
Sheridan: Allen finds his range
•
Windhorst: Cavs search for offense
•
Windhorst: LeBron likes his chances
•
Scouts Inc.'s series breakdown
•
Wojciechowski: Rest easy, Celtics ... for now
•
Jackson: Do you still love the Celtics?
•
Series page: More coverage
Magic vs. Pistons
•
Magic eliminated, but won't disappear
•
Hollinger: Hunter dusts off rust
•
Hollinger: Pistons win without Billups
•
Scouts Inc.'s series breakdown
•
Series page: More coverage
Jazz vs. Lakers
•
Adande: Kobe plays supporting role
•
Adande: Jazz find Lakers out of tune
•
Wojciechowski: Miller won't listen on the Sabbath
•
Adande: A year to remember for Fisher
•
Scouts Inc.'s series breakdown
•
Series page: More coverage
Spurs vs. Hornets
•
Stein: Spurs knew Hornets were trouble
•
Neel: Enjoy Chris Paul while you can
•
Hollinger: Champs back to winning ways
•
Palmer: Birdman's redemption bittersweet
•
Adande: Chris Paul's mean streak
•
TrueHoop: Spurs stung twice by Hornets
•
Scouts Inc.'s series breakdown
•
Series page: More coverage
TrueHoop
•
Stat Geek Smackdown: 2008 playoffs
SportsNation
•
Which teams will advance to conference semis?
•
Rank the remaining eight playoff teams
adidas Men's Boston Celtics Cuffed Pom Knit Hat Shop »