Scouts Inc. Update: Cavaliers vs. Celtics, Game 6
Originally Published:
May 14, 2008
By
Mike Moreau
| Scouts Inc.
• Cavaliers-Celtics series scouting report | Series page


The Boston Celtics made two key offensive adjustments that had a significant impact on their scoring production in Game 5. In response to their poor scoring output in the fourth quarter of Game 4 and Kevin Garnett's inability to post Anderson Varejao, Coach Doc Rivers put Garnett in more pick and pop action on the perimeter.
Garnett set ball screens on top and on the wings, then popped to an open area for the mid-range jump shot. This put his defender in motion, and also kept Garnett out of the wrestling matches in the post -- allowing him to go 12-for-19 from the floor by taking shots more to his liking. Boston might have found the formula for KG to have a better game in Cleveland. This forces the Cavs to make a decision on how to guard the ball screen in Game 6. With
Rajon Rondo
as the ball handler, look for the defender to go "under" the screen, which doesn't require as much help from Garnett's defensive player -- allowing Varejao or
Ben Wallace
to stay closer to KG as he pops for the return pass. This does allow Rondo the jump shot off the screen, but Cleveland will take its chances that Rondo won't shoot 60 percent from the floor as he did in Game 5. This is a tougher challenge for Cleveland in Game 6 if
Paul Pierce
or
Ray Allen
is the ball screen recipient, as both are better shooters coming off the pick. The Cavs might be forced to chase Pierce and Allen over the top of the screen and hedge hard with Garnett's defender, but with Garnett now being the hot hand, the Cavs might vary this scheme until they find the right answer. If Varejao, Wallace or
Joe Smith
is playing Garnett, then Zydrunas Ilguaskas becomes the initial defender rotating to KG in this defensive scheme. This puts Cleveland's slowest defender on the run toward Garnett -- not a favorable matchup for the Cavs. As a counter, look for Cleveland to camp
Delonte West
near the paint for a quicker rotation and added help. However, KG was able to spin by West for a baseline dunk in Game 5, so look for different combinations of defenders running at Garnett to make him tentative and keep him guessing. With all this attention on Garnett, this once again leaves Rondo unaccounted for on the weak side. The Cavs just don't believe Rondo can shoot as well on the road, so look for them to invite him to beat them with his shooting once again in Game 6. He will have his chances. The Celtics also took a page out of Cleveland's playbook by putting leading scorer Pierce into some "small on big" ball screen action, with Rondo setting the ball screen on
LeBron James
. The Celtics were trying to bait Cleveland into switching this action, as they did on a few occasions. Once Pierce recognized the switch, he went right at West and used his size to get into the lane. The Cavs will not switch this in Game 6, and expect LeBron to back off Pierce as this action is coming to try to get under the screen, or for West to hedge and help until James can get back in position. James can blow this action up by crowding Pierce or crashing through Rondo one time early, but he will not want to risk an unnecessary foul. Rondo and Garnett shot a combined 20-for-34 from the field in Game 5, and if the Cavs aren't concerned with that happening again, they might just stick to their basic defensive plan in Game 6 as the rest of the Celtics shot 39 percent and Pierce and Allen shot only 12- of-30. LeBron's 23 first half points in Game 5 was a double-edged sword for the Cavs. It meant their star wasn't guardable, but it also led to their offense becoming stagnant and their supporting cast becoming marginalized. Cleveland has been at its best in this series when James is passing early and often on his drives, which keeps everyone involved and the shooters in rhythm. With the pressure of elimination, James might feel the need to do more on his own, and he must resist the urge to try to win it by himself in the first three quarters. Look for Coach Mike Brown to get the Cavs in sets that have James all over the floor and catching the ball in different locations on the move -- which keeps the ball moving and the offense flowing. Also, expect the Cavs to re-establish Ilguaskas early in Game 6, with pick and pop action for James and Z posting on LeBron's side. Cleveland has had success with Z and LeBron working together on one side of the floor, with the four on the baseline across the lane and shooters spotted up opposite. Look for Boston to counter with cheating defenders toward those two, and expect James to look to find Wallace, Smith, and Varejao on the weak side as he did in Games 3 and 4. Boston turned up the defensive intensity in the second half of Game 5, and it began with Pierce going back to hard denials of James on the first few possessions -- which resulted in Cavaliers turnovers and the Celtics taking the lead. Look for Boston to play LeBron chest-to-chest off the ball, with Pierce and Posey sharing the duties. Much of James' 23 first half points came on his thunderous right-hand drives to the basket. Look for Boston to force him to his left hand on the catch and to get to him early on the dribble -- especially as he comes up the left side and looks to drag off the traffic in the middle of the floor. Coach Mike Brown's biggest decision will be how to make up for Daniel Gibson's absence. Don't count on LeBron to stay on the bench for more than a few minutes, and expect
Sasha Pavlovic
, who averaged 30 minutes per game and nine points in last year's playoffs, to get extended minutes. This situation might be the small chink in Cleveland's armor that allows the Celtics to break through on the road. But to get their first road win in a closeout game on the defending Eastern Conference champion's home floor will be a daunting task. Game 6 in the Atlanta series saw Allen, Garnett and Rondo shoot a combined 40 percent from the floor. With Cleveland's raucous crowd and defense from both teams being the known entities, expect Game 6 to be the most physical battle of the series. Count on lots of hard fouls on both sides, no easy baskets at either end and a down-to-the-wire classic finish.
PREDICTION: Cavaliers win Game 6

Mike Moreau is the director of basketball for the Pro Training Center and The Basketball Academy at the IMG Academies in Bradenton, Fla. He also serves as an NBA analyst for Hoopsworld.
Synergy Sports Technology systems were used in the preparation of this report.
2008 NBA PLAYOFFS Round 2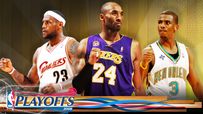 LeBron, Kobe and CP3 dominated Round 1 of the 2008 NBA playoffs, where the top four seeds in each conference advanced to the second round.
Playoff schedule | Playoff bracket | Playoff home
Daily Dime
•
Daily Dime: Lakers end Jazz season in Game 6
•
Daily Dime: Spurs dominate Hornets in Game 6
•
Daily Dime: Rondo gets C's rolling in Game 5
•
Daily Dime: Hornets one win from advancing
•
Daily Dime: Celtics with road woes
•
Daily Dime: Williams puts Utah on his back
•
Daily Dime: Cavs roll in Game 3 victory
•
Daily Dime: Boozer makes impact in Game 3
•
Daily Dime: Spurs keep head above water
•
Daily Dime: Kobe's most valuable promise
•
Daily Dime: Beauty is in eye of beholder
•
Daily Dime: CP3 making Spurs look old
•
Daily Dime: Kobe free to reign in Game 1
•
Daily Dime: Hornets sting the champs
Columns
•
Hollinger: Handing out some playoff awards
Cavaliers vs. Celtics
•
Windhorst: LeBron's chance to be Jordanesque
•
Sheridan: Legacies on the line for Celtics
•
Sheridan: Screwball finish to Game 6
•
Sheridan: Allen finds his range
•
Windhorst: Cavs search for offense
•
Windhorst: LeBron likes his chances
•
Scouts Inc.'s series breakdown
•
Wojciechowski: Rest easy, Celtics ... for now
•
Jackson: Do you still love the Celtics?
•
Series page: More coverage
Magic vs. Pistons
•
Magic eliminated, but won't disappear
•
Hollinger: Hunter dusts off rust
•
Hollinger: Pistons win without Billups
•
Scouts Inc.'s series breakdown
•
Series page: More coverage
Jazz vs. Lakers
•
Adande: Kobe plays supporting role
•
Adande: Jazz find Lakers out of tune
•
Wojciechowski: Miller won't listen on the Sabbath
•
Adande: A year to remember for Fisher
•
Scouts Inc.'s series breakdown
•
Series page: More coverage
Spurs vs. Hornets
•
Stein: Spurs knew Hornets were trouble
•
Neel: Enjoy Chris Paul while you can
•
Hollinger: Champs back to winning ways
•
Palmer: Birdman's redemption bittersweet
•
Adande: Chris Paul's mean streak
•
TrueHoop: Spurs stung twice by Hornets
•
Scouts Inc.'s series breakdown
•
Series page: More coverage
TrueHoop
•
Stat Geek Smackdown: 2008 playoffs
SportsNation
•
Which teams will advance to conference semis?
•
Rank the remaining eight playoff teams

MOST SENT STORIES ON ESPN.COM