Scouts Inc. Update: Cavaliers vs. Celtics, Game 7
Originally Published:
May 16, 2008
By
Mike Moreau
| Scouts Inc.
• Cavaliers-Celtics series scouting report | Series page


For both the Cavs and the Celtics, extending their playoff lives comes down to one final game. With both teams winning three games at home and all of the adjustments having been made in the first six games, Game 7 Sunday comes down to two factors -- offensive execution and individual performance.
The Celtics have had their most success offensively with Kevin Garnett involved in more pick-and-pop action and less of his power post-up game. The Cav's big front line, especially his match up with Anderson Varejao, has pushed Garnett out and forced him to attack the defense from the midrange position. But even with that different look, Garnett has responded well with 25 points in Game 5 and 26 points in Game 6, on 23-of-40 shooting. Look for that same aggressiveness from Garnett in Game 7, and for the Cavs to continue their rotation of Ben Wallace and Varejao.
In Game 5, Paul Pierce had 29 points and got to the free-throw line 13 times. His midpost game has been stifled by LeBron James, so the Celtics have worked the offense to get him more catches at the top of the floor. This gives him the option to shoot or drive which allows him more room to work. Boston has also tried to use Rajon Rondo as a screener to force Cleveland to switch Delonte West onto Pierce so he can attack a smaller defender. Look for the Cavs to stay away from any switching action that gives Pierce this height advantage, but Pierce will still come out aggressive and attacking in Game 7.
[+] Enlarge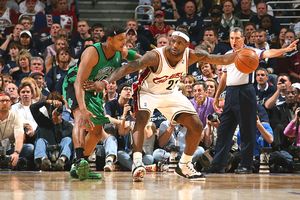 Jesse D. Garrabrant/NBAE/Getty ImagesThe Paul Pierce-LeBron James matchup will be a focal point of Game 7 on Sunday afternoon.
Boston hopes that Rondo's roller-coaster shooting is back on the upswing at home, as he shot 5-for-8 in Game 1, 0-for-6 in Game 2, and 9-for-15 in Game 5. His back-to-back 3's in Game 5 might have been the two biggest shots in this series. Rondo was 1-for-4 and an absolute nonfactor in Game 6, and Cleveland has a decision to make in Game 7 as to how much attention to give him. Rondo is at his best penetrating and creating, so the Cavs might just leave him on the perimeter and dare him to step up and shoot in Game 7. How he responds to the shot-making pressure will be an important factor for the Celtics.
Ray Allen has been a ghost in this series, and although he has been an offensive nonfactor, he is very capable of heating things up in Game 7. If his jumper isn't falling, look for more dribble pullups and drives to get him to the foul line. The Celtics might run some sets for him early, but don't expect them to stay with this for long if his shot isn't falling.
Coach Doc Rivers has tried multiple combinations of players to try and get more production from his bench, which has struggled the last two games -- Boston has only gotten 21 points from its reserves. Look for him to go with James Posey for defense and shooting and some home-court energy from Leon Powe. However, don't expect Rivers to put Game 7 in the hands of Sam Cassell.
The Celtics had 25 assists in Game 5, and have been at their best when the ball moves and they share the ball. If they get stagnant, look for Cleveland to strangle its offense in the half court.
The Cavs offense has improved in all three games in this series when they played in Boston. Each game their field goal percentage had risen from 30.7 to 35.6 to 44.6, and they led at the end of the first quarter in Game 2 and led at the half in Game 5. But when it came to the later parts of each of those games Cleveland's offense became slow and stagnant and Boston outscored the Cavs by double digits in each of the third quarters.
Cleveland has had it's best offensive output in the series when James and Wally Szczerbiak cut off of down screens and keep the floor spread. Look for coach Mike Brown to keep running sets to get James the ball on the move and in different spots on the floor. The Celtics can't allow James to get going early so that he inspires his team, so look for them to face guard James with Pierce and Posey all over the court. If he goes to the hole, there's a good chance that James will end up on his back.
The Cavs offense has been quieted in this series when James holds the ball too much and tries to take on the whole Celtics defense, which could hurt them if he does that in Game 7. The Cavs got away with some of that in Game 6, but they must get back to the rapid ball and player movement that got them wins in Cleveland and early leads in Boston.
Szczerbiak had 22 points in Game 1 in Boston, but has been in a slump recently, shooting 5-for-19. The Cavs need him to stay aggressive and look for his shot, especially when James drives. Szczerbiak would like nothing better than to stick a few 3-point daggers in the team that traded him.
Delonte West got to the foul line 13 times and had 21 points in Game 5. These used to be home games for him in Boston, so look for him to be just as aggressive in Game 7.
Cleveland will try to get Zydrunas Ilgauskas going with pick-and-pop opportunities with James on one side. The Cavs might also station him at the top of the floor for his jump shot.
Others to keep a look at on the offensive side for the Cavs are Joe Smith who will provide scoring, Varejao who will supply size and defense and Sasha Pavlovic who might play a big role in place of Daniel Gibson.
In spite of criticisms of an inability to win on the road in the playoffs, the Celtics are exactly where they want to be -- playing at home with the chance to end the series. After the first six games of this series, anyone who wants to argue against the merits of home-court advantage should be shouted down and forcibly removed from the room.
James needs his teammates more than ever in this Game 7, and he has them believing they can win in Boston. That is why James will have his best game of the series Sunday.
The Celtics not only know they can win at home, they know they can win a Game 7. Expect the Celtics to finally get good games in the same game from Garnett, Pierce and Allen, and advance to the conference finals.
PREDICTION: Celtics win Game 7

Mike Moreau is the director of basketball for the Pro Training Center and The Basketball Academy at the IMG Academies in Bradenton, Fla. He also serves as an NBA analyst for Hoopsworld.
Synergy Sports Technology systems were used in the preparation of this report.
SPONSORED HEADLINES
MORE NBA HEADLINES
MOST SENT STORIES ON ESPN.COM
2008 NBA PLAYOFFS Round 2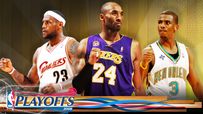 LeBron, Kobe and CP3 dominated Round 1 of the 2008 NBA playoffs, where the top four seeds in each conference advanced to the second round.
Playoff schedule | Playoff bracket | Playoff home
Daily Dime
•
Daily Dime: Lakers end Jazz season in Game 6
•
Daily Dime: Spurs dominate Hornets in Game 6
•
Daily Dime: Rondo gets C's rolling in Game 5
•
Daily Dime: Hornets one win from advancing
•
Daily Dime: Celtics with road woes
•
Daily Dime: Williams puts Utah on his back
•
Daily Dime: Cavs roll in Game 3 victory
•
Daily Dime: Boozer makes impact in Game 3
•
Daily Dime: Spurs keep head above water
•
Daily Dime: Kobe's most valuable promise
•
Daily Dime: Beauty is in eye of beholder
•
Daily Dime: CP3 making Spurs look old
•
Daily Dime: Kobe free to reign in Game 1
•
Daily Dime: Hornets sting the champs
Columns
•
Hollinger: Handing out some playoff awards
Cavaliers vs. Celtics
•
Windhorst: LeBron's chance to be Jordanesque
•
Sheridan: Legacies on the line for Celtics
•
Sheridan: Screwball finish to Game 6
•
Sheridan: Allen finds his range
•
Windhorst: Cavs search for offense
•
Windhorst: LeBron likes his chances
•
Scouts Inc.'s series breakdown
•
Wojciechowski: Rest easy, Celtics ... for now
•
Jackson: Do you still love the Celtics?
•
Series page: More coverage
Magic vs. Pistons
•
Magic eliminated, but won't disappear
•
Hollinger: Hunter dusts off rust
•
Hollinger: Pistons win without Billups
•
Scouts Inc.'s series breakdown
•
Series page: More coverage
Jazz vs. Lakers
•
Adande: Kobe plays supporting role
•
Adande: Jazz find Lakers out of tune
•
Wojciechowski: Miller won't listen on the Sabbath
•
Adande: A year to remember for Fisher
•
Scouts Inc.'s series breakdown
•
Series page: More coverage
Spurs vs. Hornets
•
Stein: Spurs knew Hornets were trouble
•
Neel: Enjoy Chris Paul while you can
•
Hollinger: Champs back to winning ways
•
Palmer: Birdman's redemption bittersweet
•
Adande: Chris Paul's mean streak
•
TrueHoop: Spurs stung twice by Hornets
•
Scouts Inc.'s series breakdown
•
Series page: More coverage
TrueHoop
•
Stat Geek Smackdown: 2008 playoffs
SportsNation
•
Which teams will advance to conference semis?
•
Rank the remaining eight playoff teams