Scouts Inc.: Hawks-Celtics, Game 3
Originally Published:
April 25, 2008
By
David Thorpe
| Scouts Inc.
• Hawks-Celtics series scouting report | Series page


Although Atlanta must feel good that it gets a chance to go home and play the first NBA playoff games held there in a decade, it would be foolish to think that the games will be more competitive simply because of the Hawks' fans and the atmosphere. No amount of energy in the building will make up for the huge disparity between Atlanta's offensive execution and Boston's strangling defense. There are some clear changes that can be made to help their cause, but executing them is an entirely different challenge.
The Hawks are getting killed at the point guard position, with Mike Bibby struggling as a shooter (4-for-17 from the field, 1-for-7 from 3) and as a setup man for their overall attack (two assists in 62 minutes). And although rookie Acie Law knows their system better and is better physically, he's likely not going to make much of a difference. Rajon Rondo's quickness, length and aggressiveness will be a little less effective against the taller and stronger Joe Johnson, who's capable of being a distributor. (He averaged 5.8 assists per game this season and had seven in Game 1.) For Atlanta to have a chance in Game 3, its best offensive player will need to be very productive. Teammates turning down bad shots (which they are not doing frequently enough thus far) and giving Johnson more looks would be smart.
Johnson faces the entire Celtics defense when he has the ball. Atlanta is not spreading the floor enough for him, allowing help defenders to move off their man and toward JJ without being spread too thin. Marvin Williams hurts the Hawks with his inability to make 3s (1-for-10 on the year), especially when he's stationed on the wing opposite Johnson when JJ has the ball. It's often his man that provides the most help. With Bibby struggling from 3 (18-for-58 in April), it may call for more playing time for Josh Childress, who can stretch the defense opposite Johnson and then push Williams down to the baseline with Al Horford and Josh Smith. This would open up the middle for Johnson and Childress to use their size on drives if the Celtics close them out on the perimeter too hot.
Both guys can make plays inside as long as they have space to operate. Post-entry passes and side pick-and-rolls are being clogged up by Celts defenders because the men they are guarding are crashing toward the basket instead of maintaining their spacing integrity by staying behind the 3-point line. Forcing the Celtics to make the tough decision of helping on Johnson or Horford by leaving good 3-point shooters open can make things easier for Atlanta inside and out. They are 3-for-19 in this series from behind the arc, with Bibby and reserve Salim Stoudamire going 1-for-10. Childress shot 36.7 percent from the 3 on the season, but took just 60 of them. He needs 5-10 attempts in Game 3 to open up the lanes. The Hawks simply cannot beat Boston by playing the way they have all season.
Defensively, Atlanta is playing solidly, limiting great looks inside by funneling guys to Smith (four blocked shots) and being active around the rim. But solid is not enough to overcome the overall differences between these two teams. Atlanta is playing the same game as Boston, pragmatic and practical, when instead it needs to play extra aggressively and employ supremely risky tactics. Boston has 22 turnovers in both games (Atlanta had 21 in Game 2), and Rondo has been free to dribble at his own pace, clear of hard traps or soft doubles. He has only one turnover in the series. Playing Johnson and Childress more together at the guard positions can give Atlanta extra length to bother Rondo, looking to trap ball screens or when he drives baseline (which he does frequently). Forcing turnovers, which can lead to easy baskets in transition, is a great way for Atlanta to pump up its offense.
Boston's biggest focus right now is to anticipate these adjustments and create a game plan for them (much like New Orleans did in Game 2 against Dallas). Kevin Garnett is a terrific receiver and passer, so getting him to the middle of the floor on any traps will be key to breaking down Atlanta's defense. KG has not been too effective on offense in the first two games (14-for-37 from the field), but the Celtics have not needed him to be. It makes sense, though, that he'll try to take his game up a notch in anticipation of a tougher Round 2 matchup. He has an easier time scoring in the pick-and-pop or pick-and-drive game than he does in the post against Smith and a host of helpers.
The Hawks have played a bit too rushed on offense and a bit too conservatively on defense in this series, and I'm not sure going home will help the offense as much as the defense. But it is offense that's most needed to make the games competitive -- the only two close games they've played against Boston were when they scored 88 and 89 points. They've yet to break 90 in five games versus Boston this season. I do think their energy on defense, thanks in part to the crowd, will help them get easier baskets in Game 3. But Boston's defense still will be too stifling, and I expect the Celtics to raise their level of play a notch.
PREDICTION: Celtics win Game 3

David Thorpe is an NBA analyst for ESPN.com and the executive director of the Pro Training Center at the IMG Academies in Bradenton, Fla., where he oversees the player development program for NBA and college players. To e-mail him, click here.
Synergy Sports Technology systems were used in the preparation of this report.
NBA Analyst for ESPN.com
Executive director of Pro Training Center
Started coaching career in 1987
2008 NBA PLAYOFFS Round 1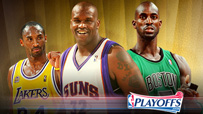 The 2008 NBA playoffs are finally here and the postseason field is more stacked than ever.
Playoff schedule | Playoff bracket | Playoff home
Columns
•
Daily Dime: Suns fade out again
•
Daily Dime: Hawks soar over Celtics
•
Daily Dime: Phoenix fails its test
•
Daily Dime: Suns stumble in second half
•
Adande: Great time to be a sports fan
•
Stein: Best first-round series ever
•
Daily Dime: Rockets failure to launch
•
Daily Dime: Pistons stumble in opener
•
Daily Dime: Spurs leave a mark on Suns
•
Hollinger: How will the postseason play out?
•
Adande: Sixteen teams, sixteen dramas
Podcasts
•
NBA Dish: Ford and Stein talk Round 1
•
NBA Dish: Ford and Adande predict playoffs
Hawks vs. Celtics
•
TrueHoop's Series Bullets
•
Sheridan: Celtics come out swinging
•
Scouts Inc.'s series breakdown
•
Series page: More coverage
Sixers vs. Pistons
•
Sheridan: Sixers slam Pistons
•
Sheridan: Pistons win with complete effort
•
TrueHoop's Series Bullets
•
Scouts Inc.'s series breakdown
•
Series page: More coverage
Raptors vs. Magic
•
TrueHoop's Series Bullets
•
Hill: Dwight Howard vs. Chris Bosh
•
Scouts Inc.'s series breakdown
•
Series page: More coverage
Wizards vs. Cavaliers
•
Windhorst: The new LeBron Rules
•
Windhorst: Wiz get reality check
•
TrueHoop's Series Bullets
•
Windhorst: LeBron quiets Wiz with late heroics
•
Scouts Inc.'s series breakdown
•
Series page: More coverage
Nuggets vs. Lakers
•
Adande: Bynum not nearly ready
•
TrueHoop's Series Bullets
•
Adande: Gasol gets first playoff win
•
Scouts Inc.'s series breakdown
•
Series page: More coverage
Mavericks vs. Hornets
•
Dallas steps up
•
TrueHoop's Series Bullets
•
Jackson: Dinner with the Hornets
•
Hollinger: Paul powers Hornets again
•
Hollinger: Paul finds groove in playoff debut
•
Scouts Inc.'s series breakdown
•
Series page: More coverage
Suns vs. Spurs
•
Adande: Suns missing an identity
•
TrueHoop's Series Bullets
•
Scouts Inc.'s series breakdown
•
Series page: More coverage
Rockets vs. Jazz
•
TrueHoop's Series Bullets
•
Scouts Inc.'s series breakdown
•
Series page: More coverage
SportsNation
•
Make your playoff predictions
•
Rank 'em: All 16 NBA playoff teams
•
Quiz: What's your playoff IQ?

MOST SENT STORIES ON ESPN.COM