Scouts Inc.: Hawks-Celtics, Game 6
Originally Published:
April 30, 2008
By
David Thorpe
| Scouts Inc.
• Hawks-Celtics series scouting report | Series page


Boston executed a great game plan to dominate Game 5: pressure defense, alertness to Joe Johnson in the halfcourt, beast it on the glass and make easy plays. It led to a game in which the Celtics won each individual quarter, building a huge lead and coasting home in the fourth quarter. Coincidentally, it's exactly what Atlanta needs to do to win Game 6 and stay alive.
When Atlanta plays a more conservative style of defense, it might be able to cut off driving lanes, but the Hawks lose the energy and pace that come from blocks and steals. They will not beat Boston without amping up their on-ball defense and then swarming to the paint on drives.
Paul Pierce
is still their biggest matchup problem, as he can both create for himself and set up an easy shot for a teammate when help arrives. The Hawks might consider denying him stronger, really making it tough on him to make catches. This removes a help defender and will lead to 4-on-4 games (advantage-offense) but might be worth the risk. Forcing Rajon Rondo to be a finisher/scorer worked in Games 3 and 4. While Boston raised its alertness factor with respect to Johnson -- chasing him with help on ball screens and bringing help to the paint on his drives -- Atlanta seemed content to let other guys get involved in the offense to take advantage of the attention JJ was getting. In his breakout Game 4, he took 24 of Atlanta's 67 shots. In Game 5, he shot just 11 of the Hawks' 69 shots. (He made six; the rest of the team shot 22-of-58.) Atlanta has to ride Johnson a lot more in Game 6, trusting that he'll pass when necessary (and Boston will likely load up on him again) but allowing him to take (and make) tough shots. He's a difference-maker only if given the opportunity. This might also mean that should he pick up two early fouls, he still needs to play. He logged just 34 minutes in the Hawks' loss in Boston after averaging 45 minutes in the two games in Atlanta. For Atlanta to force a Game 7, JJ needs to be on the floor as much as possible. One bonus of the increased attention to JJ is that
Al Horford
had more space to catch and finish. But Horford needs to be more focused on getting better position. When Johnson gets the ball in the pinch post and is immediately doubled by the nearest big, Horford has an opportunity to run to the rim and "get big" -- oftentimes he'll be covered by Pierce down there. Better he does that than float to the short corner extended, where he can be closed out fast. Making sure the offense flows through both Horford and Johnson will ensure good shots from those two guys plus get easy slashes and open 3-pointers from the other Hawks players -- each had six assists in their two wins except for Horford in Game 4 (but he had five in Game 5). That's the final part of the same game plan Boston used: Make easy plays.
Mike Bibby
and
Josh Smith
need to let others create for them, or in Bibby's case, be focused on creating for others too. When he and Smith are hunting baskets, their team's offense takes a step backwards. Better to play off Horford and JJ, reacting to the double-teams or strong help actions. Boston was much more aggressive on the boards in Game 5, as it has been (on the offensive side) most of the series. Atlanta needs to stress to each of its players that all five guys need to engage in this area. It must assume that Boston will bring its best efforts in this game and Atlanta has to match that intensity. Many of Boston's second and third shots have come from just having more guys inside. If Atlanta is going to focus on making it tougher on Pierce to score, then they must get quick rotation help to
Ray Allen
. He seems locked in from the 3-point line, hitting 10 of his past 16. His deadeye from long range can quickly bury the Hawks -- better to cheat toward him in rotations and force someone else to make shots. This is easier said than done because if Boston plays with patience, it'll have Allen make the swing pass before it re-enters the ball inside to
Kevin Garnett
. A more frenetic pace can induce Boston's players to shoot too quickly -- good for Atlanta. Knowing the game plan and executing it are two entirely different concepts. Atlanta's crowd will be a big factor, bigger than I initially anticipated. Boston should come out with the same ball pressure it utilized in Game 5, and I expect the Celtics to swarm to the rim just as aggressively as Atlanta did in its past two home games. The Hawks have to be able to play both with extreme energy and precision. It's possible that they can, but not likely. One last thing: I've been wanting to see
Josh Childress
play more and do more. I think he can be a hero in this game if he asserts himself.
PREDICTION: Celtics win Game 6

David Thorpe is an NBA analyst for ESPN.com and the executive director of the Pro Training Center at the IMG Academies in Bradenton, Fla., where he oversees the player development program for NBA and college players. To e-mail him, click here.
Synergy Sports Technology systems were used in the preparation of this report.
NBA Analyst for ESPN.com
Executive director of Pro Training Center
Started coaching career in 1987
SPONSORED HEADLINES
MORE NBA HEADLINES
MOST SENT STORIES ON ESPN.COM
2008 NBA PLAYOFFS Round 1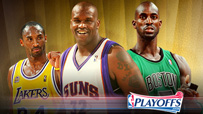 The 2008 NBA playoffs are finally here and the postseason field is more stacked than ever.
Playoff schedule | Playoff bracket | Playoff home
Columns
•
Daily Dime: Suns fade out again
•
Daily Dime: Hawks soar over Celtics
•
Daily Dime: Phoenix fails its test
•
Daily Dime: Suns stumble in second half
•
Adande: Great time to be a sports fan
•
Stein: Best first-round series ever
•
Daily Dime: Rockets failure to launch
•
Daily Dime: Pistons stumble in opener
•
Daily Dime: Spurs leave a mark on Suns
•
Hollinger: How will the postseason play out?
•
Adande: Sixteen teams, sixteen dramas
Podcasts
•
NBA Dish: Ford and Stein talk Round 1
•
NBA Dish: Ford and Adande predict playoffs
Hawks vs. Celtics
•
TrueHoop's Series Bullets
•
Sheridan: Celtics come out swinging
•
Scouts Inc.'s series breakdown
•
Series page: More coverage
Sixers vs. Pistons
•
Sheridan: Sixers slam Pistons
•
Sheridan: Pistons win with complete effort
•
TrueHoop's Series Bullets
•
Scouts Inc.'s series breakdown
•
Series page: More coverage
Raptors vs. Magic
•
TrueHoop's Series Bullets
•
Hill: Dwight Howard vs. Chris Bosh
•
Scouts Inc.'s series breakdown
•
Series page: More coverage
Wizards vs. Cavaliers
•
Windhorst: The new LeBron Rules
•
Windhorst: Wiz get reality check
•
TrueHoop's Series Bullets
•
Windhorst: LeBron quiets Wiz with late heroics
•
Scouts Inc.'s series breakdown
•
Series page: More coverage
Nuggets vs. Lakers
•
Adande: Bynum not nearly ready
•
TrueHoop's Series Bullets
•
Adande: Gasol gets first playoff win
•
Scouts Inc.'s series breakdown
•
Series page: More coverage
Mavericks vs. Hornets
•
Dallas steps up
•
TrueHoop's Series Bullets
•
Jackson: Dinner with the Hornets
•
Hollinger: Paul powers Hornets again
•
Hollinger: Paul finds groove in playoff debut
•
Scouts Inc.'s series breakdown
•
Series page: More coverage
Suns vs. Spurs
•
Adande: Suns missing an identity
•
TrueHoop's Series Bullets
•
Scouts Inc.'s series breakdown
•
Series page: More coverage
Rockets vs. Jazz
•
TrueHoop's Series Bullets
•
Scouts Inc.'s series breakdown
•
Series page: More coverage
SportsNation
•
Make your playoff predictions
•
Rank 'em: All 16 NBA playoff teams
•
Quiz: What's your playoff IQ?