Scouts Inc. Update: Jazz vs. Lakers, Game 2
Originally Published:
May 7, 2008
By
David Thorpe
| Scouts Inc.
• Jazz-Lakers series scouting report | Series page


The Lakers learned a valuable lesson in Game 1 of the second round: There are no more "Denver Nuggets" left in these playoffs. With every excuse to stop fighting when they were down 19 in the second half, the Jazz reached down and found a level of effort Denver never was capable (or willing) of reaching. Consequently, although the Lakers need just three more wins to reach the Western finals, they will have to play much better to get them.
Why am I calling on the Lakers to play better when they just won Game 1 by double figures? When they shot 46 free throws, made 38 and committed just nine turnovers? It's because at this level of the playoffs, strategy often is trumped by desire and toughness -- something Utah showed more of in Game 1 than L.A. had seen from all its opponents in its past few playoff appearances. To be sure, the Jazz have a lot to talk about before Game 2, specifically what they are going to do about Kobe Bryant. In Game 1, he cruised to 38 points on 16 shots, hitting 21 of his 23 free throws. Utah tried to send a message -- "nothing is easy" -- to him all game, but he had seen and defeated overly physical teams before. Utah needs to be a little more discerning as to when and where to "whack" Kobe on a shot attempt. For starters, it never should be attempted on a jump shot, and Ronnie Brewer needs to understand that he never will block a Kobe jump shot, so going for the shot fakes on the perimeter is just bad basketball. And when Kobe is forced to make a tough shot in traffic, opponents need to be satisfied with that and not bail him out with a foul. He will miss plenty of twisting shots but few free throws.
Kobe also had seven assists in Game 1 -- Utah made the fatal mistake of letting him get a lot of points and create a decent amount of points for his teammates. Few teams can beat L.A. when that happens. The Jazz will continue to look for Kobe's man defense when they are running their offensive sets, as he seemed reticent to really lock in and defend down low in the first game -- possibly saving himself and his fouls for the fourth quarter. They simply must work every angle possible to tire him, wear him down and break his rhythm. He's too capable of carrying his team to the four wins if not for some strong and smart tactics by Utah.
The Jazz should be disappointed, after watching film, by their lack of purpose in defensive transition. Too often in Game 1, a Jazz player or two just stopped and barely defended the outlet passer, preventing another defender from being in position at their defensive end. Big-time pressure must be applied to the outlet passer to stall the break. Otherwise, it is best to just sprint back. The Jazz did a better job in the second half but mostly because of their efforts on the offensive glass. They finished with a staggering 25, and that supreme effort might cause Phil Jackson to stress running less and rebounding more.
Although they lost, the Jazz showed plenty of talent and execution, and that is cause for concern in Los Angeles. The Lakers struggled to defend Utah's sets and actions all night. Sometimes a Laker switched a screen when his teammate didn't, leaving a Utah player wide open at the rim. Other times, an L.A. defender got so locked into his man that he forgot to see the floor, missing important help opportunities inside. The Lakers will spend their time off narrowing their focus and getting everyone on the same page -- when they should switch, who should switch, where the biggest threats in the Jazz offense are, etc. Utah was the second-most productive offense in terms of points per possession during the regular season, mostly because the Jazz have a number of ways they can score. If the Lakers spend too much time in one area, they could get killed in another. And not adjusting anything is asking for trouble -- the Lakers can't expect Utah to shoot 36-for-95 (37.9 percent) again and 4-for-19 from 3-point range.
And it's not just the sets -- Utah hurt Los Angeles with sound strategies. Rushing Carlos Boozer to the post in early offense paid some dividends, and he's much better there than on the perimeter. For Utah to get a road win against this terrific Lakers team, he likely will need to score more than 15 points. And he definitely will need to make fewer than seven turnovers (his Game 1 totals). Getting the ball to him early makes it tough for L.A. to be in position to help/double him and be ready to rotate to shooters and cutters. Utah had success curling guys through the lane when Boozer had the ball mid-post. The Lakers need to bump those guys off their paths, but doing so will open up Boozer's path to the rim. Boozer is anxious to be a difference-maker after his mediocre play against the Houston Rockets in the first round, so L.A. might just keep forcing him to be more of a passer and give up those easy looks.
Mehmet Okur clearly looked to drive on Pau Gasol and put him in foul trouble in Game 1. It worked, and we'll see more of that in this series. But if the Lakers play off Okur too often to protect against his drives, he can turn a game around from with 3s.
Game 2 looks to be a tougher, closer replay of Game 1. Utah will be more rested, but the pace in Game 1 was very fast anyway. I think Utah will hone in on a better defensive game plan, showing more discipline, for example, on Derek Fisher's drives. The Jazz will make him be a finisher instead of cutting him off and letting him create a shot for a better scorer. And although they lead the league most years in fouls, I don't expect an excessive amount in the second game.
The Jazz are, perhaps, the most mentally and physically tough team not named the San Antonio Spurs (not including the astounding Rockets team they beat). So L.A. must expect to see Utah's best effort -- and that is a real challenge. Remember, Deron Williams finished with 14 points, nine rebounds and nine assists in Game 1, but shot just 5-for-18. The Jazz love the shots they got and feel very confident they can win a road game or two. But until somebody beats this Lakers team in L.A., I won't predict it will happen. They are a driven, confident, deeply talented team, but one that needs to realize they are in for a true fight against another heavyweight.
PREDICTION: Lakers win Game 2

David Thorpe is an NBA analyst for ESPN.com and the executive director of the Pro Training Center at the IMG Academies in Bradenton, Fla., where he oversees the player development program for NBA and college players. To e-mail him, click here.
Synergy Sports Technology systems were used in the preparation of this report.
NBA Analyst for ESPN.com
Executive director of Pro Training Center
Started coaching career in 1987
SPONSORED HEADLINES
MORE NBA HEADLINES
MOST SENT STORIES ON ESPN.COM
2008 NBA PLAYOFFS Round 2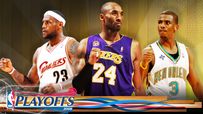 LeBron, Kobe and CP3 dominated Round 1 of the 2008 NBA playoffs, where the top four seeds in each conference advanced to the second round.
Playoff schedule | Playoff bracket | Playoff home
Daily Dime
•
Daily Dime: Lakers end Jazz season in Game 6
•
Daily Dime: Spurs dominate Hornets in Game 6
•
Daily Dime: Rondo gets C's rolling in Game 5
•
Daily Dime: Hornets one win from advancing
•
Daily Dime: Celtics with road woes
•
Daily Dime: Williams puts Utah on his back
•
Daily Dime: Cavs roll in Game 3 victory
•
Daily Dime: Boozer makes impact in Game 3
•
Daily Dime: Spurs keep head above water
•
Daily Dime: Kobe's most valuable promise
•
Daily Dime: Beauty is in eye of beholder
•
Daily Dime: CP3 making Spurs look old
•
Daily Dime: Kobe free to reign in Game 1
•
Daily Dime: Hornets sting the champs
Columns
•
Hollinger: Handing out some playoff awards
Cavaliers vs. Celtics
•
Windhorst: LeBron's chance to be Jordanesque
•
Sheridan: Legacies on the line for Celtics
•
Sheridan: Screwball finish to Game 6
•
Sheridan: Allen finds his range
•
Windhorst: Cavs search for offense
•
Windhorst: LeBron likes his chances
•
Scouts Inc.'s series breakdown
•
Wojciechowski: Rest easy, Celtics ... for now
•
Jackson: Do you still love the Celtics?
•
Series page: More coverage
Magic vs. Pistons
•
Magic eliminated, but won't disappear
•
Hollinger: Hunter dusts off rust
•
Hollinger: Pistons win without Billups
•
Scouts Inc.'s series breakdown
•
Series page: More coverage
Jazz vs. Lakers
•
Adande: Kobe plays supporting role
•
Adande: Jazz find Lakers out of tune
•
Wojciechowski: Miller won't listen on the Sabbath
•
Adande: A year to remember for Fisher
•
Scouts Inc.'s series breakdown
•
Series page: More coverage
Spurs vs. Hornets
•
Stein: Spurs knew Hornets were trouble
•
Neel: Enjoy Chris Paul while you can
•
Hollinger: Champs back to winning ways
•
Palmer: Birdman's redemption bittersweet
•
Adande: Chris Paul's mean streak
•
TrueHoop: Spurs stung twice by Hornets
•
Scouts Inc.'s series breakdown
•
Series page: More coverage
TrueHoop
•
Stat Geek Smackdown: 2008 playoffs
SportsNation
•
Which teams will advance to conference semis?
•
Rank the remaining eight playoff teams