Commentary
Scouts Inc. breakdown: Lakers vs. Celtics
Updated:
June 4, 2008, 1:39 PM ET
By
David Thorpe
and
Mike Moreau
| Scouts Inc.
It's hard to imagine a more intriguing and exciting NBA Finals. Not just because of the storied rivalry between these two franchises, but the individual matchups are just as compelling. Can a young bruiser like Kendrick Perkins make life difficult for a world-class player like Pau Gasol? The same question exists for Rajon Rondo, who has exceeded many expectations this season but now faces veteran point guard Derek Fisher and his multiple rings. Then there's mercurial talent Lamar Odom, against Hall of Famer-to-be Kevin Garnett, who's never been to the Finals before -- few players have the skills to give Garnett fits like Odom can. And can Paul Pierce, a top NBA player with a long career, carry his team to a title against the league's best player, Kobe Bryant?
The strategic matchups will be great to watch as well. Boston played the most dominating defense this season, and played that role well in beating Detroit. The Lakers were a top-three offense once Gasol arrived, and flexed their muscles in overpowering the high-octane offenses of Denver and Utah. But these teams are far from one-dimensional. Boston came through with strong offensive efforts two times in the Pistons series, while L.A. suffocated
Tim Duncan
down the stretch of the Spurs series.
The Lakers did not rebound well in their first two series, but came up with huge and many offensive rebounds against San Antonio. Boston is an excellent team on the glass but will be challenged because its rotations will get extended in looking to help on Bryant while defending all the triangle options and the Lakers' deep shooters. The Celtics prefer a slower game, relying on their defense to strangle the opponents' best options in their half-court sets, but Rondo is a blur with the ball, excelling in the transition game. It is true that the Lakers love to run and push the ball, but they are just as effective in a slower game thanks to sound offensive systems and players.
Ray Allen
's offense has returned, and as a whole, the Celtics got big performances from the big three. Allen, Pierce and Garnett all had standout games at different times against the Pistons. Plus, Rondo's penetration helps to create for everyone. And to make matters even better for Boston, Perkins got hustle points and established position against a formidable Pistons front line.
No team in the NBA rotates and communicates defensively with the precision and consistency like the Celtics do. Boston's league-leading team defense overshadows the fact that each of their starters is a formidable individual defender. In this series, it will be important to see which guys can guard their own man with minimal help.
This Boston team rises and falls with it's defense, and the Celtics have developed a pride, an intensity and a defensive mentality that can not only shut down teams, but can carry them in stretches and keep them in games when their offense struggles. Both teams have playmakers and defensive talents coming off the bench. And both benches are good enough to carry a team to at least one win.
---
Derek Fisher:
He's the steadying influence that L.A. needed to unseat the defending champs, even though he did not shoot well. This was somewhat of a surprise after scoring and shooting so well against Utah. During the Spurs series, he averaged 6.2 ppg on 37.5 percent shooting. Fisher made up for it with solid defense and outstanding ballhandling, committing just two turnovers the entire series. He'll give up lots of quickness to Rondo, but has long arms and a great sense of timing to contest jump shots. If he can keep Rondo from stripping him or deflecting his passes, the Lakers' offense has a real chance to be more effective than any team Boston has faced.
Rajon Rondo:
The Celtics have grown more comfortable with Rondo at the controls as his confidence and production have improved from series to series. In 20 playoff games, Rondo has posted a 3:1 assist-to-turnover ratio, and his ability to push in transition and penetrate in the half court are keys to Boston's offensive success. The continuing concern is his inability to knock down open jump shots, as he has made only 10 of his past 35 attempts -- shooting only 34.9 percent in the conference finals. On the defensive end, he can create problems for the Lakers' guards with his defensive quickness.
---
LOS ANGELES LAKERS

POSITION

BOSTON CELTICS

Kobe Bryant
28.3 ppg
6.3 rpg
5.4 apg



SG


Ray Allen
17.4 ppg
3.7 rpg
3.1 apg
Kobe Bryant:
Bryant is coming off one of his most impressive series performances of his career. Against the Spurs, he averaged 29.2 points per game -- with just 10 made free throws overall -- and shot 53.3 percent from the floor, with many of his attempts coming on jump shots. The Spurs worked at keeping him out of the paint, but it didn't matter. He almost always scored when his team needed him to, and his 39 points in the series clincher was his best overall effort of the playoffs (even better than the 49 in the Denver rout). Boston can not just back off him, nor can they simply apply pressure and bring a second defender. Something more complex will be needed, but it comes at the risk of letting other Lakers players get easy looks. Bryant will be used as a defensive stopper as well, working to cool down either Allen or Pierce, if they are carrying Boston's offense.
Ray Allen:
Allen came roaring out of his horrific offensive slump with 29 points, shooting 5-for-6 from 3-point range in Game 5 of the conference finals. Although averaging only 14.2 points on 40.3 percent shooting in the playoffs, he averaged 17.5 points and shot 44 percent against Detroit -- making 15 of 27 shots and shooting 8-for-14 from 3 in his past two games. Expect Allen to provide more of his normal offensive presence -- shooting the 3-pointer in transition or off screens in the half court. He will use his dribble pull-up game to get into the lane and get to the foul line if the jumper isn't falling. Things get no easier for him defensively as he goes from chasing
Richard Hamilton
to matching up with the best 2-guard on the planet.
---
Vladimir Radmanovic:
He played his best games in the two games that L.A. won by a combined six points. During the Spurs series, he averaged 8.4 ppg overall but scored 10 and 11 in those two close games, hitting 10 of 13 shots. He roamed often in their half-court defense, away from
Bruce Bowen
, and was effective as a help-defender too. But in this series, he will not be able to play the same role against either Pierce or Allen. Assuming Boston will scramble to defend Kobe, Radmanovic's normally steady 3-point shot will be a key to the series.
Paul Pierce:
In the past two series, Pierce established himself as the go-to-guy in big games and on crucial possessions. He followed up his 41 points in a Game 7 classic against the Cavs with 27 points, shooting 8-for-12 in the close-out Game 6 in Detroit. His scoring has gone up in each series, as he is shooting fewer 3s and getting more free throws by attacking the basket. He's averaging 19.0 points on 44.3 shooting in the playoffs, getting his points from all over the floor, whether it's isos, post-ups, jumpers off the dribble or 3s in transition. In the past two series, he defended
Tayshaun Prince
and
LeBron James
as well as anyone can, so expect him to see some duty on Bryant when the matchup dictates.
---
LOS ANGELES LAKERS

POSITION

BOSTON CELTICS

Lamar Odom
14.2 ppg
10.7 rpg
3.5 apg



PF


Kevin Garnett
18.8 ppg
9.2 rpg
1.3 bpg
Lamar Odom:
Odom had some shining moments against San Antonio, but didn't excel too consistently. The fact L.A. won in five games despite ho-hum production from Odom was a surprise to many, and a sign of its overall depth. He'll likely have to score better than his 12.8-points-per-game production against the Spurs, and shoot better than 40.4 percent from the floor, too. He had his best game -- 20 points -- shooting 7-for-10 in the only blowout win for L.A. He could have a similar impact in this series, but staying out of foul trouble against Garnett and forcing him to defend dribble drives (perhaps drawing fouls from him) will be two key areas.
Kevin Garnett:
Garnett is the Celtics' leading scorer in the playoffs. In the conference finals, he stepped it up another level, averaging 22.8 points shooting a sizzling 52.5 percent. In half of Boston's postseason games, he has scored 20 points or more, including 33 points in the pivotal Game 5 against Detroit. Garnett is an excellent low-post scorer, but has found success in the playoffs with his midrange jumper and the ability to catch and shoot off pick-and-pop screening actions. He will need his entire offensive arsenal against Odom. Garnett is the heart and soul of the Celtics' defense. He will need to lead vocally and by example on both ends against the Lakers.
---
Pau Gasol:
So much for the theory that Gasol is somehow not a great player because he's never won a playoff series. He might not have scored a lot of points by his standards (13.2 points per game) but his defense on Duncan was a series-changer. He used his long arms and nimble feet to challenge Duncan consistently, without fouling, and made things tough on
Tony Parker
by effectively hedging ball screens. Of course, his biggest contributions were the 12 offensive rebounds in the last two games, including nine in Game 5. He'll have to be just as aggressive to keep Perkins at bay. Gasol is not the league's most physical post player, but neither is he at all "soft."
Kendrick Perkins:
Perkins provides the size, energy and physical inside presence at both ends of the floor. He gets a lot of his points sliding and flashing to open areas around the basket, as most of the offensive attention is on his teammates -- Garnett especially looks for him when he is doubled. Perkins began asserting himself in the low post against Detroit, and at times dominated their entire front line. He averaged 9.3 points and 9.2 rebounds in that series. He is quick and mobile for his size, and he is the primary rotation guy in the Celtics' half-court defense. His ability to use his size and quickness against the versatile Gasol will be a key factor in the Celtics' success.
---
LOS ANGELES LAKERS

POSITION

BOSTON CELTICS

Luke Walton
7.2 ppg
3.9 rpg
2.9 apg



BENCH


James Posey
7.4 ppg
4.4 rpg
1.5 apg
Lakers
Luke Walton:
He's a versatile player who can shoot the 3-pointer (9-for-20 in the playoffs) or post up smaller players. His brilliant passing will be needed to make plays against the Celtics defense.
Sasha Vujacic:
He's a confident shooter who makes defensive plays with his hustle. He went 23-for-56 on 3-pointers in the playoffs, but shot just 6-for-19 in the conference finals.
Jordan Farmar:
He rebounded from a horrible series against Utah (1.7 points per game) to an excellent one in the conference finals, scoring 8.4 points per game and went 5-for-12 on 3's. He can penetrate and make a play at the rim, too.
Ronny Turiaf:
He's active on the glass and solid on defense. His ability to slide his feet and hedge ball screens will make things tougher on Rondo.
Trevor Ariza:
He played 10 total minutes against the Spurs after returning from an injury back in December. He's a very special athlete on defense and in transition.
---
Celtics
James Posey:
He has been to the Finals before and won a championship with the Heat. During the playoffs he has been Boston's best percentage 3-point shooter in the playoffs -- shooting 23-for-64 for a 35.9 percent. He averages 21 minutes per game, and will play a significant role in helping to guard Bryant.
Sam Cassell:
He also has Finals experience and played on two NBA championships teams with the Rockets at the beginning of his career, but has played a much smaller role than expected for Boston in these playoffs with 4.7 points on only 32 percent shooting. Cassell can bring quick points or bad shots and turnovers, but he might need to play the role he was brought in for if the lights gets too bright for Rondo.
P.J. Brown:
Brown brings a calming, veteran presence, as well as size and defense to the court. He's averaging 2.6 points and 2.3 rebounds in 11 minutes per game.
Leon Powe:
He provides the spark to the front line with 4.6 points and 2.5 rebounds per game and makes his biggest contribution on the offensive glass.
Eddie House:
He's playing only five minutes a game in the playoffs, but can bring energy to the second unit and can get streaky hot with his 3.
Glen Davis:
He's averaging 2.3 points in seven minutes per game. Big Baby can score and make plays around the basket and has fouls to give.
Tony Allen:
Although he has played little in the playoffs, Allen had 16 points filling in for Rondo in a regular-season Celtics win over the Lakers.
---
BOTTOM LINE
Thorpe:
Boston has proven to me that it is a dynamic and special team. The Celtics have improved as the playoffs evolved and will be tougher for the Lakers to beat than any of the three teams L.A. defeated out west to get to the Finals. The Celtics' will to win is formidable, and their team chemistry is superb. The Lakers appear to be better, on paper, but only slightly so. Winning a game in Boston is no tougher for L.A. than winning in Utah or San Antonio, which the Lakers did. But winning a game in L.A. would require Boston to play just a bit better than it has in previous road games. So I give the smallest of edges to the Lakers.
Prediction: Lakers 4, Boston 2
---
Moreau:
After slogging through the Eastern Conference playoffs in less-than-dominant fashion, the fact remains that the team with the best regular-season record is in the Finals with home-court advantage. Although the Lakers are a more formidable opponent than anyone in the East, the Celtics will be the toughest opponent the Lakers have faced. Boston has grown, matured and overcome adversity and doubts on their road to the Finals. They've won close games and passed the final test by breaking through on the road with a close-out win against the Pistons. The NBA's best defense will keep the Celtics in every game, and their strength in numbers will help them survive the best closer in the league.
Prediction: Celtics 4, Lakers 2
David Thorpe is an NBA analyst for ESPN.com and the executive director of the Pro Training Center at the IMG Academies in Bradenton, Fla., where he oversees the player development program for NBA and college players. To e-mail him, click here.
Mike Moreau is the director of basketball for the Pro Training Center and The Basketball Academy at the IMG Academies in Bradenton, Fla. He also serves as an NBA analyst for Hoopsworld.
Synergy Sports Technology systems were used in the preparation of this report.
2008 NBA FINALS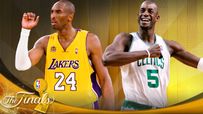 And then there were two -- the Lakers and Celtics. Who will win the NBA Finals? Let the games begin.
Finals schedule | Playoff bracket | Playoff home
Daily Dime
•
Celtics win 17th championship title
•
Did C's lose Regret Game?
•
A little help from Kobe's friends
•
Time for L.A. to go small
•
The Finals Can't Shake Donaghy Mess
•
Unlikely Game 4 comeback gives C's 3-1 lead
•
Rondo's ankle could change L.A.'s game plan
•
Kobe leads Lakers to Game 3 win
•
Lakers need to attack the paint
•
Lakers learn Powe's name in Game 2
•
Time for Gasol to step up
•
Lakers need better defense in Game 2
•
Pierce sparks Celtics in Game 1 victory
•
Expert predictions, clutch stats
•
Pierce loves playing Lakers
•
Celtics to meet L.A. in the Finals
Lakers vs. Celtics
•
Stein: Q&A after six-game "sweep"
•
MacMullan: Pierce's long road to greatness
•
Hollinger: From camp to champs
•
Stein: Boston's big three shine
•
Adande: Questions loom over Lakers' future
•
Hollinger: Celtics commit to defense
•
Scouts Inc.: Game 6 breakdown
•
Hollinger: Farmer steps up in Game 5
•
Sheridan: Late-game letdown for Celtics
•
Stein: Lakers ready to make history?
•
Adande: Greatness eluding Phil and Kobe
•
MacMullan: Doc adheres to dad's lessons
•
Jackson: Time for L.A.'s concession speech?
•
Stein: Game 4 not Kobe's finest hour
•
Adande: KG dominates Gasol again
•
Hollinger: Rivers makes all the right moves
•
Hill: Kobe's Laker legacy on the line
•
Hollinger: Vujacic lends helping hand in Game 3
•
Jackson: Jump shot Jesus has returned
•
Stein: Lakers need to earn sympathy
•
Adande: Lakers feel foul over whistle disparity
•
Jackson: Leading role suits Pierce
•
Adande: Kobe turns away from the pass late
•
Stein: Pierce's knee key to rest of series
•
Finals factor 1: Kobe Bryant
•
Finals factor 2: Celtics Defense
•
Finals factor 3: Paul Pierce
•
Finals factor 4: Home-court advantage
•
Finals factor 5: Battle of the benches
•
Hollinger: Lakers offense vs. Celtics defense
•
Broussard: Turning back the clock

•
Adande: How did Kobe get here?
•
Scouts Inc. breakdown: Lakers vs. Celtics
•
Coaching comparison: Red vs. Phil
•
Smith: Kobe's moving forward
•
Scoop: Fiendin' for a ring
•
Top 10 moments of Lakers-Celtics rivalry
•
ESPN Classic schedule: Relive the rivalry
TrueHoop
•
TrueHoop: Finals reflections
•
TrueHoop: Doc Rivers' redemption
•
TrueHoop: Lakers got Rondo'd
•
Tough night for Allen
•
Game 5 live blogging
•
Laker nation vs. NBA refs
•
Pierce and the evaporating knee story
•
Game 2 live blogging
•
Coaxing Kobe Bryant into hero mode
•
Game 1 live blogging
•
Today's game isn't so different
Simmons
•
Notes from the C's winning night
•
Boston's X factors
•
Game 4 running diary
•
Time for NBA Finals answers
•
The C's and city both look good
•
The Truth comes out in Game 1
•
NBA Finals forecast
•
Chat: NBA Finals preview
•
Simmons: You want a piece of Kobe, Boston?
ESPN The Magazine
•
Sporting Equivalency: NBA Finals meets hip hop
•
Broussard: Reporting from the NBA Finals
Fantasy
•
Join the fun of NBA Finals: Playcaller
Audio
•
Dish: NBA Finals recap
•
Wyc Grossbeck on C's championship
•
Ray Allen on how the Celtics evolved
•
Bob Ryan compares '86 C's to current one
•
Jon Barry credits Tom Thibodeau's team defense
•
Game 4 reactions
•
Rajon Rondo on Pierce, Game 2 plans
•
Bill Walton on Celtics-Lakers history
•
Dr. J on Finals, '80s hoops

MOST SENT STORIES ON ESPN.COM