Commentary
Scouts Inc. breakdown: Lakers vs. Celtics, Game 2
Originally Published:
June 7, 2008
By
David Thorpe
and
Mike Moreau
| Scouts Inc.
It seems obvious that for L.A. to improve upon its poor overall shooting in Game 1 (32-for-77, 41.6 percent and 3-for-14 from 3) it must first get more efficient production from Kobe Bryant. In Game 1 Boston did everything it could to disrupt Kobe. The Celtics put up a wall around the paint every time he worked with a live dribble, their off-ball defenders took an extra step towards him when he dribble-attacked and they aggressively hedged him when he used ball-screens.
Those actions induced Kobe into taking far too many jump shots from the perimeter -- at least far too many when he was not "in the zone." More importantly, taking those shots early in the shot clock, or after just one or two dribbles, allowed Boston's defense to stay organized near the rim, which helped the Celtics control the defensive backboards. Limiting L.A. to seven offensive rebounds -- Pau Gasol grabbed nine by himself in the series clincher against the Spurs -- was a large part to the Celtics' victory.
Kobe had more success in Game 1 playing off the ball because of the Celtics wall that was put up when he drove the lane, so if he can get better position in the post during Game 2 -- anything inside 17 feet is a positive -- then the Lakers should have more success.
In general, L.A. started its sets too far away from the rim, allowing Boston to help hard without much fear of leaving important spots open inside -- the ball was two passes away from those spots. Kobe in the pinch post puts Boston in far greater peril should it run towards him, as he'll have quicker and easier passes to players in scoring position. Keeping his dribble alive and working both vertically and horizontally within the triangle should open up shots as well, forcing Boston to extend and move its defenders in his direction. With that approach, the lanes will open up for offensive rebounds too. If Boston can keep Kobe away from the rim by forcing quick jumpers then its coaching staff will be smiling, unless Kobe is in his "Mamba zone," then all bets are off.
Using Gasol more as a set facilitator is something we should see too. His excellent passing skills can be used to find holes inside Boston's defense. But both Gasol and his teammates must finish shots with more authority. Gasol got open on slipped screens -- available because his defender was cheating out to help on Kobe -- or blown defensive assignments, as did his other frontcourt guys, but they failed to make the shot or draw the foul often enough. The pressure of playing in the Finals might have had some impact here, with the Lakers not only missing open shots, but also passing up on some. Against a defense this good, taking the first good shot is the best strategy.
L.A. has to play smarter defense too, not committing fouls on dribblers in nonthreatening positions. Losing Vladimir Radmanovic to fouls hurt its offense without question, but also allowing Boston to take 35 free throws (making 28) helped bail the Celtics out of an average offensive game. If Kevin Garnett has another hot start, L.A. might crowd him more and force him to be an attacker off the dribble. Garnett looks to be in his comfort zone when he's able to create space off a pivot or two and shoot the jumper.
The Lakers did not shoot or rebound well, nor did they come up with as many "hustle plays" as Boston did. But we know they are capable of doing much better in those areas. They got outscored by nine from the 3-point line and seven from the free-throw line and lost by only 10 points. Expect all three of those numbers to improve in L.A.'s favor in Game 2. Utah proved that L.A. can be beaten in two straight games, so Boston is even more capable of getting that done. But the Lakers have been at their best when severely challenged, and going down 0-2 is a very scary thought for them. -- David Thorpe
Thorpe's Prediction: Lakers win Game 2
---
The Celtics' defensive blueprint will not change much in Game 2, as they accomplished their primary mission of making Kobe into a jump-shooter and keeping him off the foul line.
[+] Enlarge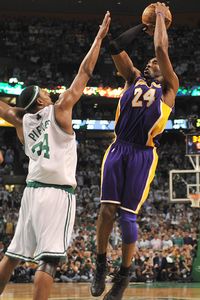 Gabriel Bouys/Getty imagesThe Celtics will continue to try to force Kobe into shooting jumpers.
Ray Allen, James Posey and Paul Pierce all spent time defending Bryant -- playing a "soft contain" by picking him up inside the 3-point line and giving him plenty of room to shoot. When Kobe started his drives, his defender just backed up, kept off of his body, and contested his shot without fouling.
One continued point of emphasis in Game 2 will be the Celtics' defenders staying on the floor and not buying into Bryant's shot fakes. Boston's discipline in Game 2 will be a key again, and look for Kobe to simplify his moves and go to more post-ups if defenders are staying down.
Boston also sent another defender at Bryant, but only after he had fully committed to his move. This wasn't really a double-team, as it just put another defender close by to contest his shot, making Kobe feel like he was shooting over two defenders. Expect more of the same in Game 2.
The Celtics aggressively contested every shot, which led to fouls on shooters in each half. But, these are fouls the Celtics can live with, as this vigorous contesting leads to missed shots in the second half. The Lakers can say all they want about how they missed wide-open shots, but it's the relentless pressure on the shooters that has a cumulative effect -- even on wide-open looks.
The biggest adjustment Boston will have to make for Game 2 -- which they made in the second half of Game 1 -- is how to defend the slips and rolls of Pau Gasol. With the Celtics hedging hard on ball screens, Gasol found some easy baskets in the first half when he caught his man cheating on the high side.
In Game 2, look for Boston to rotate its baseline defenders further up the floor to cut off that path -- as it did when Garnett met Gasol at the rim in the fourth quarter and blocked his shot. Boston will also commit its help later in the action -- staying on Gasol's bottom hip as long as possible. This could allow the Lakers' ball handlers more chances to turn the corner in Game 2.
With the Lakers sinking and many times switching on ball screens in Game 1, look for Boston to put Allen and Pierce in more ball screen action in Game 2, to take advantage of the momentary lack of pressure or to go at the mismatched defender. This gives the Celtics' best scorers a midrange jump shot with little pressure, and also more opportunities for Boston to punish the Lakers for the switch. Pierce was able to do this in the fourth quarter of Game 1, when he posted and scored over Derek Fisher.
If the Lakers continue to run Lamar Odom at the Celtics' post players in Game 2, look for a quicker flash to the middle from Kendrick Perkins and for the diagonal pass to the opposite wing to James Posey or Allen. Garnett's passing ability makes this tough on the Lakers.
As much as the Lakers talked about missing open shots in Game 1, the key point is that they made them early and missed them late -- which is the designed effect of the Celtics' defensive scheme. Conversely, Boston missed shots early and made the big ones down the stretch. Look for this trend to continue in Game 2.
With The Black Mamba hearing comments about what a great job Allen is doing to contain him (twice in the regular season and now in Game 1), expect a more aggressive Kobe to go out of his way to right the Lakers' ship -- which might play right into the Celtics' hands. -- Mike Moreau
Moreau's Prediction: Celtics win Game 2
David Thorpe is an NBA analyst for ESPN.com and the executive director of the Pro Training Center at the IMG Academies in Bradenton, Fla., where he oversees the player development program for NBA and college players. To e-mail him, click here.
Mike Moreau is the director of basketball for the Pro Training Center and The Basketball Academy at the IMG Academies in Bradenton, Fla. He also serves as an NBA analyst for Hoopsworld.
Synergy Sports Technology systems were used in the preparation of this report.
NBA Analyst for ESPN.com
Executive director of Pro Training Center
Started coaching career in 1987
2008 NBA FINALS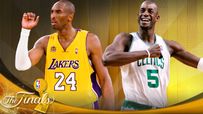 And then there were two -- the Lakers and Celtics. Who will win the NBA Finals? Let the games begin.
Finals schedule | Playoff bracket | Playoff home
Daily Dime
•
Celtics win 17th championship title
•
Did C's lose Regret Game?
•
A little help from Kobe's friends
•
Time for L.A. to go small
•
The Finals Can't Shake Donaghy Mess
•
Unlikely Game 4 comeback gives C's 3-1 lead
•
Rondo's ankle could change L.A.'s game plan
•
Kobe leads Lakers to Game 3 win
•
Lakers need to attack the paint
•
Lakers learn Powe's name in Game 2
•
Time for Gasol to step up
•
Lakers need better defense in Game 2
•
Pierce sparks Celtics in Game 1 victory
•
Expert predictions, clutch stats
•
Pierce loves playing Lakers
•
Celtics to meet L.A. in the Finals
Lakers vs. Celtics
•
Stein: Q&A after six-game "sweep"
•
MacMullan: Pierce's long road to greatness
•
Hollinger: From camp to champs
•
Stein: Boston's big three shine
•
Adande: Questions loom over Lakers' future
•
Hollinger: Celtics commit to defense
•
Scouts Inc.: Game 6 breakdown
•
Hollinger: Farmer steps up in Game 5
•
Sheridan: Late-game letdown for Celtics
•
Stein: Lakers ready to make history?
•
Adande: Greatness eluding Phil and Kobe
•
MacMullan: Doc adheres to dad's lessons
•
Jackson: Time for L.A.'s concession speech?
•
Stein: Game 4 not Kobe's finest hour
•
Adande: KG dominates Gasol again
•
Hollinger: Rivers makes all the right moves
•
Hill: Kobe's Laker legacy on the line
•
Hollinger: Vujacic lends helping hand in Game 3
•
Jackson: Jump shot Jesus has returned
•
Stein: Lakers need to earn sympathy
•
Adande: Lakers feel foul over whistle disparity
•
Jackson: Leading role suits Pierce
•
Adande: Kobe turns away from the pass late
•
Stein: Pierce's knee key to rest of series
•
Finals factor 1: Kobe Bryant
•
Finals factor 2: Celtics Defense
•
Finals factor 3: Paul Pierce
•
Finals factor 4: Home-court advantage
•
Finals factor 5: Battle of the benches
•
Hollinger: Lakers offense vs. Celtics defense
•
Broussard: Turning back the clock

•
Adande: How did Kobe get here?
•
Scouts Inc. breakdown: Lakers vs. Celtics
•
Coaching comparison: Red vs. Phil
•
Smith: Kobe's moving forward
•
Scoop: Fiendin' for a ring
•
Top 10 moments of Lakers-Celtics rivalry
•
ESPN Classic schedule: Relive the rivalry
TrueHoop
•
TrueHoop: Finals reflections
•
TrueHoop: Doc Rivers' redemption
•
TrueHoop: Lakers got Rondo'd
•
Tough night for Allen
•
Game 5 live blogging
•
Laker nation vs. NBA refs
•
Pierce and the evaporating knee story
•
Game 2 live blogging
•
Coaxing Kobe Bryant into hero mode
•
Game 1 live blogging
•
Today's game isn't so different
Simmons
•
Notes from the C's winning night
•
Boston's X factors
•
Game 4 running diary
•
Time for NBA Finals answers
•
The C's and city both look good
•
The Truth comes out in Game 1
•
NBA Finals forecast
•
Chat: NBA Finals preview
•
Simmons: You want a piece of Kobe, Boston?
ESPN The Magazine
•
Sporting Equivalency: NBA Finals meets hip hop
•
Broussard: Reporting from the NBA Finals
Fantasy
•
Join the fun of NBA Finals: Playcaller
Audio
•
Dish: NBA Finals recap
•
Wyc Grossbeck on C's championship
•
Ray Allen on how the Celtics evolved
•
Bob Ryan compares '86 C's to current one
•
Jon Barry credits Tom Thibodeau's team defense
•
Game 4 reactions
•
Rajon Rondo on Pierce, Game 2 plans
•
Bill Walton on Celtics-Lakers history
•
Dr. J on Finals, '80s hoops

ESPN.COM PARTNER: NBA.COM