Commentary
Scouts Inc. breakdown: Lakers vs. Celtics, Game 3
Originally Published:
June 10, 2008
By
David Thorpe
and
Mike Moreau
| Scouts Inc.
David Thorpe's take
If ever there was a case of statistics not being representative of the true nature of a game, Game 2 in Boston was it. On paper, it looks like L.A. played a great offensive game against a strong defensive team: shot better than 49 percent from the field, went 10-for-21 on 3s, had more offensive rebounds and one fewer overall rebound, and scored 102 points. Of course, nothing could be further from the truth. The Lakers played one great quarter, after three very poor ones, and now must wake up and realize they are in a bloody fight -- because at this point, only one team has played with the passion and purpose necessary to win a championship, and it wasn't them.
Strategically, there is not much the Lakers have to do to get their offense in gear against the Celtics. They are getting great looks both near the rim and on jump shots, even though the game is being played at a slower pace than they would prefer. To speed things up and start more fast breaks, the Lakers need to commit fewer fouls -- getting a fast break going after a free throw is very hard.
Relegated to a half-court game, L.A. still is operating its triangle offense well, but not perfectly. The Lakers are standing around more than they should be, especially when the ball is on the wing or at the pinch post. Few facecuts are being made, though there are many chances for them as the Celtics' defenders are far more focused on Kobe Bryant than they are on their own man.
Most important, L.A.'s lack of passion and its disinterest in finishing with force is giving the triangle more problems than anything Boston is doing strategically. One play in particular spells out L.A.'s problem:
Kobe and Pau Gasol executed a sharp strongside pin-down action, resulting in a Kobe catch near the pinch post. Ray Allen stayed with Kobe, and Kendrick Perkins offered curl protection, momentarily leaving Gasol. Kobe threw a quick pass to Gasol, who then had the ball in the short corner with no one guarding him. Kevin Garnett released from Lamar Odom on the weak side and rotated towards Gasol, but did not cross the midline.
Gasol then let a fast-charging Rajon Rondo fly by him and did not attack the out-of-control defender, choosing instead to stand still, which allowed Perkins to get back onto Gasol after leaving Kobe. Odom recognized that his man (Garnett) did not see him, so he made a smart facecut and received an excellent pass from Gasol. Odom quickly went up for a soft one-handed dunk, which Garnett easily blocked despite being surprised by Odom's cut. Had this been a set run by any of Boston's frontcourt players, both the first post player (Gasol) and the second (Odom) would have made a powerful dunk attempt, likely ending up in a three-point play.
Coach Phil Jackson can simply run this same video clip numerous times to make his point, but he does have many other clips to choose from in which the Lakers offense didn't execute to its full potential. He can also show the smallest guy on the court, Rondo, exploding to the rim against everyone. L.A. can complain all it wants to about not getting to the free-throw line, but until it starts attacking the rim with authority, it will not make any difference. Referees normally award aggressiveness on offense.
Though numerous Lakers are playing poorly and softly, no one will hear more from Jackson than Odom. When he's defended by Garnett, he's getting a lot of space to create because Garnett likes to roam as a helper, but the problem is Odom is looking to make plays without being touched. He's shooting jumpers or driving and lofting soft floaters. In the first two games, he has scored a total of 24 points and taken just five free throws (none in Game 2). His low assist total (three for two games) shows that Boston is not helping on him, which furthers the argument that he should be far more assertive in attacking Garnett. Garnett had just four fouls in Boston, thanks to Odom's less-attacking style of play. It's hard to imagine the Lakers taking all three games at home if Odom doesn't rev up his engine and challenge Garnett.
L.A.'s defense has not been good, but playing at home should both help to inspire its efforts and curb Boston's outside shooting success. Finding someone to defend Paul Pierce is a tougher challenge, one that might force Jackson into sending more helpers into the lane when he has the ball. Still, L.A. is undefeated at home in the playoffs for a reason, and being down 0-2 should bring about a much more improved effort and intensity level. Boston has trashed any idea that L.A. is the better team on paper, but in Game 3 and with the series on the line, L.A. should be the better focused and more confident team. It took the fall and return of Paul Pierce to inspire Boston, but L.A. might need to increase its physical play to surge back into championship contention.
Thorpe's Prediction: Lakers win Game 3
---
Mike Moreau's take
The Celtics are coming into Game 3 with a swagger that comes with a 2-0 series lead and a 4-0 record against the Lakers this year. More importantly, the Celtics have gotten into the head of the Lakers' best player.
Forget all of the "Pre-Gasol/Post-Gasol" talk. In four losses to the Celtics this year, Bryant is 35-95 from the floor and has yet to shoot 50 percent in any game. This is a trend that is becoming the norm for him against the NBA's best defense.
When Kobe watches the first 30 seconds of the film from Game 2, he will see the evidence to his shooting woes. Bryant had the ball on the break, streaking toward the basket with only Pierce in front of him. Instead of going right at Pierce, drawing the foul and testing the knee, Bryant pulled up from 18 feet and missed a jumper.
He will also see himself in the second half coming off a ball screen on the left side, with only the aging P.J. Brown to beat. Instead of turning the corner and blowing by Brown, Bryant pulled up for a deep 3 and missed.
Bryant, as well as the Celtics, knows that if the Lakers are to get back in this series, it will be on the shoulders of "The Black Mamba" in Game 3. Boston will prepare for his drives and basket attacks -- and don't be surprised if Bryant hits the deck hard early, courtesy of the physical Celtics front line. If Kobe wants to get to the rim, he should expect some Eastern Conference hospitality when he arrives.
Expect Bryant to post up more in the basic 2-1-2 set of the triangle offense, which isolates Kobe in the middle and keeps the Celtics from overloading one side to help. Allen and James Posey have fronted and fought Bryant hard on his post-up attempts -- even keeping him from touching the ball on some of the biggest possessions late in Game 2. That will continue to be Boston's strategy in Game 3, taking their chances on the lob over the top. The Celtics will make him work for every touch he gets inside the arc.
Boston has been careful not to "over help" on Kobe, which gets a team out of position when it focuses too much on one player. This has kept them in better position to contest the Lakers' shooters. The Celtics should expect more cutting action and more weakside movement from the Lakers in Game 3, which will put more pressure on their ability to communicate, rotate and recover. And L.A.'s offense should be flowing much better on its home floor.
The Celtics should expect a more inspired defensive effort from the Lakers in Game 3, and this might come surprisingly in the form of more denial of Rondo in the half court; L.A. cannot let Rondo dribble circles around it as he did for 16 assists in Game 2. The few times the Lakers did deny him the return pass, Boston bogged down and struggled to get a good shot late in the clock. Expect the Celtics to run higher ball screens with Rondo and Garnett, which allows Rondo to initiate the action off the dribble, while keeping the other three offensive players wide and deep on the baseline. L.A. has yet to prove it can defend this.
With the Lakers rotating down to help on Perkins when Odom goes to double Garnett or Pierce, look for the Celtics to roll James Posey or Allen up to the opposite wing or lane, extended for the diagonal pass for the catch-and-shoot 3. If Pierce is in that spot on the catch, he will drive it to the rim. The Lakers haven't found any favorable matchup for Pierce -- whether the Celtics post him or keep him on the perimeter -- which is the real trouble spot for L.A. defensively.
No matter what X-and-O adjustments the Lakers make, the Celtics now believe they are the better team and certainly the most physical. They spent three tough series on their way to the Finals getting hammered at the basket, and now their whole team is dunking on the Lakers and attacking the rim with no fear. From Odom's "excuse me" fouls to Perkins getting the three-point play while blasting through Gasol and leaving him crumpled on the floor, the Celtics might very well believe they can sweep this series.
Boston not only held serve at home -- it also sent a message. L.A. must send a physical message of its own in Game 3.
Who that messenger will be remains to be seen, but expect the Lakers to be better at both ends of the floor in a must-win situation.
Moreau's Prediction: Lakers win Game 3
David Thorpe is an NBA analyst for ESPN.com and the executive director of the Pro Training Center at the IMG Academies in Bradenton, Fla., where he oversees the player development program for NBA and college players. To e-mail him, click here.
Mike Moreau is the director of basketball for the Pro Training Center and The Basketball Academy at the IMG Academies in Bradenton, Fla. He also serves as an NBA analyst for Hoopsworld.
Synergy Sports Technology systems were used in the preparation of this report.
NBA Analyst for ESPN.com
Executive director of Pro Training Center
Started coaching career in 1987
2008 NBA FINALS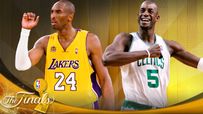 And then there were two -- the Lakers and Celtics. Who will win the NBA Finals? Let the games begin.
Finals schedule | Playoff bracket | Playoff home
Daily Dime
•
Celtics win 17th championship title
•
Did C's lose Regret Game?
•
A little help from Kobe's friends
•
Time for L.A. to go small
•
The Finals Can't Shake Donaghy Mess
•
Unlikely Game 4 comeback gives C's 3-1 lead
•
Rondo's ankle could change L.A.'s game plan
•
Kobe leads Lakers to Game 3 win
•
Lakers need to attack the paint
•
Lakers learn Powe's name in Game 2
•
Time for Gasol to step up
•
Lakers need better defense in Game 2
•
Pierce sparks Celtics in Game 1 victory
•
Expert predictions, clutch stats
•
Pierce loves playing Lakers
•
Celtics to meet L.A. in the Finals
Lakers vs. Celtics
•
Stein: Q&A after six-game "sweep"
•
MacMullan: Pierce's long road to greatness
•
Hollinger: From camp to champs
•
Stein: Boston's big three shine
•
Adande: Questions loom over Lakers' future
•
Hollinger: Celtics commit to defense
•
Scouts Inc.: Game 6 breakdown
•
Hollinger: Farmer steps up in Game 5
•
Sheridan: Late-game letdown for Celtics
•
Stein: Lakers ready to make history?
•
Adande: Greatness eluding Phil and Kobe
•
MacMullan: Doc adheres to dad's lessons
•
Jackson: Time for L.A.'s concession speech?
•
Stein: Game 4 not Kobe's finest hour
•
Adande: KG dominates Gasol again
•
Hollinger: Rivers makes all the right moves
•
Hill: Kobe's Laker legacy on the line
•
Hollinger: Vujacic lends helping hand in Game 3
•
Jackson: Jump shot Jesus has returned
•
Stein: Lakers need to earn sympathy
•
Adande: Lakers feel foul over whistle disparity
•
Jackson: Leading role suits Pierce
•
Adande: Kobe turns away from the pass late
•
Stein: Pierce's knee key to rest of series
•
Finals factor 1: Kobe Bryant
•
Finals factor 2: Celtics Defense
•
Finals factor 3: Paul Pierce
•
Finals factor 4: Home-court advantage
•
Finals factor 5: Battle of the benches
•
Hollinger: Lakers offense vs. Celtics defense
•
Broussard: Turning back the clock

•
Adande: How did Kobe get here?
•
Scouts Inc. breakdown: Lakers vs. Celtics
•
Coaching comparison: Red vs. Phil
•
Smith: Kobe's moving forward
•
Scoop: Fiendin' for a ring
•
Top 10 moments of Lakers-Celtics rivalry
•
ESPN Classic schedule: Relive the rivalry
TrueHoop
•
TrueHoop: Finals reflections
•
TrueHoop: Doc Rivers' redemption
•
TrueHoop: Lakers got Rondo'd
•
Tough night for Allen
•
Game 5 live blogging
•
Laker nation vs. NBA refs
•
Pierce and the evaporating knee story
•
Game 2 live blogging
•
Coaxing Kobe Bryant into hero mode
•
Game 1 live blogging
•
Today's game isn't so different
Simmons
•
Notes from the C's winning night
•
Boston's X factors
•
Game 4 running diary
•
Time for NBA Finals answers
•
The C's and city both look good
•
The Truth comes out in Game 1
•
NBA Finals forecast
•
Chat: NBA Finals preview
•
Simmons: You want a piece of Kobe, Boston?
ESPN The Magazine
•
Sporting Equivalency: NBA Finals meets hip hop
•
Broussard: Reporting from the NBA Finals
Fantasy
•
Join the fun of NBA Finals: Playcaller
Audio
•
Dish: NBA Finals recap
•
Wyc Grossbeck on C's championship
•
Ray Allen on how the Celtics evolved
•
Bob Ryan compares '86 C's to current one
•
Jon Barry credits Tom Thibodeau's team defense
•
Game 4 reactions
•
Rajon Rondo on Pierce, Game 2 plans
•
Bill Walton on Celtics-Lakers history
•
Dr. J on Finals, '80s hoops