Scouts Inc. Update: Magic vs. Pistons, Game 2
Originally Published:
May 5, 2008
By
Mike Moreau
| Scouts Inc.
• Magic-Pistons series scouting report | Series page


It is no secret that the 3-point shot is the Magic's major offensive weapon. If they make deep shots, the defense must extend, opening things up inside for Dwight Howard. If the defense collapses on Howard, the pass goes back out to the open shooters. Most teams have to pick their poison to some degree.
The Pistons aren't most teams, however.
In Game 1, Detroit was not only able to get to the shooters, it also was able to defend Howard with an assortment of changing defenders that frustrated him into one of his poorest games of the season. Orlando's entire team felt that frustration -- its offense bogged down and the Magic made only two 3s all game. When was the last time the Magic made only two 3s in a game this season? Never.
Detroit primarily used three defenders on Dwight Howard -- Jason Maxiell, Rasheed Wallace and Antonio McDyess -- and even added Theo Ratliff as a fourth. This gave Howard different looks at different times, and also kept the Pistons' bigs from accumulating fouls.
The Pistons are also trying to get Howard thinking about the defender, which takes away his aggressiveness. If Howard gets caught up trying to figure out a different plan for each guy, Detroit has already won an initial phase of the battle.
Look for Howard to catch and attack in Game 2 -- going right at whoever guards him. And as a counter, look for the Pistons, who did not double-team Howard in Game 1 initially, to trap him if he gets his offense working early.
The Pistons also switched any screen with the 4s and 5s in Game 1. For example, if Howard screened for Lewis, Wallace just switched onto Howard and Maxiell went with Rashard Lewis. The Pistons aren't really concerned with who guards Howard.
To take advantage of this action, look for Orlando to bring more "small on big" action -- with Howard being the recipient of a block-to-block screen across the lane or an up-screen from a guard. This will force the man guarding Howard to fight the screen action, and the guard to help. Putting Richard Hamilton and Chauncey Billups in this action gives Howard more space and a quick advantage on the catch.
With Maxiell guarding Howard, this left Wallace on Lewis. This is where the Magic must take advantage of the matchups. Lewis is really a small forward playing the 4, and none of the Pistons' 4s can guard him on the perimeter.
Lewis got off to a good start in Game 1, but went 0-for-4 from 3. Hitting a few 3s will force Wallace, McDyess or Maxiell to close out harder, which will make the drive to the basket easier on a shot fake or a catch-and-blow-by. Also look for multiple screens and some of the same "small on big" action for Lewis to make Wallace chase him around.
The Magic have to feel good about Hedo Turkoglu's 18 points on 8-for-16 shooting against Tayshaun Prince -- getting short and midrange jump shots off the dribble.
With the Pistons limiting the number of possessions with their slow pace, the Orlando turnovers were killers. Magic players stepped out of bounds in the corners three times, and forced some baseline drives into the defensive abyss that became stolen passes. Orlando cannot win with these types of unforced errors.
Although the focus seems to be on how the Pistons shut down Howard and stifled the 3-point shooters in the half court, Detroit's transition defense was also superb. The Pistons got back to the lane and matched up to prevent easy scores. The Magic often get those momentum-changing 3s on the break, and the Pistons were protecting the basket and tagging their men early.
Offensively, Detroit was surgical in its execution. As they often do, the Pistons attempted to get Hamilton going early, running him through a cluster of players in the middle, then coming off the patented down-screen action. Hamilton started the game with a post-up, a jumper and a backdoor cut against Maurice Evans, who got hung up on screens and was late getting to Hamilton on the catch. Expect Keith Bogans to see more time at the 2, because he can be more physical with Rip when he runs the gauntlet of screens.
More pressure on Billups from Jameer Nelson or Keyon Dooling might be a focus for the Magic, because this can disrupt Chauncey's passing timing and delivery. The Magic can live with Billups playing more one-on-one early in possessions.
The Pistons also were well-prepared for the shot-blocking of Howard. When Billups drove the lane and drew Howard for the block, Wallace, rather than expecting a dump off for a dunk, turned and sprinted to the top of the key to spot up for the 3. The Magic lost track of Rasheed twice for his 3s. Expect Detroit to stay with the high ballscreen and for Wallace to continue to run to the arc on dribble penetration.
With Maxiell and McDyess shooting a combined 10-for-17 from midrange, the Magic have a problem matching Howard up with the right guy. Whoever he guards will step out, so this takes him away from the basket. Orlando may even tinker with some zone to keep Howard close to the rim.
The Pistons seemed intent on trying to take advantage of Nelson, with Billups and Hamilton posting and trying to drive at him. Nelson did a decent job defensively, and Detroit must make sure they don't get too caught up in forcing that action and stifling their offense. Dooling can provide more size at the point if Nelson gets in trouble defensively.
Orlando must take solace in the fact that it missed shots it normally makes, and that it was only down one at the half and seven at the end of the third quarter. Defensively, the Magic held the Pistons to 43 percent shooting. They are who they are, so look for Orlando to continue to take the 3s and make a better percentage in Game 2. There will be no letdown from the Pistons in this one, so expect Detroit to bring the energy, the defense and the physical intimidation. But count on the Magic to reload and make this a closer game down the stretch.
PREDICTION: Pistons win Game 2
Mike Moreau is the director of basketball for the Pro Training Center and The Basketball Academy at the IMG Academies in Bradenton, Fla. He also serves an NBA analyst for Hoopsworld.
Synergy Sports Technology systems were used in the preparation of this report.
2008 NBA PLAYOFFS Round 2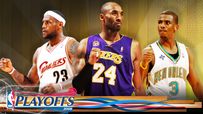 LeBron, Kobe and CP3 dominated Round 1 of the 2008 NBA playoffs, where the top four seeds in each conference advanced to the second round.
Playoff schedule | Playoff bracket | Playoff home
Daily Dime
•
Daily Dime: Lakers end Jazz season in Game 6
•
Daily Dime: Spurs dominate Hornets in Game 6
•
Daily Dime: Rondo gets C's rolling in Game 5
•
Daily Dime: Hornets one win from advancing
•
Daily Dime: Celtics with road woes
•
Daily Dime: Williams puts Utah on his back
•
Daily Dime: Cavs roll in Game 3 victory
•
Daily Dime: Boozer makes impact in Game 3
•
Daily Dime: Spurs keep head above water
•
Daily Dime: Kobe's most valuable promise
•
Daily Dime: Beauty is in eye of beholder
•
Daily Dime: CP3 making Spurs look old
•
Daily Dime: Kobe free to reign in Game 1
•
Daily Dime: Hornets sting the champs
Columns
•
Hollinger: Handing out some playoff awards
Cavaliers vs. Celtics
•
Windhorst: LeBron's chance to be Jordanesque
•
Sheridan: Legacies on the line for Celtics
•
Sheridan: Screwball finish to Game 6
•
Sheridan: Allen finds his range
•
Windhorst: Cavs search for offense
•
Windhorst: LeBron likes his chances
•
Scouts Inc.'s series breakdown
•
Wojciechowski: Rest easy, Celtics ... for now
•
Jackson: Do you still love the Celtics?
•
Series page: More coverage
Magic vs. Pistons
•
Magic eliminated, but won't disappear
•
Hollinger: Hunter dusts off rust
•
Hollinger: Pistons win without Billups
•
Scouts Inc.'s series breakdown
•
Series page: More coverage
Jazz vs. Lakers
•
Adande: Kobe plays supporting role
•
Adande: Jazz find Lakers out of tune
•
Wojciechowski: Miller won't listen on the Sabbath
•
Adande: A year to remember for Fisher
•
Scouts Inc.'s series breakdown
•
Series page: More coverage
Spurs vs. Hornets
•
Stein: Spurs knew Hornets were trouble
•
Neel: Enjoy Chris Paul while you can
•
Hollinger: Champs back to winning ways
•
Palmer: Birdman's redemption bittersweet
•
Adande: Chris Paul's mean streak
•
TrueHoop: Spurs stung twice by Hornets
•
Scouts Inc.'s series breakdown
•
Series page: More coverage
TrueHoop
•
Stat Geek Smackdown: 2008 playoffs
SportsNation
•
Which teams will advance to conference semis?
•
Rank the remaining eight playoff teams

MOST SENT STORIES ON ESPN.COM