Scouts Inc. Update: Magic vs. Pistons, Game 3
Originally Published:
May 7, 2008
By
Mike Moreau
| Scouts Inc.
• Magic-Pistons series scouting report | Series page


As anticipated, the Magic stayed with their open-floor, 3-point attack in Game 2 -- making 11-of-26 3s and putting themselves in position to win a game in Detroit. However, failure to execute in the closing minutes plus costly, often inexplicable turnovers just killed the Magic at crunch time.
The priority in Game 3 for coach Stan Van Gundy and his staff will be to solidify the Magic's offensive attack for those crucial possessions, in which they took quick jump shots and couldn't finish drives while Hedo Turkoglu and Rashard Lewis threw the ball all over the court.
Both players are getting good looks at the top of the floor, but they are having trouble finishing at the basket against the Pistons' length and shot-blocking ability. In Game 3, look for Van Gundy to adjust by having his players catch the ball to initiate their moves -- running screening action to put them more in the midpost or elbow extended, rather than up high above the top of the key.
Detroit played its matchup zone much more in Game 2, but Orlando made 3-pointer after 3-pointer in the third quarter, which forced Detroit back to its man-to-man defense. The Magic's basic plan against the zone is to shoot the Pistons out of it, but Orlando needs more than that if the shots aren't falling, which happened in Game 1.
The Pistons play Tayshaun Prince at the point of their 1-2-2 matchup zone, and the two back-line defenders cheat up toward the foul line to keep Dwight Howard from rolling down the middle of the lane. The two guards pinch the middle hard on top, which creates a lot of congestion in the middle.
However, this makes it harder for the Pistons' top defenders to get to the shooters, so Detroit may play a little softer on top to give its wings an extra half step to track the 3-point shooters who surround the zone.
To counter the back-line defenders cheating to the foul line, look for Orlando to run some baseline screening action for Turkoglu, Lewis and Howard. This action puts three offensive players against two, which forces the back-line defenders to drop lower toward the baseline.
This in turn opens up the middle for Howard to step to the ball or flash into the lane after the screen. It also allows Lewis and Turkoglu the option to drive the gap in the middle from the corner after the catch.
In their man-to-man offense, the Magic must also look to drive the middle; they have a teamwide problem of driving to the baseline and getting jammed up or forcing a pass back into traffic. Detroit funnels drivers to the baseline and rotates down to suffocate the drive, something that the Magic time and time again keep taking the bait on.
In their film study, the Magic will see that they have opportunities to drive the middle of the floor, and taking this route on the dribble will put them in better position to finish plays and help eliminate the costly turnovers that happened in Game 2.
Orlando also has a tendency to over-penetrate when short jump shots are available, which also plays right into the Pistons' hands. Both Jameer Nelson and Carlos Arroyo had their layups blocked due to getting greedy on the drive, and Turkoglu and Lewis forced themselves to add a degree of difficulty to their finishes. This also led them right into turnover territory.
On the flip side, on offense the Pistons will continue to try to get Richard Hamilton going early. The Magic defenders denied him the ball harder and were more physical with him in Game 2. This forced Chauncey Billups to be more of a scorer. Even though Billups had 28 points, he shot only 8-for-19 and forced some drives. Billups' performance and Hamilton's 4-for-18 line from the field indicate the Magic were successful with their perimeter defense.
In Game 3, expect Maurice Evans and Keith Bogans to pay similar attention to Hamilton, with Bogans guarding Billups down the stretch, as he did in Game 2.
Detroit has taken full advantage of Howard's effort to roam defensively as he looks for blocked shots and double-teams Rasheed Wallace from behind in the post. Jason Maxiell has been a surprise with his ability to hit the 15- to 18-foot jump shot, which the Magic were more than happy to allow. However, with Maxiell going 5-for-5 in Game 2, look for Orlando to shadow him and Antonio McDyess a bit more.
This will leave Wallace one-on-one with his defender, which has been Lewis or Turkoglu much of the time. If Howard can come with the double-team, Orlando is OK with that matchup in the post. If Maxiell and McDyess are making shots in Game 3, look for Howard to defend Wallace, with Turkoglu and Lewis staying home with the free shooter.
As good as the Pistons' defense has been, the Magic have been their own worst enemy with careless and panicky turnovers. If they don't solve the turnover problem in Game 3, they could get swept.
Expect Orlando to shoot it well and take better care of the basketball at home. Detroit will try to keep the crowd out of the game with its slow pace and methodical offense, but look for the Magic to have a few scoring runs, get the crowd rocking and get back in this series.
PREDICTION: Magic win Game 3
Mike Moreau is the director of basketball for the Pro Training Center and The Basketball Academy at the IMG Academies in Bradenton, Fla. He also serves an NBA analyst for Hoopsworld.
Synergy Sports Technology systems were used in the preparation of this report.
2008 NBA PLAYOFFS Round 2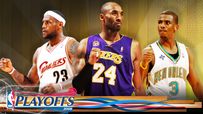 LeBron, Kobe and CP3 dominated Round 1 of the 2008 NBA playoffs, where the top four seeds in each conference advanced to the second round.
Playoff schedule | Playoff bracket | Playoff home
Daily Dime
•
Daily Dime: Lakers end Jazz season in Game 6
•
Daily Dime: Spurs dominate Hornets in Game 6
•
Daily Dime: Rondo gets C's rolling in Game 5
•
Daily Dime: Hornets one win from advancing
•
Daily Dime: Celtics with road woes
•
Daily Dime: Williams puts Utah on his back
•
Daily Dime: Cavs roll in Game 3 victory
•
Daily Dime: Boozer makes impact in Game 3
•
Daily Dime: Spurs keep head above water
•
Daily Dime: Kobe's most valuable promise
•
Daily Dime: Beauty is in eye of beholder
•
Daily Dime: CP3 making Spurs look old
•
Daily Dime: Kobe free to reign in Game 1
•
Daily Dime: Hornets sting the champs
Columns
•
Hollinger: Handing out some playoff awards
Cavaliers vs. Celtics
•
Windhorst: LeBron's chance to be Jordanesque
•
Sheridan: Legacies on the line for Celtics
•
Sheridan: Screwball finish to Game 6
•
Sheridan: Allen finds his range
•
Windhorst: Cavs search for offense
•
Windhorst: LeBron likes his chances
•
Scouts Inc.'s series breakdown
•
Wojciechowski: Rest easy, Celtics ... for now
•
Jackson: Do you still love the Celtics?
•
Series page: More coverage
Magic vs. Pistons
•
Magic eliminated, but won't disappear
•
Hollinger: Hunter dusts off rust
•
Hollinger: Pistons win without Billups
•
Scouts Inc.'s series breakdown
•
Series page: More coverage
Jazz vs. Lakers
•
Adande: Kobe plays supporting role
•
Adande: Jazz find Lakers out of tune
•
Wojciechowski: Miller won't listen on the Sabbath
•
Adande: A year to remember for Fisher
•
Scouts Inc.'s series breakdown
•
Series page: More coverage
Spurs vs. Hornets
•
Stein: Spurs knew Hornets were trouble
•
Neel: Enjoy Chris Paul while you can
•
Hollinger: Champs back to winning ways
•
Palmer: Birdman's redemption bittersweet
•
Adande: Chris Paul's mean streak
•
TrueHoop: Spurs stung twice by Hornets
•
Scouts Inc.'s series breakdown
•
Series page: More coverage
TrueHoop
•
Stat Geek Smackdown: 2008 playoffs
SportsNation
•
Which teams will advance to conference semis?
•
Rank the remaining eight playoff teams