Scouts Inc. Update: Magic vs. Pistons, Game 4
Originally Published:
May 7, 2008
By
Mike Moreau
| Scouts Inc.
• Magic-Pistons series scouting report | Series page


The Magic shot the ball much better, got out in transition, and were able to play from the lead fueled by their home crowd in Game 3. Their plan of attack will not change: They will try to push the tempo, shoot 3s from all over the floor, and look to pound the ball inside to Dwight Howard. Coach Stan Van Gundy's formula for success doesn't change much from game to game.
The Pistons gave up early transition baskets and dug themselves a hole they just couldn't climb out of, and their key to winning Game 4 lies in the hands of their tough half-court defense and their ability to execute their precision offensive attack -- as well as possibly matching the Magic in the open floor with a faster pace of their own. The Pistons' formula changes drastically if
Chauncey Billups
cannot play or is limited in his participation due to his hamstring injury. Billups is the quarterback of the Pistons' offense, and he controls tempo and timing and gets the ball to the right players at the right time. With him out of the game, rookie
Rodney Stuckey
takes over the controls, and in the last three quarters of Game 3, Detroit gave some glimpses of what to expect from its offense in Game 4. With Billups out, the Pistons pushed the ball with more frequency, as
Richard Hamilton
and
Tayshaun Prince
were more likely to advance the ball after a rebound. Hamilton was especially aggressive in the transition attack, and look for Detroit to allow its bench to get involved in this faster pace as well. Back in November, the Pistons hung 116 points on the Magic in Orlando in a blowout win, with
Arron Afflalo
and
Jarvis Hayes
playing significant minutes and combining for 17 points in Hamilton's absence. Look for Detroit to follow the same formula; coach Flip Saunders will let his young bench share the load if Billups can't go. When Stuckey is at the point, the Pistons will simplify the initiation of their offense. They showed this in Game 3 by putting Hamilton below the block and sending two screeners toward him -- one from the middle and one from the top. This gave Hamilton an option to cut either way, but it simplified the action for Stuckey so he could just focus on Hamilton and not have to see the whole floor. Detroit will also put Hamilton and Prince at the point and run screening action off the pinch post. Hamilton seems to relish this role, and look for him to rise to the occasion if he is needed to carry the offensive load. Also look for the Pistons to give Prince more touches in the post, and he will back down any defender the Magic throw at him. With Billups' 3-point shooting on the bench, expect the Magic to double Prince from time to time. With
Rasheed Wallace
only 4-of-15 from the floor in Game 3 and
Antonio McDyess
and
Jason Maxiell
going scoreless, look for Detroit to make an extra effort to get Rasheed going early. The Pistons have to get some inside production in Game 4, and look for the Magic to change up their matchups on Wallace with
Hedo Turkoglu
,
Rashard Lewis
and Howard doing duty -- as well as pleasant surprise
Marcin Gortat
-- when Howard goes to the bench. Lewis got things rolling offensively in Game 3, shooting 5-of-6 from 3 and attacking the rim off the catch and in transition. This is a problem matchup for Detroit. The Pistons have elected to let Prince guard Turkoglu, which leaves Wallace to guard Lewis. If the Magic stay with this matchup, look for Lewis to have another big game; he will move Wallace all over the court for 3s and drives. Look for Detroit to counter with more of its matchup zone schemes, which force Orlando out of its natural rhythm but give it open 3-point looks. Expect some different zone wrinkles from Saunders in Game 4. Jameer Nelson's driving ability has hurt Detroit, because it's trying to stay on the shooters and not overcommit to help. With Stuckey being a taller defender, Detroit may gain an advantage in this matchup because Nelson was able to beat Billups off the dribble early in Game 3. Stuckey can lay off Nelson a little more and also better contest on drives. Hamilton will move over to guard Nelson, as well, to keep him better contained off the dribble. Howard has seemed to find his rhythm against Detroit's tag team post defenders, so look for the Pistons to change things up again to create some uncertainty for Howard on the catch. His monster dunks blow the roof off Amway Arena, and some harder fouls may be coming his way in Game 4. Saunders must weigh the risk/reward of Billups playing at less than 100 percent. He does not want to create more problems in future games by trying to squeeze out a performance in Game 4 that hinders Billups the rest of the series. The Pistons can win without him for one game, but probably not if the series goes the distance. Having him at full strength for Games 5, 6 and 7 is critical. The Magic have their confidence back, and have put to rest the emotional baggage of previous years' failures against the Pistons. This is now a series, and one the Magic think they can win. Expect them to even the score in Game 4.
PREDICTION: Magic win Game 4
Mike Moreau is the director of basketball for the Pro Training Center and The Basketball Academy at the IMG Academies in Bradenton, Fla. He also serves an NBA analyst for Hoopsworld.
Synergy Sports Technology systems were used in the preparation of this report.
2008 NBA PLAYOFFS Round 2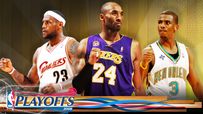 LeBron, Kobe and CP3 dominated Round 1 of the 2008 NBA playoffs, where the top four seeds in each conference advanced to the second round.
Playoff schedule | Playoff bracket | Playoff home
Daily Dime
•
Daily Dime: Lakers end Jazz season in Game 6
•
Daily Dime: Spurs dominate Hornets in Game 6
•
Daily Dime: Rondo gets C's rolling in Game 5
•
Daily Dime: Hornets one win from advancing
•
Daily Dime: Celtics with road woes
•
Daily Dime: Williams puts Utah on his back
•
Daily Dime: Cavs roll in Game 3 victory
•
Daily Dime: Boozer makes impact in Game 3
•
Daily Dime: Spurs keep head above water
•
Daily Dime: Kobe's most valuable promise
•
Daily Dime: Beauty is in eye of beholder
•
Daily Dime: CP3 making Spurs look old
•
Daily Dime: Kobe free to reign in Game 1
•
Daily Dime: Hornets sting the champs
Columns
•
Hollinger: Handing out some playoff awards
Cavaliers vs. Celtics
•
Windhorst: LeBron's chance to be Jordanesque
•
Sheridan: Legacies on the line for Celtics
•
Sheridan: Screwball finish to Game 6
•
Sheridan: Allen finds his range
•
Windhorst: Cavs search for offense
•
Windhorst: LeBron likes his chances
•
Scouts Inc.'s series breakdown
•
Wojciechowski: Rest easy, Celtics ... for now
•
Jackson: Do you still love the Celtics?
•
Series page: More coverage
Magic vs. Pistons
•
Magic eliminated, but won't disappear
•
Hollinger: Hunter dusts off rust
•
Hollinger: Pistons win without Billups
•
Scouts Inc.'s series breakdown
•
Series page: More coverage
Jazz vs. Lakers
•
Adande: Kobe plays supporting role
•
Adande: Jazz find Lakers out of tune
•
Wojciechowski: Miller won't listen on the Sabbath
•
Adande: A year to remember for Fisher
•
Scouts Inc.'s series breakdown
•
Series page: More coverage
Spurs vs. Hornets
•
Stein: Spurs knew Hornets were trouble
•
Neel: Enjoy Chris Paul while you can
•
Hollinger: Champs back to winning ways
•
Palmer: Birdman's redemption bittersweet
•
Adande: Chris Paul's mean streak
•
TrueHoop: Spurs stung twice by Hornets
•
Scouts Inc.'s series breakdown
•
Series page: More coverage
TrueHoop
•
Stat Geek Smackdown: 2008 playoffs
SportsNation
•
Which teams will advance to conference semis?
•
Rank the remaining eight playoff teams

MOST SENT STORIES ON ESPN.COM