Scouts Inc. Update: Magic vs. Pistons, Game 5
Originally Published:
May 7, 2008
By
Mike Moreau
| Scouts Inc.
• Magic-Pistons series scouting report | Series page


The key question going into Game 5 has nothing to do with the physical state of Chauncey Billups. The focus is now on the mental state of the Orlando Magic after they blew a 15-point, third-quarter lead in a game in which they had complete command.
Although the players and coach Stan Van Gundy insist otherwise, this was a devastating loss for the Magic, who thought they had overcome their "inferiority complex" after their decisive Game 3 win. Now all of those doubts have crept back, and the Magic's ability to put them in their past will be the biggest factor in Game 5. The psychological chasm between a 3-1 deficit and a 2-2 tie might be too much for the Magic to overcome now.
The Pistons always have questioned Orlando's heart and toughness. The way the Pistons pushed the Magic around in the second half and Orlando's response of frustration and complaining reinforced that opinion. A team that relies on rugged defense and grinding half-court offense just doesn't respect a team that runs and shoots 3s, and Detroit won every hustle play and physical confrontation in the second half - from loose balls to offensive rebounds to battles for post position.
When the Pistons needed a basket, Richard Hamilton went to the post, demanded the ball, and got it four consecutive times. He refused to allow Keyon Dooling to front him, and forced Dooling into committing a frustration foul and then a technical. When the Magic needed a basket, they dribbled around while Dwight Howard made half-hearted attempts to roll down the lane or post up.
Orlando must get a more physical offensive game from Howard in Game 5. In Game 4, Howard allowed the Pistons to grab, push and hold him, and he in turn gave up on plays or turned to the officials for help when the ball did not come his way.
Howard can be a pouter when he doesn't get the ball, so expect Detroit to be even more physical with him to try to get that frustration level to rise early. In Game 5, Howard must work on every offensive possession to establish position and demand the ball. When he rolls to the basket, he must fight through the initial contact and get to the spot he wants. That's what first-team All-NBA players do.
Although Jameer Nelson has been effective getting to the basket on dribble penetration, look for Van Gundy to reel in some of that in Game 5; he'll instead try to get more action for Rashard Lewis and Hedo Turkoglu. Both are at their best when they can catch and shoot, make a quick drive or dribble pull-up jump shot off the catch.
In Game 5, look for more pin-down action, as well as the pinch-post screen around the elbow. Either Turkoglu or Lewis can be used as the screener to pop out, or as a threat in the corners who can drive up the middle on the closeout.
If
Rasheed Wallace
defends Lewis, look for Lewis to run off screens and draw Wallace to the perimeter, which opens up his drives to the basket. A big concern for the Magic in Game 4 was Lewis' inability to take advantage of his size with a smaller matchup, as he was unable to post
Tayshaun Prince
or even Hamilton down the stretch.
Turkoglu and Lewis also can create some easy baskets by crashing the offensive glass, especially when Howard has the ball in the post. If their defenders turn to Howard or stay out on the perimeter with them, a quick cut to the basket will give them position.
In order for the Magic to push the tempo, they must get more rebounding help from Turkoglu, Lewis, Maurice Evans and Jameer Nelson. The long rebounds turn into fast-break opportunities; their inability to secure the long rebounds on the last few possessions of Game 4 cost them the game.
Detroit was able to survive the loss of Billups in Game 4 primarily through the elevated play of its veterans. Lindsey Hunter gave the Pistons a great effort off the bench, and Wallace, Prince and especially Hamilton took on greater offensive roles.
We wrote in our Game 4 report that Hamilton relished that role, and nothing exemplified that more than his demanding of the ball in the post in the fourth quarter. There isn't a guard on Orlando's team whom Hamilton doesn't think he can post up, so look for more of the same in Game 5, especially on key possessions. Orlando may be forced to double this action if Hamilton gets it going again.
The Pistons posted Wallace, Prince and Hamilton at different times in Game 4, so expect the same for Game 5. The Magic were content in Game 4 to play behind the offensive player and allow the catch in the post, but this proved costly. Expect Orlando to put up more of a fight and front the post in Game 5.
Look for Detroit to use Antonio McDyess as the high-low passer from the foul line - dumping the ball down inside to Wallace or shooting the midrange jump shot. When McDyess makes jumpers and keeps his defender home, Wallace has the post area all to himself.
Though the Magic let things get away from them in the third quarter of Game 4, they were one basket away from tying this series at 2. In Game 5, Orlando will continue playing its up-tempo, 3-point shooting game. That has been its formula for winning all year. Look for Howard to bring a more physical, aggressive inside game. The Magic are very capable of winning this game.
The Pistons showed their mental toughness and strength of will in coming back to get the win on the road in Game 4. Don't expect them to have a mental lapse in this one. With or without Billups, look for the Pistons' veterans to lead the way once again.
PREDICTION: Pistons win Game 5
Mike Moreau is the director of basketball for the Pro Training Center and The Basketball Academy at the IMG Academies in Bradenton, Fla. He also serves an NBA analyst for Hoopsworld.
Synergy Sports Technology systems were used in the preparation of this report.
SPONSORED HEADLINES
MORE NBA HEADLINES
MOST SENT STORIES ON ESPN.COM
2008 NBA PLAYOFFS Round 2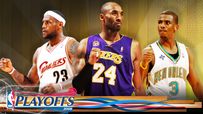 LeBron, Kobe and CP3 dominated Round 1 of the 2008 NBA playoffs, where the top four seeds in each conference advanced to the second round.
Playoff schedule | Playoff bracket | Playoff home
Daily Dime
•
Daily Dime: Lakers end Jazz season in Game 6
•
Daily Dime: Spurs dominate Hornets in Game 6
•
Daily Dime: Rondo gets C's rolling in Game 5
•
Daily Dime: Hornets one win from advancing
•
Daily Dime: Celtics with road woes
•
Daily Dime: Williams puts Utah on his back
•
Daily Dime: Cavs roll in Game 3 victory
•
Daily Dime: Boozer makes impact in Game 3
•
Daily Dime: Spurs keep head above water
•
Daily Dime: Kobe's most valuable promise
•
Daily Dime: Beauty is in eye of beholder
•
Daily Dime: CP3 making Spurs look old
•
Daily Dime: Kobe free to reign in Game 1
•
Daily Dime: Hornets sting the champs
Columns
•
Hollinger: Handing out some playoff awards
Cavaliers vs. Celtics
•
Windhorst: LeBron's chance to be Jordanesque
•
Sheridan: Legacies on the line for Celtics
•
Sheridan: Screwball finish to Game 6
•
Sheridan: Allen finds his range
•
Windhorst: Cavs search for offense
•
Windhorst: LeBron likes his chances
•
Scouts Inc.'s series breakdown
•
Wojciechowski: Rest easy, Celtics ... for now
•
Jackson: Do you still love the Celtics?
•
Series page: More coverage
Magic vs. Pistons
•
Magic eliminated, but won't disappear
•
Hollinger: Hunter dusts off rust
•
Hollinger: Pistons win without Billups
•
Scouts Inc.'s series breakdown
•
Series page: More coverage
Jazz vs. Lakers
•
Adande: Kobe plays supporting role
•
Adande: Jazz find Lakers out of tune
•
Wojciechowski: Miller won't listen on the Sabbath
•
Adande: A year to remember for Fisher
•
Scouts Inc.'s series breakdown
•
Series page: More coverage
Spurs vs. Hornets
•
Stein: Spurs knew Hornets were trouble
•
Neel: Enjoy Chris Paul while you can
•
Hollinger: Champs back to winning ways
•
Palmer: Birdman's redemption bittersweet
•
Adande: Chris Paul's mean streak
•
TrueHoop: Spurs stung twice by Hornets
•
Scouts Inc.'s series breakdown
•
Series page: More coverage
TrueHoop
•
Stat Geek Smackdown: 2008 playoffs
SportsNation
•
Which teams will advance to conference semis?
•
Rank the remaining eight playoff teams