Scouts Inc. Update: Mavs vs. Hornets, Game 3
Originally Published:
April 25, 2008
By
Mike Moreau
| Scouts Inc.
• Mavericks-Hornets series scouting report | Series page


The Mavericks tried about everything they could think of to slow down Chris Paul, and nothing they came up with had any effect whatsoever -- from playing him with a bigger defender, to double-teaming him early on the catch or to trapping him on the ball screen. If anything, Paul was even better in Game 2 with all of the Mavericks' defensive attention designed to stop him.
When the Hornets opened the game so hot without Paul doing any of the scoring, Paul knew he would not have to take over the game like he did in Game 1. After a putback from Tyson Chandler, David West going right at Dirk Nowitzki and scoring over him and Morris Peterson hitting a jumper on the break, the Hornets were in control. With Paul's teammates making plays and shots right from the start, the Hornets played from the lead and never looked back, blowing out the Mavericks in a game Dallas was never really in.
The Mavericks did seem to solve some of their offensive problems with Josh Howard being much more aggressive early in the game. He attacked quickly on the catch, getting into the lane and getting to the foul line, but he must continue to be aggressive, using his quickness against Peja Stojakovic.
They also got some good action from Jason Kidd in the post, backing down Paul. Kidd is not the scorer he once was, but he was able to dish out to his teammates when Hornet defenders hedged his way. If the Mavericks can shoot a higher percentage, then he will have more room to use his size inside.
Dallas actually had some success in transition after made baskets, attacking one defender quickly rather than New Orleans' whole team. Look for its offensive pace to quicken in its own building and for shots to fall at a higher rate.
The bigger problem for Dallas lies on the defensive end of the floor. With Erick Dampier and Nowitzki in the game, trapping Paul is nearly impossible. Paul is too quick and just keeps his dribble alive until he finds an open player. Watching the Mavericks chase Paul around was almost comical at times -- like a Globetrotter routine that finished with a no-look lob for a Chandler dunk.
If they still plan to trap, the Mavs might go to a quicker lineup, playing Brandon Bass at the five -- which also gives them a better chance to run on the break. They might also go to a softer, less aggressive trap -- one that just keeps Paul contained. He has proven that if the Dallas defenders attack him aggressively, he is too quick and crafty and just shoots the gap between defenders or blows by the bigger guy with his acceleration.
With the Mavericks so focused on Paul, the rest of the Hornets had plenty of scoring opportunities, and even when Dallas rotated and recovered, New Orleans still made contested shots on a number of possessions. One disheartening moment for the Dallas defense came off a rotation, when Kidd closed out on Stojakovic, who promptly blew right by Kidd for a short jump shot.
If Kidd can't keep Stojakovic from driving, then who on the Hornets can he guard?
Playing straight up, the Mavericks had trouble with Paul when he scored and got everyone involved. When they doubled Paul, he still scored and found wide-open teammates with the defense at a disadvantage. They have tried multiple ways to keep Paul from scoring without any success.
Look for the Mavericks in Game 3 to possibly take their focus off of Paul and look more to take away his assist opportunities, which means more denial on shooters like Stojakovic and Peterson, and less help when Paul makes his move.
Paul is a reluctant scorer, much more interested in getting his teammates shots than easy baskets. If the Mavericks give him no choice but to score, this might disrupt their team just enough to keep his teammates from getting into their scoring rhythm, and quite possibly, make them less effective in a close game down the stretch.
For New Orleans to counter this, it must run more screening action away from the ball and make it more difficult for Dallas defenders to deny. Look for more plays that set multiple screens for Stojakovic and that isolate West in the mid-post area -- especially when he is guarded by Nowitzki.
Dallas must also be more physical and aggressive at both ends of the floor -- driving stronger and screening tougher on offense and fighting for every inch of court space on defense. Body checks and hard fouls must be part of the equation.
The big question for Dallas is whether or not the psychological damage of this deja vu playoff experience is too much to overcome. Dallas has been tagged with the soft label once again, and it has been unwilling to take the steps to remove it.
The friendly confines of its own arena and its home crowd should help Dallas play at a higher level at both ends. The "do or die" consequences of being down 0-2 should bring any necessary sense of urgency and a willingness to do whatever it takes to get it back in this series.
PREDICTION: Mavericks win Game 3

Mike Moreau is the Director of Basketball for the Pro Training Center and The Basketball Academy at the IMG Academies in Bradenton, Fla. He also serves an NBA Analyst for Hoopsworld.
Synergy Sports Technology systems were used in the preparation of this report.
2008 NBA PLAYOFFS Round 1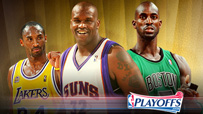 The 2008 NBA playoffs are finally here and the postseason field is more stacked than ever.
Playoff schedule | Playoff bracket | Playoff home
Columns
•
Daily Dime: Suns fade out again
•
Daily Dime: Hawks soar over Celtics
•
Daily Dime: Phoenix fails its test
•
Daily Dime: Suns stumble in second half
•
Adande: Great time to be a sports fan
•
Stein: Best first-round series ever
•
Daily Dime: Rockets failure to launch
•
Daily Dime: Pistons stumble in opener
•
Daily Dime: Spurs leave a mark on Suns
•
Hollinger: How will the postseason play out?
•
Adande: Sixteen teams, sixteen dramas
Podcasts
•
NBA Dish: Ford and Stein talk Round 1
•
NBA Dish: Ford and Adande predict playoffs
Hawks vs. Celtics
•
TrueHoop's Series Bullets
•
Sheridan: Celtics come out swinging
•
Scouts Inc.'s series breakdown
•
Series page: More coverage
Sixers vs. Pistons
•
Sheridan: Sixers slam Pistons
•
Sheridan: Pistons win with complete effort
•
TrueHoop's Series Bullets
•
Scouts Inc.'s series breakdown
•
Series page: More coverage
Raptors vs. Magic
•
TrueHoop's Series Bullets
•
Hill: Dwight Howard vs. Chris Bosh
•
Scouts Inc.'s series breakdown
•
Series page: More coverage
Wizards vs. Cavaliers
•
Windhorst: The new LeBron Rules
•
Windhorst: Wiz get reality check
•
TrueHoop's Series Bullets
•
Windhorst: LeBron quiets Wiz with late heroics
•
Scouts Inc.'s series breakdown
•
Series page: More coverage
Nuggets vs. Lakers
•
Adande: Bynum not nearly ready
•
TrueHoop's Series Bullets
•
Adande: Gasol gets first playoff win
•
Scouts Inc.'s series breakdown
•
Series page: More coverage
Mavericks vs. Hornets
•
Dallas steps up
•
TrueHoop's Series Bullets
•
Jackson: Dinner with the Hornets
•
Hollinger: Paul powers Hornets again
•
Hollinger: Paul finds groove in playoff debut
•
Scouts Inc.'s series breakdown
•
Series page: More coverage
Suns vs. Spurs
•
Adande: Suns missing an identity
•
TrueHoop's Series Bullets
•
Scouts Inc.'s series breakdown
•
Series page: More coverage
Rockets vs. Jazz
•
TrueHoop's Series Bullets
•
Scouts Inc.'s series breakdown
•
Series page: More coverage
SportsNation
•
Make your playoff predictions
•
Rank 'em: All 16 NBA playoff teams
•
Quiz: What's your playoff IQ?

MOST SENT STORIES ON ESPN.COM