Scouts Inc. Update: Mavs vs. Hornets, Game 4
Originally Published:
April 25, 2008
By
Mike Moreau
| Scouts Inc.
• Mavericks-Hornets series scouting report | Series page


Playing for their playoff lives, the Mavericks were finally able to find a way to contain Chris Paul by inserting Jason Terry into the starting lineup for Game 3. This gave them more quickness at Paul's point of attack. Terry was able to negate Paul's initial burst, and the Mavericks gave softer help -- meaning they moved toward Paul, but did not run aggressively at him. This kept back the help defenders away from Paul, keeping space between them. This encouraged Paul to shoot more jump shots -- which he is reluctant to do as the first option.
We have described Paul as a "reluctant" scorer, which goes to the mind-set of his "pass first" mentality and his desire, as a great team player, to get his teammates involved in the offense first. As we have seen in this series, Paul can score as well as any point guard in the NBA, and can carry his team when necessary by pouring in points on his own.
But, this is not his preference, and he will only do this if his team is struggling, as he did in the second half of Game 1, or if there are no assists available, as happened in Game 3.
With the Mavericks playing a softer form of help defense when Paul dribbled into an area where normally he draws and dishes for the assist, Paul found only more open space to shoot. This made him more tentative so shot the ball with some uncertainty -- he went 4-of-18 from the field.
This also kept the Maverick defenders in better position to get to the Hornets 3-point shooters Peja Stojakovic and Morris Peterson -- whose early shots were a key to the Hornets blowout win in Game 2. Not only was the penetration and pitch for the three not available, neither was the drive and lob for the Tyson Chandler dunk. These are both plays which energize the Hornets on the offensive end.
Look for the Hornets to anticipate a similar defensive scheme in Game 4. They will widen their spacing by moving players further from the lane, and flatten out the floor by moving offensive players closer to the baseline. This will allow Paul more room to work and leave Terry on an island to defend Paul with help much further away.
Another key defensive change for Dallas was taking Dirk Nowitzki off of David West -- West feasted on Nowitzki in the post in the first two games of this series. Coach Avery Johnson assigned center Erick Dampier to guard West, and Dampier played him soft -- giving West the jump shot and discouraging the drive or post up, with his size. West became more one dimensional and less aggressive, settling for jump shots and shooting 6-of-20 from the field.
In Game 4, look for New Orleans to create some screening action for West to allow him to catch with Dampier in motion. This gives West an advantage on the drive with his quickness.
This strategy leaves Nowitzki on Chandler. Look for Chandler to post up, but also look for high pick-and-rolls with Paul to force Nowitzki into this action. Even if he does not engage Paul on the hedge, Paul still will have more room to attack in the open floor if Nowitzki stays soft and Terry has to chase.
In Game 4, look for the Mavericks to continue their dribble penetration attack, which was very effective in Game 3 in getting layups and free throws. The Hornets did not defend the dribble well, and look for them to take fewer chances and play more containment, position defense.
The midrange belonged to Nowitzki in Game 3, and when he gets his jumper and fadeaway game going, he ignites the crowd and energizes his team. West made surprisingly little effort to deny Nowitzki the ball -- allowing him to catch easily on the wing and set up in his favorite area of the floor.
The Mavericks either isolated Nowitzki on one side of the floor and he held West off and called for the ball, or they started him in the corner and set a down screen for him -- giving him the option of making a flex-cut into the lane or and l-cut to the wing. Expect the Hornets to deny this action and make Nowitzki work harder to catch the ball.
The Hornets also surprisingly did not double-team Nowitzki often, and left West exposed to play Nowitzki one-on-one. West cannot guard him by himself, so look for the Hornets to double-team more often in Game 4 -- either running at him right away to get the ball out of his hands, or trapping him after he starts his move, to force turnovers and bad shots.
Transition defense will also be a point of emphasis for coach Byron Scott in the Hornets' film session, as they will see themselves beaten down the floor by Dallas players at every position.
The Hornets got their first taste of life on the road in the playoffs, but they are a confident team and more than capable of winning Game 4. The Mavericks have their confidence back, and they will play Game 4 with the same "must win" desperation as they did in their Game 3 win.
PREDICTION: Mavericks win Game 4

Mike Moreau is the Director of Basketball for the Pro Training Center and The Basketball Academy at the IMG Academies in Bradenton, Fla. He also serves an NBA Analyst for Hoopsworld.
Synergy Sports Technology systems were used in the preparation of this report.
SPONSORED HEADLINES
MORE NBA HEADLINES
MOST SENT STORIES ON ESPN.COM
2008 NBA PLAYOFFS Round 1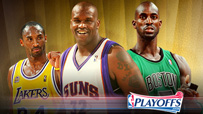 The 2008 NBA playoffs are finally here and the postseason field is more stacked than ever.
Playoff schedule | Playoff bracket | Playoff home
Columns
•
Daily Dime: Suns fade out again
•
Daily Dime: Hawks soar over Celtics
•
Daily Dime: Phoenix fails its test
•
Daily Dime: Suns stumble in second half
•
Adande: Great time to be a sports fan
•
Stein: Best first-round series ever
•
Daily Dime: Rockets failure to launch
•
Daily Dime: Pistons stumble in opener
•
Daily Dime: Spurs leave a mark on Suns
•
Hollinger: How will the postseason play out?
•
Adande: Sixteen teams, sixteen dramas
Podcasts
•
NBA Dish: Ford and Stein talk Round 1
•
NBA Dish: Ford and Adande predict playoffs
Hawks vs. Celtics
•
TrueHoop's Series Bullets
•
Sheridan: Celtics come out swinging
•
Scouts Inc.'s series breakdown
•
Series page: More coverage
Sixers vs. Pistons
•
Sheridan: Sixers slam Pistons
•
Sheridan: Pistons win with complete effort
•
TrueHoop's Series Bullets
•
Scouts Inc.'s series breakdown
•
Series page: More coverage
Raptors vs. Magic
•
TrueHoop's Series Bullets
•
Hill: Dwight Howard vs. Chris Bosh
•
Scouts Inc.'s series breakdown
•
Series page: More coverage
Wizards vs. Cavaliers
•
Windhorst: The new LeBron Rules
•
Windhorst: Wiz get reality check
•
TrueHoop's Series Bullets
•
Windhorst: LeBron quiets Wiz with late heroics
•
Scouts Inc.'s series breakdown
•
Series page: More coverage
Nuggets vs. Lakers
•
Adande: Bynum not nearly ready
•
TrueHoop's Series Bullets
•
Adande: Gasol gets first playoff win
•
Scouts Inc.'s series breakdown
•
Series page: More coverage
Mavericks vs. Hornets
•
Dallas steps up
•
TrueHoop's Series Bullets
•
Jackson: Dinner with the Hornets
•
Hollinger: Paul powers Hornets again
•
Hollinger: Paul finds groove in playoff debut
•
Scouts Inc.'s series breakdown
•
Series page: More coverage
Suns vs. Spurs
•
Adande: Suns missing an identity
•
TrueHoop's Series Bullets
•
Scouts Inc.'s series breakdown
•
Series page: More coverage
Rockets vs. Jazz
•
TrueHoop's Series Bullets
•
Scouts Inc.'s series breakdown
•
Series page: More coverage
SportsNation
•
Make your playoff predictions
•
Rank 'em: All 16 NBA playoff teams
•
Quiz: What's your playoff IQ?

ESPN.COM PARTNER: NBA.COM