Scouts Inc. Update: Pistons vs. Celtics, Game 3
Originally Published:
May 23, 2008
By
Mike Moreau
| Scouts Inc.
• Pistons-Celtics series scouting report | Series page


The Celtics find themselves in dangerous, unfamiliar territory in Game 3 -- the risk of falling behind in a playoff series. This is where the real pressure cooker lies in a championship run, when the home-court advantage has been stripped away. In spite of winning two Game 7s at home, Game 3 in Detroit will be the Celtics' "welcome to the playoffs" moment, and coach Doc Rivers and his staff must find some answers on both ends of the floor.
Boston did not play with the same defensive intensity or physical aggression in Game 2, and critical breakdowns of communication and concentration cost the team on key possessions. Giving up 103 points at home on 49 percent shooting is concern enough for the NBA's best defense. Coupled with the fact that the Celtics gave up 102 and 108 points in Game 3 losses to Atlanta and Cleveland, respectively, Boston's defensive adjustments for Game 3 in Detroit will be critical.
Detroit got more open looks from the 3-point line in Game 2, including back-to-back 3s in the second half when the Celtics lost track of Chauncey Billups and Rasheed Wallace. In Game 1, Kevin Garnett tracked Wallace all over the perimeter and stayed close on ball screens to prevent the pick-and-pop 3.
When Kendrick Perkins had Wallace in Game 2, Perkins got caught directing traffic in the lane on a Richard Hamilton cut, lost focus on Wallace for a split second, and Wallace stepped out to the left wing for an uncontested 3. Expect no such lapses in concentration in Game 3, especially with the fans ready to blow the roof off when Wallace knocks one down.
Garnett and Rajon Rondo had a communication problem on the next possession, as Billups came off a high ball screen and KG and Rondo both went with Billups. When Garnett tried to recover to Wallace, he and Rondo got their feet tangled, Rondo fell, and Billups had a wide-open 3 on the right wing. This was a simple, first day of training camp mistake that can cost a team a win in the playoffs.
In Game 3, look for a shorter or flatter hedge from Garnett that allows him to get back to Wallace, and expect the Pistons to put KG and Perkins in multiple ball screen situations.
Expect the Celtics to apply more pressure on Billups in the half court in Game 3. Boston allowed Billups to dribble casually and read his cutters with no pressure on key possessions down the stretch in the fourth quarter of Game 2. Look for Rondo to guard Billups more often and pick him up earlier to try to disrupt the Pistons' half-court precision.
The Pistons were a much more aggressive offensive team in Game 2, and their extra ball and player movement caught the Celtics between defensive rotations, setting up some key mismatches that Detroit was able to exploit. Billups was able to hit a jumper on Perkins, Tayshaun Prince was able to post Rondo, and Rip Hamilton backed Garnett outside and blew by him for a runner late in the game. There is no mismatch this veteran Pistons team won't recognize or exploit.
With the ball moving swiftly from side to side, the Celtics could not settle in and reset their defense. It was this ball movement that allowed Detroit to put six players in double figures; the Celtics couldn't zero in on one or two key players.
Detroit also prepared for the Celtics' 4s and 5s hedging on Hamilton's curl off the down screen. Hamilton made the catch and immediately hit his screener on the baseline -- first Antonio McDyess on one side of the floor, then Wallace on the other. The Celtics will counter this by cheating toward the screen action and running a defender to the shooter. They were late in Game 2 -- expect them to arrive more quickly in Game 3.
This action also created some indecision for the hedge defender. P.J. Brown got caught in between, not sure if he should go with Hamilton or get back to McDyess. That hesitation allowed Hamilton to turn the corner and get into the lane for a jumper.
Boston was not as physical, nor did they deny Hamilton as hard in Game 2, so expect much more chest-to-chest denial from Rondo and Ray Allen and for defenders to fight Rip on every cut in Game 3. By denying the catch or forcing Hamilton further out on the floor as they did in Game 1, the rotation becomes easier and even unnecessary.
The Pistons were much better defensively against the ball screen in Game 2 by using a combination of switching defenders and traps to keep Pierce and Rondo from getting into the paint. Detroit is confident that Hamilton can hold his own when switching onto Pierce, so look for Boston in Game 3 to screen Paul Pierce with Wallace's man, forcing a switch Pierce can beat or allowing him to turn the corner.
Detroit also took a page from the Cleveland playbook, using Hamilton and Rodney Stuckey as rovers to clog the middle when Rondo cut away from the ball. Boston will counter in Game 3 the way they did against the Cavs -- by either keeping Rondo on the ballside or by quickly reversing the ball and allowing him to attack off the dribble.
Also look for the Pistons to spy on Pierce from the backside and look for the steal on the spin move, as Rip Hamilton did in the second half of Game 2.
Credit Doc Rivers for simplifying the offensive action for Allen, by allowing him to come off just one downscreen to the top of the floor. This allowed Allen an easier play on the catch, which led to a catch-and-shoot 3 and a drive to the middle late in the game. Look for more of this in Game 3 with Garnett as the screener, which allows Allen to make a quick pass back to KG for the jumper -- much like Detroit does at the other end.
Also look for more post-up action from Garnett in Game 3. Although KG has shot the ball well and effectively from midrange, the Celtics will dig their own grave if they settle for jump shots on the road. Garnett is their best post-up player, so look for him to shoulder that responsibility, which will also open up easier perimeter 3s on the inside/out pass from the rejuvenated Allen.
The Celtics were the best team in the NBA on the road in the regular season, and they won at Detroit this season. But they have been the worst team on the road in the playoffs, and with Detroit knowing it can take command of the series, winning their first playoff road game in this environment might be too much for the Celtics. Sensing the Celtics are on the ropes, expect Detroit's home crowd to be ready to play its role.
PREDICTION: Pistons win Game 3

Mike Moreau is the director of basketball for the Pro Training Center and The Basketball Academy at the IMG Academies in Bradenton, Fla. He also serves as an NBA analyst for Hoopsworld.
Synergy Sports Technology systems were used in the preparation of this report.
SPONSORED HEADLINES
MORE NBA HEADLINES
MOST SENT STORIES ON ESPN.COM
2008 NBA PLAYOFFS Conference Finals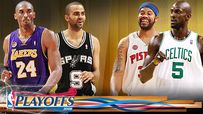 And then there were four teams left -- the Lakers, Spurs, Pistons and Celtics. Which two will advance to the NBA Finals? Let the conference finals begin.
Playoff schedule | Playoff bracket | Playoff home
Daily Dime
•
Daily Dime: Lakers dethrone Spurs
•
Daily Dime: Celtics survive Game 5
•
Daily Dime: Lakers learning to be champions
•
Daily Dime: Mr. Big Shot delivers
•
Daily Dime: Ginobili takes charge
•
Daily Dime: C's end road woes
•
Daily Dime: Lakers demolish Spurs in Game 2
•
Daily Dime: Detroit home wreckers
•
Daily Dime: Kobe leads Game 1 comeback
•
Daily Dime: KG comes up big in Game 1 win
Pistons vs. Celtics
•
Simmons: Bad news for Pistons, Celtics
•
Top 10 games of Pistons-Celtics rivalry
•
Sheridan: Allen's got blame?
•
Pistons face slump
•
Scouts Inc.'s series breakdown
•
Simmons: Should C's be worried?
•
Jackson: Which Detroit team will show up?
•
Vote: Who will win the East finals?
•
Series page: More coverage
Spurs vs. Lakers
•
Roundtable: What's next for Spurs?
•
Stein: Spurs refuse to blame refs
•
Adande: Horry a HOF enigma
•
Adande: The Euro Lakers
•
Stein: Lakers lose energy battle
•
Stein: Spurs long for comforts of home
•
Daily Dime: Adande on Kobe's Game 1 revival
•
Stein: Spurs feel pain of Game 1 defeat
•
Scouts Inc.'s series breakdown
•
Vote: Who will win the West finals?
•
Series page: More coverage
TrueHoop
•
Stat Geek Smackdown: 2008 playoffs
•
Thoughts on Lakers' series win