Scouts Inc. Update: Raptors vs. Magic, Game 2
Originally Published:
April 21, 2008
By
Mike Moreau
| Scouts Inc.
• Raptors-Magic series scouting report | Series page


The Orlando Magic could not have written a better script for their first quarter against the Raptors in Game 1. They went 16-for-20 from the floor, driving, kicking and hitting 3s from everywhere on the court. And they built a 24-point lead in the first half and forced the Raptors to play catch-up the entire game.
Toronto, having had trouble with the size and shooting of Hedo Turkoglu and Rashard Lewis during the season, started a bigger lineup in Game 1, replacing Jamario Moon with Andrea Bargnani. However, this did nothing for the Raptors at either end of the floor and it took away their best athlete and the hustle plays he provides.
Toronto's strategy on defense was to switch any "big on big" ball screen between Dwight Howard, Turkoglu or Lewis, which kept the ball handlers from turning the corner or shooting off the screen. However, the Raptors put the switching defender at a severe disadvantage against Howard, who abused this matchup the entire game because he was able to bury anyone and everyone under the rim for dunks and fouls. And the Raptors did not account for Jameer Nelson and Maurice Evans hitting early 3s.
When the Raptors did play a good defensive possession, it was often negated by a Howard offensive rebound and basket. This must be an area of focus for Toronto in Game 2.
On offense, Toronto went to Chris Bosh early; he had some success in the regular season attacking Howard and getting him in foul trouble. But Orlando started the game with Lewis on Bosh, which allowed Howard to patrol away from the ball. Bosh did get matched up some with Howard in the second half, and he continued to have success going at him. So look for the Toronto coaches to try to create that matchup with screens and forced switches, making Howard slide over to pick up Bosh in certain situations.
T.J. Ford was able to get consistent penetration, but instead of kicking to open shooters, he seemed content to try to finish in traffic and challenge Howard, who blocked one of Ford's shots without even leaving the floor and altered many more. Jose Calderon got caught up in challenging Howard in the second half as well. The sooner the Raptor guards abandon that strategy, the better. They must look for the assist once they get into the paint. They can spread out the Magic's defense to open up shooters and driving lanes. If the help defenders stay home, Ford and Calderon can shoot the short jumpshot and avoid a confrontation with Howard. They can't get greedy.
Meanwhile, the Magic defenders consistently went underneath the screens to force Calderon and Ford to shoot the deeper jumpshot. If the Raptors don't knock those shots down, Orlando can stay with that "softer" strategy and keep the guards out of the paint.
Surprisingly, Toronto did not force Howard to defend many ball screens. An effective strategy against the Magic this season has been for the man guarded by Howard to be the primary ball screener, which draws him away from the basket. Howard is not a great hedge defender, and the Magic guards will continue to go under the screens because they know they won't get much help.
To combat the Magic guards going under, look for Toronto to set more "blind" high ball screens, in which the screener comes up directly behind the defender on the ball and stays flat, not really declaring a side. The ball handler then just rubs off the defender, who can't get under the screen because he doesn't know which side it is coming from. This will allow Calderon and Ford a better chance at turning the corner and creating. Look for lots of this in Game 2 from the Raptors.
The Raptors were also able to get good offense from Anthony Parker early and Jason Kapono off the bench, and this wing tandem helped Toronto cut the Magic lead to five in the fourth quarter. They ran downscreens and doubles for both guys, often running the same play but just changing sides of the floor with Parker curling into the lane and Kapono coming right after him for the fade to the wing.
The Magic wings did not do a good job defending this, so look for more of these sets in Game 2. The more the Raptors can make Turkoglu and Evans chase through screens, the better -- that will help tire the Magic's shooters.
Also look for Moon to add some help in transition for the Raptors. Moon can be a finisher at the rim for some easy baskets and can also provide an easy basket or two on the offensive glass.
On Orlando's offensive end, the Magic just killed Toronto with ball screen after ball screen for Nelson, who consistently blew into the lane; Toronto's 4s and 5s are too slow to hedge adequately. Not only are they not quick enough to stop the drive, they can't get back to Howard fast enough to prevent the roll and dunk.
Look for Toronto to take a page from the Magic and try to go under those screens, trying to force Nelson and Keyon Dooling to shoot the jumpshot. But, if the Magic shoot like they did in Game 1, the Raptors really have no answer defensively.
Orlando will continue to ball screen for Nelson, drive and kick for 3s and go into Howard. The Raptors will do everything they can to keep Howard from the front of the rim and get him to post on the block, where at least he can't dunk. They'll give him the 15-foot jumpshot off the glass all night, even though that shot is becoming a part of his offensive repertoire. Also, look for a few extra plays or sets for Lewis and Turkoglu to keep those big guns firing.
Don't expect the Magic to get out to another 24-point lead, but they should be able to continue shooting well at home, and Stan Van Gundy will have their defensive intensity at the appropriate level.
PREDICTION: Magic win Game 2
David Thorpe is an NBA analyst for ESPN.com and the executive director of the Pro Training Center at the IMG Academies in Bradenton, Fla., where he oversees the player development program for NBA and college players. To e-mail him, click here.
Synergy Sports Technology systems were used in the preparation of this report.
2008 NBA PLAYOFFS Round 1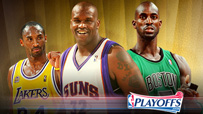 The 2008 NBA playoffs are finally here and the postseason field is more stacked than ever.
Playoff schedule | Playoff bracket | Playoff home
Columns
•
Daily Dime: Suns fade out again
•
Daily Dime: Hawks soar over Celtics
•
Daily Dime: Phoenix fails its test
•
Daily Dime: Suns stumble in second half
•
Adande: Great time to be a sports fan
•
Stein: Best first-round series ever
•
Daily Dime: Rockets failure to launch
•
Daily Dime: Pistons stumble in opener
•
Daily Dime: Spurs leave a mark on Suns
•
Hollinger: How will the postseason play out?
•
Adande: Sixteen teams, sixteen dramas
Podcasts
•
NBA Dish: Ford and Stein talk Round 1
•
NBA Dish: Ford and Adande predict playoffs
Hawks vs. Celtics
•
TrueHoop's Series Bullets
•
Sheridan: Celtics come out swinging
•
Scouts Inc.'s series breakdown
•
Series page: More coverage
Sixers vs. Pistons
•
Sheridan: Sixers slam Pistons
•
Sheridan: Pistons win with complete effort
•
TrueHoop's Series Bullets
•
Scouts Inc.'s series breakdown
•
Series page: More coverage
Raptors vs. Magic
•
TrueHoop's Series Bullets
•
Hill: Dwight Howard vs. Chris Bosh
•
Scouts Inc.'s series breakdown
•
Series page: More coverage
Wizards vs. Cavaliers
•
Windhorst: The new LeBron Rules
•
Windhorst: Wiz get reality check
•
TrueHoop's Series Bullets
•
Windhorst: LeBron quiets Wiz with late heroics
•
Scouts Inc.'s series breakdown
•
Series page: More coverage
Nuggets vs. Lakers
•
Adande: Bynum not nearly ready
•
TrueHoop's Series Bullets
•
Adande: Gasol gets first playoff win
•
Scouts Inc.'s series breakdown
•
Series page: More coverage
Mavericks vs. Hornets
•
Dallas steps up
•
TrueHoop's Series Bullets
•
Jackson: Dinner with the Hornets
•
Hollinger: Paul powers Hornets again
•
Hollinger: Paul finds groove in playoff debut
•
Scouts Inc.'s series breakdown
•
Series page: More coverage
Suns vs. Spurs
•
Adande: Suns missing an identity
•
TrueHoop's Series Bullets
•
Scouts Inc.'s series breakdown
•
Series page: More coverage
Rockets vs. Jazz
•
TrueHoop's Series Bullets
•
Scouts Inc.'s series breakdown
•
Series page: More coverage
SportsNation
•
Make your playoff predictions
•
Rank 'em: All 16 NBA playoff teams
•
Quiz: What's your playoff IQ?

MOST SENT STORIES ON ESPN.COM