Scouts Inc. Update: Raptors vs. Magic, Game 3
Originally Published:
April 24, 2008
By
Mike Moreau
| Scouts Inc.
• Raptors-Magic series scouting report | Series page


The Raptors spotted the Magic another big first-quarter lead in Game 2; Toronto started the game with a shot-clock violation and a rash of sloppy turnovers that led to easy Magic scores. Toronto's transition defense and early-possession defense was poor, and it allowed Dwight Howard the same offensive rebounds and monster dunks he got in Game 1.
Raptors coach Sam Mitchell quickly realized the lineup he had on the floor was too big and too slow, so he pulled Rasho Nesterovic and Andrea Bargnani and used multiple combinations of Anthony Parker, Jamario Moon, Carlos Delfino and Jason Kapono to make the Raptors smaller, quicker and more dangerous offensively.
Along with the point guard rotation of T.J. Ford and Jose Calderon, Mitchell may have found the right combination of players with whom to surround Chris Bosh, and possibly the right formula to give Orlando matchup problems in Game 3.
This smaller team on the floor opened up Toronto's penetrating and pitching offense for 3-pointers and slashing drives to the basket.
The reason these opportunities opened up? By going to this smaller lineup, Bosh became the 5-man, which meant Howard was forced to guard him.
This is a matchup the Raptors love. Bosh aggressively attacks Howard off the dribble and at the basket, which can cause foul trouble for Howard and also keep him from trolling the paint, hunting blocked shots. Look for the Raptors to work these player combinations earlier in Game 3.
On the defensive end, although this left Bosh matched with Howard, this lineup also gave Toronto more quickness to get to the Magic shooters, who torched the Raptors in Game 1. And this gave them more speed in the open floor and improved their transition defense, which was awful with the bigger lineup.
The Raptors also played some zone schemes, trapping some of the Magic ball-screen actions, and this defensive quickness and offensive penetration put them back in the game.
Toronto may have found an answer to defending Rashard Lewis and Hedo Turkoglu, who have both had big games against the Raptors all season. Both struggled in Game 2, so expect Toronto to stay with the smaller lineup to help with this matchup.
The Magic will certainly anticipate more of this in Game 3. They will run some sets to get Lewis isolated in the post and some screening action to get Turkoglu some catch-and-shoot opportunities in the midpost and post extended. Both Lewis and Turkoglu can tend to get 3 happy, so look for Magic coach Stan Van Gundy to reel that in quickly if he sees a matchup inside he can exploit.
Both teams had trouble guarding each other's screen-and-roll game, and this will be the chess match going on throughout Game 3. This is where Bargnani was able to finally make an offensive contribution in the third quarter. He set screens on the lane line extended, above the elbow for Calderon, who pushed to the wing, forced help, and kicked back to Bargnani, who hit a one dribble pull-up and then a step-back 3.
With Bargnani on one side and Bosh on the other, Magic defenders must stay home, which allows Calderon and Ford room to turn the corner and create or to turn down the screen and blow down the middle.
The Magic could not decide whether to double, go under the screen or go over the screen, and they struggled to contain this action all night. They will review these situations in their film study and predetermine how to defend each ball handler -- probably going under the screen on Ford to force the jump shot and chasing over the top or showing a soft trap on Calderon as the Magic did on the last shot of the game.
This soft trap action, where the screener's defender stays with the ball a little longer but doesn't aggressively try to double team him, gives that defender an easier path to get back to the screener. It allowed Howard to recover in a straight line back to Bosh and to aggressively contest the game-winning shot attempt.
The Raptors had equal difficulty defending Orlando's high pick-and-roll action with Howard screening for Nelson. Toronto sometimes hedged, sometimes trapped, and sometimes forgot all about the MVP candidate rolling and sealing in front of the rim.
Nelson got into the paint often in Game 1, so the Raptors adjusted in Game 2, paying extra attention to Nelson with the screener's defender. This left Howard to roll down the lane and contend with a smaller help defender.
Toronto also played some zone schemes to try to negate this action, and it allowed Bosh to stay in the middle of the floor. This will continue in Game 3, and although this does give the Magic more open 3-point looks, it is preferable to Howard getting monster dunks that get his team fired up.
The Raptors may try to entice the Magic into that 3-happy game which will get Howard demanding the ball and Van Gundy calling a quick timeout.
The Magic have won in Toronto this season, but the Raptors feel confident coming home. They dug deep holes in each of the first two games, and outplayed the Magic for much of both games from there.
Expect to see Toronto using different combinations and going often to its smaller lineup. The Raptors will work their pick and pop game above the elbows all night, and will get back to their efficient, low-turnover offense. Don't expect them to spot the Magic a double-digit lead on their home court.
PREDICTION: Raptors win Game 3
Mike Moreau is the director of basketball for the Pro Training Center and The Basketball Academy at the IMG Academies in Bradenton, Fla. He also serves an NBA analyst for Hoopsworld.
Synergy Sports Technology systems were used in the preparation of this report.
2008 NBA PLAYOFFS Round 1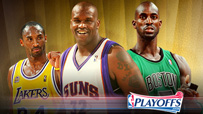 The 2008 NBA playoffs are finally here and the postseason field is more stacked than ever.
Playoff schedule | Playoff bracket | Playoff home
Columns
•
Daily Dime: Suns fade out again
•
Daily Dime: Hawks soar over Celtics
•
Daily Dime: Phoenix fails its test
•
Daily Dime: Suns stumble in second half
•
Adande: Great time to be a sports fan
•
Stein: Best first-round series ever
•
Daily Dime: Rockets failure to launch
•
Daily Dime: Pistons stumble in opener
•
Daily Dime: Spurs leave a mark on Suns
•
Hollinger: How will the postseason play out?
•
Adande: Sixteen teams, sixteen dramas
Podcasts
•
NBA Dish: Ford and Stein talk Round 1
•
NBA Dish: Ford and Adande predict playoffs
Hawks vs. Celtics
•
TrueHoop's Series Bullets
•
Sheridan: Celtics come out swinging
•
Scouts Inc.'s series breakdown
•
Series page: More coverage
Sixers vs. Pistons
•
Sheridan: Sixers slam Pistons
•
Sheridan: Pistons win with complete effort
•
TrueHoop's Series Bullets
•
Scouts Inc.'s series breakdown
•
Series page: More coverage
Raptors vs. Magic
•
TrueHoop's Series Bullets
•
Hill: Dwight Howard vs. Chris Bosh
•
Scouts Inc.'s series breakdown
•
Series page: More coverage
Wizards vs. Cavaliers
•
Windhorst: The new LeBron Rules
•
Windhorst: Wiz get reality check
•
TrueHoop's Series Bullets
•
Windhorst: LeBron quiets Wiz with late heroics
•
Scouts Inc.'s series breakdown
•
Series page: More coverage
Nuggets vs. Lakers
•
Adande: Bynum not nearly ready
•
TrueHoop's Series Bullets
•
Adande: Gasol gets first playoff win
•
Scouts Inc.'s series breakdown
•
Series page: More coverage
Mavericks vs. Hornets
•
Dallas steps up
•
TrueHoop's Series Bullets
•
Jackson: Dinner with the Hornets
•
Hollinger: Paul powers Hornets again
•
Hollinger: Paul finds groove in playoff debut
•
Scouts Inc.'s series breakdown
•
Series page: More coverage
Suns vs. Spurs
•
Adande: Suns missing an identity
•
TrueHoop's Series Bullets
•
Scouts Inc.'s series breakdown
•
Series page: More coverage
Rockets vs. Jazz
•
TrueHoop's Series Bullets
•
Scouts Inc.'s series breakdown
•
Series page: More coverage
SportsNation
•
Make your playoff predictions
•
Rank 'em: All 16 NBA playoff teams
•
Quiz: What's your playoff IQ?

MOST SENT STORIES ON ESPN.COM