Scouts Inc. Update: Spurs vs. Hornets, Game 5
Originally Published:
May 13, 2008
By
David Thorpe
| Scouts Inc.
• Spurs-Hornets series scouting report | Series page


It looked like the Hornets had figured out how to stop Tim Duncan in Game 1. They surrounded him just as he caught the ball, and that defensive pressure looked like it was the reason for his meager 1-of-9 performance in the loss. But even after that poor performance, we liked the looks he was getting because he was missing shots he normally makes.
It turned out that whatever cold/flu/virus he was suffering from had a lot more to do with his performance than the Hornets. His production since then has been back to normal -- he is averaging more than 18 points and 12 rebounds per game.
Duncan's improved play has opened up San Antonio's offense. And now all the pressure that was on the defending champs is squarely on New Orleans heading into Game 5 -- the swing game of a best-of-seven series tied at 2-2. The question is: Can the Hornets find a way to slow down the Spurs while their own shooters try to find their rhythm back at home?
The Spurs have made a conscious effort to upgrade their running game after dropping the first two games of the series, and it has worked perfectly. They have asked their rebounders to look quickly for outlet passes, deep outlets, even some to half court, where Tony Parker or Manu Ginobili waits. Both guards are very effective at ramping up the pace while helping the Spurs create easy looks before setting up their half-court offense.
Expect the Hornets to pay more attention to denying these outlet passes in Game 5 by shadowing either Parker or Ginobili, hoping to inhibit or steal the long outlet. But that does come with some risk, as a failure to stop that pass with a defender at half court means there will be one less defender back to help near the rim.
Parker has been a one-man fast break, jetting up the floor when he has the ball and taking on more than one defender with no fear. The biggest adjustment in this series has been coach Gregg Popovich letting Parker run loose in hopes of getting him to relax and play instead of worrying about half-court responsibilities. Parker averaged 26 points per game in the Spurs' two wins and, more importantly, passed for 19 assists. During the regular season, he averaged six assists per game and just 5.5 assists against the Hornets.
The Spurs' increased pace has allowed players other than Parker and Ginobili to find ways of contributing by racing up the floor and waiting for the guards to find them.
When the Spurs aren't running, their discipline in the half court frustrates the Hornets, as the Spurs just don't take many bad shots. The Hornets must work on focusing on the entire Spurs team, not just looking to guard the big three. This lack of focus has been opening up the court for the other Spurs players. Collectively, the team almost always makes the right play to find the open man. In Game 4, San Antonio shot 51.3 percent from the field but made just 30.8 percent from beyond the 3-point line compared to 62 percent inside the arc.
Part of the reason San Antonio shot poorly from the 3 was New Orleans' closeout execution. But while that succeeded, it also served to help open up things inside, where the Spurs dominated. So in Game 5, look for the Hornets to be more patient on closeouts and trust that the Spurs' shooters will struggle in the crazy atmosphere of New Orleans. That strategy does come with a huge downside, because hot shooting from the perimeter by Ginobili, Bruce Bowen or Michael Finley could spell disaster for New Orleans.
Another problem facing the Hornets is how best to defend Parker on ball screens. He is roaring off them, forcing the Hornets to switch off. He then is killing the help defender -- usually a big man -- with drives to the hoop. It's a lesson LeBron James should follow. Look for New Orleans to offer stronger ball-side help on these actions, leaving the Spurs' shooters open on the wing or the corners -- again banking on San Antonio's shooters being off.
The Hornets have lost their way in terms of how to attack the Spurs on their own offensive side of the floor. The frenetic pace set by the Spurs hasn't really affected Chris Paul, who still is far more active, looking for early ball screens and easy shots. He can do whatever he wants, in either a fast or slow game, so San Antonio -- like Dallas -- has no answer for him. But his Achilles' heel -- he's a pass-first point guard -- might be hurting the Hornets, who need him to score 35 or more points per game in this series. The Spurs are guarding Paul, expecting he will pass, in some cases almost inviting him to shoot.
Now that the Hornets are playing back home, Paul's teammates might regain their touch and he might find his comfort level both passing and scoring. The Spurs will try to limit the Hornets' looks like they did in San Antonio, where all Hornets not named Paul shot 23-of-66 from the field. In Game 1 and Game 2, New Orleans had success in both its pick-and-roll game and its isolations for David West and Peja Stojakovic. Now that San Antonio's defense has stiffened on West and Stojakovic, we should see 80 percent of the Hornets' offense run off ball screens for Paul.
The atmosphere in New Orleans should be electric and one that easily can carry the Hornets to the brink of the conference finals. But this is a Spurs team that is chasing history, and they are playing with a level of purpose and passion the Hornets have not been able to match. In such an important game, look for the stars to shine the brightest, but a role player on either team could step up and make the big shot. San Antonio's role players have done just that so many times, so it's hard to pick against them. And the scary thing for the Hornets is that Duncan hasn't had a truly monster game yet. Game 5 would be a good time for one.
PREDICTION: Spurs win Game 5

David Thorpe is an NBA analyst for ESPN.com and the executive director of the Pro Training Center at the IMG Academies in Bradenton, Fla., where he oversees the player development program for NBA and college players. To e-mail him, click here.
Synergy Sports Technology systems were used in the preparation of this report.
NBA Analyst for ESPN.com
Executive director of Pro Training Center
Started coaching career in 1987
SPONSORED HEADLINES
MORE NBA HEADLINES
MOST SENT STORIES ON ESPN.COM
2008 NBA PLAYOFFS Round 2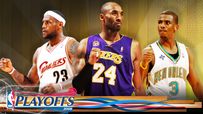 LeBron, Kobe and CP3 dominated Round 1 of the 2008 NBA playoffs, where the top four seeds in each conference advanced to the second round.
Playoff schedule | Playoff bracket | Playoff home
Daily Dime
•
Daily Dime: Lakers end Jazz season in Game 6
•
Daily Dime: Spurs dominate Hornets in Game 6
•
Daily Dime: Rondo gets C's rolling in Game 5
•
Daily Dime: Hornets one win from advancing
•
Daily Dime: Celtics with road woes
•
Daily Dime: Williams puts Utah on his back
•
Daily Dime: Cavs roll in Game 3 victory
•
Daily Dime: Boozer makes impact in Game 3
•
Daily Dime: Spurs keep head above water
•
Daily Dime: Kobe's most valuable promise
•
Daily Dime: Beauty is in eye of beholder
•
Daily Dime: CP3 making Spurs look old
•
Daily Dime: Kobe free to reign in Game 1
•
Daily Dime: Hornets sting the champs
Columns
•
Hollinger: Handing out some playoff awards
Cavaliers vs. Celtics
•
Windhorst: LeBron's chance to be Jordanesque
•
Sheridan: Legacies on the line for Celtics
•
Sheridan: Screwball finish to Game 6
•
Sheridan: Allen finds his range
•
Windhorst: Cavs search for offense
•
Windhorst: LeBron likes his chances
•
Scouts Inc.'s series breakdown
•
Wojciechowski: Rest easy, Celtics ... for now
•
Jackson: Do you still love the Celtics?
•
Series page: More coverage
Magic vs. Pistons
•
Magic eliminated, but won't disappear
•
Hollinger: Hunter dusts off rust
•
Hollinger: Pistons win without Billups
•
Scouts Inc.'s series breakdown
•
Series page: More coverage
Jazz vs. Lakers
•
Adande: Kobe plays supporting role
•
Adande: Jazz find Lakers out of tune
•
Wojciechowski: Miller won't listen on the Sabbath
•
Adande: A year to remember for Fisher
•
Scouts Inc.'s series breakdown
•
Series page: More coverage
Spurs vs. Hornets
•
Stein: Spurs knew Hornets were trouble
•
Neel: Enjoy Chris Paul while you can
•
Hollinger: Champs back to winning ways
•
Palmer: Birdman's redemption bittersweet
•
Adande: Chris Paul's mean streak
•
TrueHoop: Spurs stung twice by Hornets
•
Scouts Inc.'s series breakdown
•
Series page: More coverage
TrueHoop
•
Stat Geek Smackdown: 2008 playoffs
SportsNation
•
Which teams will advance to conference semis?
•
Rank the remaining eight playoff teams