Scouts Inc. Scouting Breakdown: Suns vs. Spurs
Originally Published:
April 18, 2008
By
David Thorpe
and
Mike Moreau
| Scouts Inc.
East scouting reports: Hawks-Celtics | Sixers-Pistons | Raptors-Magic | Wizards-Cavaliers
West scouting reports: Nuggets-Lakers | Mavericks-Hornets | Suns-Spurs | Rockets-Jazz
The Suns traded for Shaquille O'Neal so he could help them get past the Spurs and into the NBA Finals. The idea was that he could continue to mesh with his team in the early rounds of the playoffs. Well, that plan has gone into fast forward, as no one expected these two teams to meet in the first round. One team with a legitimate chance of winning the championship will be going home early.
The Suns and their fans still have scars from last year's six-game loss in the second round, and now they get the defending champions to start this year's playoffs. The stage is set for another classic.
In a defense versus offense matchup, it might come down to how much defense the Suns can play and how much offense the Spurs can produce.
The Suns rule the offensive end, leading the league in overall field goal percentage and 3-point shooting, while playing with the league's highest offensive efficiency and at the league's fastest pace.
The Spurs' defense is third in the league. They have the fifth-best field goal percentage defense and hold teams to 95 points per game, which also is third in the league. The Suns average 110 points per game.
With Shaq in the lineup for 28 games, the Suns seem to have found the right formula. They beat the Spurs in both games in which Shaq played, including the March win that really got things started for Phoenix.
Offensively, Phoenix won't change much in transition. The Suns will fly down the floor and look to score early. It's when they settle in the half court that things will change. Shaq will set massive screens on the perimeter, then drive to the front of the rim.
The Suns also can go to the low-post power game for Shaq, and he proved in the two previous games that the Spurs can't guard him with Fabricio Oberto, Tim Duncan, Kurt Thomas or any combination of the three.
This allows Amare Stoudemire to roam free in open spaces, and the Spurs have no one who can keep him from getting to the rim. San Antonio should be all right with its perimeter matchups, but it's this double whammy of Shaq and Stoudamire that will be trouble for the Spurs -- just as Steve Kerr envisioned.
Look for San Antonio to try to confuse Shaq with changing defenses, rotations and double teams. Shaq has had some turnover problems against these kinds of strategies.
The Spurs have Tony Parker at full strength, and on offense, everything starts with him. He knows he can get in the paint and score on the Suns, but Michael Finley and Bruce Bowen must hit a high percentage of perimeter shots. Their ability to do so will determine how much room Duncan has to work.
Manu Ginobili's groin injury should not be an issue, and look for San Antonio to put him in the game quickly if Finley can't get it going. He's been able to get to the foul line against the Suns, but he has shot a low percentage. Look for him to pull up for midrange jump shots and not go all the way to the rim to nullify O'Neal's presence.
Look for Duncan to face up more on Stoudemire and use his jabs and jump shots, as well as work around the foul line area so he can attack from the front of the basket and see Shaq coming.
San Antonio might have played its best game of the season against Utah on Wednesday night, when the Spurs mauled the Jazz with an offensive explosion in the first half. That might have sent a message to the Suns that the Spurs are in playoff mode.
PHOENIX SUNS

POSITION

SAN ANTONIO SPURS

Steve Nash
16.9 ppg
3.5 rpg
11.1 apg



PG


Tony Parker
18.8 ppg
3.2 rpg
6.0 apg
Nash: He orchestrated three wins over the Spurs this season by getting everyone involved on offense, registering 10, 10 and 14 assists in those games. And in the Suns' pre-Shaq loss to the Spurs in January, he went 2-for-9 from the 3-point line and posted only eight assists. Nash will shoot the quick 3 in transition or the short jumper in the lane off the many ball screens from Shaq and Stoudemire. If his teammates are struggling, he will take the reins and look to score, attacking the basket with runners, floaters and step-backs. He is the second-leading 3-point shooter in the league, but he has struggled from the field in April, shooting only 39 percent overall and 32 percent from behind the arc.
Parker: He missed the first two games against the Suns, but he scored 20 and 21 points in the last two. The Suns don't have an answer for him; he can get wherever he wants against any of their guards. Parker doesn't get a lot of assists, but he creates a lot of havoc. He's the catalyst that breaks the defense down, and he makes the first pass that leads to the assist at the end of the play. He scores in the paint and at the rim with bursts of speed and change-of-pace drives, and knows where to get his points -- he has made only 17 3s all season. He has shot 51 percent from the floor over the past two months. He will guard Raja Bell while Bowen guards Nash.
---
Bell: He hasn't shot well from the 3 against the Spurs -- he's only 5-for-18 -- but he shot 40 percent for the regular season from downtown and 45 percent in March and April. He has made 176 3s this season, the second most on the team behind Nash. His low percentage against the Spurs probably is due to the fact that his primary focus is guarding Manu Ginobili, which he has done as well as anyone in the NBA.
Finley: He started at the shooting guard position in all four games against Phoenix during the regular season and averaged 9.8 points. He plays a catch-and-shoot, one-and-two-dribble game, but he's not a high percentage shooter and can be hot and cold. However, he has shot 49 percent from the field in his past eight games.
---
PHOENIX SUNS

POSITION

SAN ANTONIO SPURS

Grant Hill
13.1 ppg
5.0 rpg
2.9 apg



SF


Bruce Bowen
6.0 ppg
2.9 rpg
1.1 apg
Hill: He averaged 14.4 points on 60 percent shooting in the four games versus the Spurs during the regular season. The only Suns loss to the Spurs was when Hill did not start. Hill thrives in the open spaces of the Suns' offense, running to the wings for his one-dribble pull-up in transition and settling in the corners in the half-court set for jump shots and drives to the middle. His shot attempts and scoring average have been down in March and April, but he still is shooting better than 50 percent from the floor.
Bowen: One of the best individual defenders in the league, he will do anything to disrupt, antagonize and get in the head of the man he is guarding. He will matchup with Nash most of the time, trying to use his size and length to negate Nash's quickness and creativity. The Spurs' best percentage 3-point shooter, he will spot up in the corners and get that extra pass that usually leaves him wide open to shoot. He has averaged only 3.5 points on 25 percent shooting against Phoenix this season, but as with Bell, this might be affected by the priority of his defensive assignment.
---
Stoudemire: He has exploded offensively since Shaq's arrival, but he has not had huge games against the Spurs. He has averaged 29.3 points per game in March and April, but he averaged only 17.5 points in the four games versus the Spurs during the regular season. He runs the floor in transition, flashes into open spaces and dunks everything around the basket. He will use his quickness and athleticism to go right at Duncan, Thomas or any other defender the Spurs throw at him. A very tough matchup for the Spurs.
Duncan: He had a monster 36-point, 17-rebound performance against Phoenix in December -- that might have been the impetus for the Shaq trade, even though the Suns won that game. Duncan's 16-point, 17-rebound game in the Spurs' Jan. 31 win might have sealed the deal -- it gave him an average of 26 points per game on 54 percent shooting. In the two games against Phoenix with Shaq, Duncan averaged 20 points but shot only 40 percent. Although Duncan is guarded mostly by Stoudemire, O'Neal has been a presence, coming to help, forcing Duncan to change his shot and hammering him with some hard body fouls. He still is the best low-post offensive player in the NBA.
---
O'Neal: The Suns have won both their games against the Spurs since Shaq arrived, with Shaq posting 14 points and 16 rebounds March 9, and 16 points and nine rebounds April 9 in San Antonio. He can bury any San Antonio defender under the rim, and the Suns get him the ball right at the basket much of the time. He reestablished his post dominance in the last meeting with the Spurs, setting up on the left block and backing down Oberto and Duncan, scoring over both to go 7-for-9 from the floor. San Antonio already has felt his defensive presence.
Oberto: He plays 20 minutes a game at center and doesn't provide much scoring. However, he has shot 16-for-21 from the floor in his past four games and might be planning an expanded offensive role. He will set the first screen for Parker as he trails down the floor and will roll or slip off of Parker's move. Look for him to run to the rim in transition offense, trying to beat Shaq down the floor. He will be the hedge defender when Shaq sets the ball screen and will fight to keep O'Neal from setting up in front of the rim.
---
SUNS
Leandro Barbosa: The Suns' third-leading scorer, he brings speed and shooting. He's third on the team in 3-pointers made. He has averaged only 11.8 points on 33 percent shooting versus the Spurs, but he had 14 points on 67 percent shooting, including going 2-for-4 from the 3, in the Suns' win April 9.
Boris Diaw: A valuable, versatile forward who can score and rebound, he is second on the team in assists. He scored in double figures in two of the Suns' wins over the Spurs during the regular season.
Gordan Giricek: A big, aggressive guard who can shoot and drive, he's getting more minutes and shots, averaging nine points on 53 percent shooting in April.
---
SPURS
Manu Ginobili: The NBA's best sixth man was anything but great in the three games in which he played against the Suns during the regular season. He shot 30 percent overall from the field and 29 percent from the 3-point line. He went 6-for-19 and 3-for-14, including 2-for-11 from the 3, in the first two games, when Parker did not play. However, he went 12-for-12 from the foul line in the Spurs' win. He shot 7-for-19 from the floor March 9 but went 4-for-6 from the 3, since Parker was able to create more room for him to shoot. Ginobili will find ways to score, using any combination of drives, 3-point shots and drawing fouls. Shaq's size at the basket was a factor in the past two games, as Ginobili got to the basket but had to alter his shot or his path to the rim. Bell will make him work hard for everything he gets.
Jacque Vaughn: This steady backup brings solid ballhandling and defense, and he looks to set up he teammates more than he looks to score.
Matt Bonner: He gives the Spurs a 34 percent 3-point shooter at the power forward spot. He had 10 points in 18 minutes against Utah in the Spurs' last regular-season game, hitting 2-of-4 from the 3.
Kurt Thomas: This rugged, veteran interior defender spells Oberto and Duncan. He plays the defensive and rebounding roles on this team, but he can score when needed.
Ime Udoka: He averaged 6.7 points in three games versus the Suns during the regular season, and he provides better defense and rebounding than Bonner.
Robert Horry: He still is nursing a knee contusion and hasn't played since March 21. He hit four of his last nine 3s before his injury.
Brent Barry: He still is recovering from a torn calf muscle.
---
BOTTOM LINE
David Thorpe: I thought Phoenix was the better team last season and even in the postseason. I was wrong. I'm still not sold on the trade helping the Suns in this matchup, but Shaq clearly has raised the level of his day-to-day effort. Phoenix might get a surprise win early, but the Spurs' mental and physical toughness are a tough combination to beat.
Prediction: San Antonio 4, Phoenix 2
---
Mike Moreau: Phoenix wants payback for last year, and it brought in The Diesel to help it take on the bully. Phoenix has gotten contributions from everyone in its rotation in the past month, and the Spurs' big three will need heroics from a role player if they expect to win.
Prediction: Phoenix 4, San Antonio 2
David Thorpe is an NBA analyst for ESPN.com and the executive director of the Pro Training Center at the IMG Academies in Bradenton, Fla., where he oversees the player development program for NBA and college players. To e-mail him, click here.
Mike Moreau is the Director of Basketball for the Pro Training Center and The Basketball Academy at the IMG Academies in Bradenton, FL. He also serves an NBA Analyst for Hoopsworld.
Synergy Sports Technology systems were used in the preparation of this report.
SPONSORED HEADLINES
MORE NBA HEADLINES
MOST SENT STORIES ON ESPN.COM
2008 NBA PLAYOFFS Round 1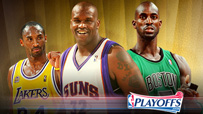 The 2008 NBA playoffs are finally here and the postseason field is more stacked than ever.
Playoff schedule | Playoff bracket | Playoff home
Columns
•
Daily Dime: Suns fade out again
•
Daily Dime: Hawks soar over Celtics
•
Daily Dime: Phoenix fails its test
•
Daily Dime: Suns stumble in second half
•
Adande: Great time to be a sports fan
•
Stein: Best first-round series ever
•
Daily Dime: Rockets failure to launch
•
Daily Dime: Pistons stumble in opener
•
Daily Dime: Spurs leave a mark on Suns
•
Hollinger: How will the postseason play out?
•
Adande: Sixteen teams, sixteen dramas
Podcasts
•
NBA Dish: Ford and Stein talk Round 1
•
NBA Dish: Ford and Adande predict playoffs
Hawks vs. Celtics
•
TrueHoop's Series Bullets
•
Sheridan: Celtics come out swinging
•
Scouts Inc.'s series breakdown
•
Series page: More coverage
Sixers vs. Pistons
•
Sheridan: Sixers slam Pistons
•
Sheridan: Pistons win with complete effort
•
TrueHoop's Series Bullets
•
Scouts Inc.'s series breakdown
•
Series page: More coverage
Raptors vs. Magic
•
TrueHoop's Series Bullets
•
Hill: Dwight Howard vs. Chris Bosh
•
Scouts Inc.'s series breakdown
•
Series page: More coverage
Wizards vs. Cavaliers
•
Windhorst: The new LeBron Rules
•
Windhorst: Wiz get reality check
•
TrueHoop's Series Bullets
•
Windhorst: LeBron quiets Wiz with late heroics
•
Scouts Inc.'s series breakdown
•
Series page: More coverage
Nuggets vs. Lakers
•
Adande: Bynum not nearly ready
•
TrueHoop's Series Bullets
•
Adande: Gasol gets first playoff win
•
Scouts Inc.'s series breakdown
•
Series page: More coverage
Mavericks vs. Hornets
•
Dallas steps up
•
TrueHoop's Series Bullets
•
Jackson: Dinner with the Hornets
•
Hollinger: Paul powers Hornets again
•
Hollinger: Paul finds groove in playoff debut
•
Scouts Inc.'s series breakdown
•
Series page: More coverage
Suns vs. Spurs
•
Adande: Suns missing an identity
•
TrueHoop's Series Bullets
•
Scouts Inc.'s series breakdown
•
Series page: More coverage
Rockets vs. Jazz
•
TrueHoop's Series Bullets
•
Scouts Inc.'s series breakdown
•
Series page: More coverage
SportsNation
•
Make your playoff predictions
•
Rank 'em: All 16 NBA playoff teams
•
Quiz: What's your playoff IQ?