After his team's playoff exit, LeBron sees room for improvement
Originally Published:
May 19, 2008
By
Brian Windhorst
| Special to ESPN.com
BOSTON -- When last season ended, LeBron James surveyed his surroundings and the situation and decided he needed to improve his game for the Cavs to win a championship. When this season ended Sunday night, his view was more personnel than personal.

After losing to the Spurs in the 2007 Finals, James felt he needed to upgrade numerous areas of his game, especially his midrange jumper. Though he had mixed results against the Celtics -- he shot just 36 percent, though he did average 26.7 points a game in the series -- he has made strides in that area and others, as this regular season showed.

He'll still have an intense summer routine, built around playing for Team USA in the Olympics. But he made it clear following the Cavs' Game 7 loss that while he's away he'll be turning up the pressure on the Cavs' front office. James said he was pleased with the results of February's massive 11-player trade that brought in four key players.

[+] Enlarge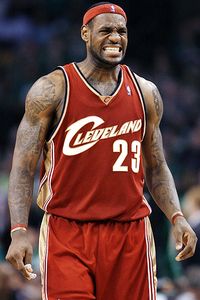 AP Photo/Winslow TownsonLeBron might have fewer reasons to grimace with an improved roster.

But as he looks around the league, including at the team that just eliminated them, he feels more needs to be done.
"I think what we have is very good, but we need to continue to get better, we know that," James said. "If that means some personnel changes that need to happen, then so be it. The teams around us in the league are continuing to get better."
Despite efforts in the free-agent market and with trades, the Cavs have yet to land another reliable offensive threat next to James. They also have failed to land a difference-making point guard, which James called for in the regular season when he made a public plea for the Cavs to try to trade for Jason Kidd.
Import Delonte West made some strides during the postseason and worked well with James at times. In fact, he was the only Cav on Sunday besides James to elevate his game as he scored 15 points with six assists. But West and fellow young guard Daniel Gibson are restricted free agents, and their futures with the team are a little murky at the moment.
One thing Cavs general manager Danny Ferry has been able to do, even with swapping out nearly half of his roster at midseason, is keep roster flexibility. With the exception of Ben Wallace, the Cavs are not tied down by huge long-term contracts past next season.
They will have more than $30 million in expiring contracts to barter with heading into the summer -- with Wally Szczerbiak's $13 million salary as the largest carrot -- and the stage is set for Ferry to make another impact trade. This time, perhaps, for a reliable All-Star that many feel is the team's biggest missing piece.
Expiring contracts don't always get it done in the summer, but they were a huge part of the trades that brought Kevin Garnett to the Celtics and Pau Gasol to the Lakers over the past year. The Cavs, who rank fourth in overall payroll at more than $81 million, are not expected to be players in the free-agent market.
James has two years left on his contract, but the pressure is set to start soon. The Cavs can offer James an extension on July 1, 2009. If he passes, the 2009-10 season will likely become a giant James contract watch. It may be inevitable: James only took a three-year extension to his rookie contract because he wanted to allow himself the chance to become an unrestricted free agent sooner. Short of the Cavs winning a title next season, nothing may be good enough for James to stray from that intended path.
Still, for the first time since 2005-06, the clock will start to tick on the Cavs as next season opens. With James now openly calling for some changes to the roster, a voice that will likely get louder if the Cavs have another quiet summer, the onus is on the Cavs to improve, and soon.
Publicly, James will always support his teammates and he seems to be in tune with coach Mike Brown, who got a two-year extension in the winter. But he is clear on what he expects, and that is resounding enough to a Cavs team that regressed this season.
"I am not disappointed in any of my teammates or any of my coaching staff," James said. "I always want to win. I've always been a winner and I am a winner."
Brian Windhorst covers the Cleveland Cavaliers for the Akron Beacon Journal.
ESPN.com
ESPN.com NBA writer since 2010
Covered Cleveland Cavs for seven years
Author of two books
2008 NBA PLAYOFFS Round 2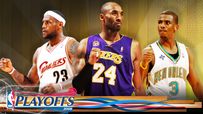 LeBron, Kobe and CP3 dominated Round 1 of the 2008 NBA playoffs, where the top four seeds in each conference advanced to the second round.
Playoff schedule | Playoff bracket | Playoff home
Daily Dime
•
Daily Dime: Lakers end Jazz season in Game 6
•
Daily Dime: Spurs dominate Hornets in Game 6
•
Daily Dime: Rondo gets C's rolling in Game 5
•
Daily Dime: Hornets one win from advancing
•
Daily Dime: Celtics with road woes
•
Daily Dime: Williams puts Utah on his back
•
Daily Dime: Cavs roll in Game 3 victory
•
Daily Dime: Boozer makes impact in Game 3
•
Daily Dime: Spurs keep head above water
•
Daily Dime: Kobe's most valuable promise
•
Daily Dime: Beauty is in eye of beholder
•
Daily Dime: CP3 making Spurs look old
•
Daily Dime: Kobe free to reign in Game 1
•
Daily Dime: Hornets sting the champs
Columns
•
Hollinger: Handing out some playoff awards
Cavaliers vs. Celtics
•
Windhorst: LeBron's chance to be Jordanesque
•
Sheridan: Legacies on the line for Celtics
•
Sheridan: Screwball finish to Game 6
•
Sheridan: Allen finds his range
•
Windhorst: Cavs search for offense
•
Windhorst: LeBron likes his chances
•
Scouts Inc.'s series breakdown
•
Wojciechowski: Rest easy, Celtics ... for now
•
Jackson: Do you still love the Celtics?
•
Series page: More coverage
Magic vs. Pistons
•
Magic eliminated, but won't disappear
•
Hollinger: Hunter dusts off rust
•
Hollinger: Pistons win without Billups
•
Scouts Inc.'s series breakdown
•
Series page: More coverage
Jazz vs. Lakers
•
Adande: Kobe plays supporting role
•
Adande: Jazz find Lakers out of tune
•
Wojciechowski: Miller won't listen on the Sabbath
•
Adande: A year to remember for Fisher
•
Scouts Inc.'s series breakdown
•
Series page: More coverage
Spurs vs. Hornets
•
Stein: Spurs knew Hornets were trouble
•
Neel: Enjoy Chris Paul while you can
•
Hollinger: Champs back to winning ways
•
Palmer: Birdman's redemption bittersweet
•
Adande: Chris Paul's mean streak
•
TrueHoop: Spurs stung twice by Hornets
•
Scouts Inc.'s series breakdown
•
Series page: More coverage
TrueHoop
•
Stat Geek Smackdown: 2008 playoffs
SportsNation
•
Which teams will advance to conference semis?
•
Rank the remaining eight playoff teams