Celtics upbeat on Pierce for Game 2, uncertain for Perkins
Updated:
June 7, 2008, 5:06 PM ET
By
Chris Sheridan
| ESPN.com
BOSTON -- The swelling was down, the limp was less pronounced, and the questions regarding whether Paul Pierce had overdramatized his injury were not rekindled.
All indications pointed to Pierce playing Sunday night in Game 2 of the NBA Finals, although things seemed less certain regarding injured Celtics center Kendrick Perkins, who sprained his ankle in Game 1.
"Paul is moving much better today, that's clear," coach Doc Rivers said. "Of the two, he's the one I'm most optimistic about."

Perkins

Pierce
Pierce was treating his strained right knee with ice, electronic stimulation and laser therapy, and he planned to shoot free throws and take part in a walkthrough Saturday afternoon. The Celtics' plan for Perkins, however, was to keep him off his feet as much as possible.
"My range of motion, just being able to squat all the way down, I can't quite do that yet," Pierce said. "My walk is pretty good actually, but when I go down into a squat position, that's when I feel it the most, when I bend it."
In a ignorance-is-bliss admission, Pierce said he still did not want to undergo an MRI exam to determine whether there was any structural damage to the knee. A source close to the Celtics told ESPN.com that the decision to forego an MRI was entirely Pierce's.
Asked if he was concerned about risking a more serious knee injury, Pierce replied: "Well, you think about it, but over the years I've learned my body a lot and I know when it's really, really bad, enough to get an MRI. Do I need an MRI? Probably, but at this point I don't even want to hear what it is, I just want to go out there and play, and after the series I'll be more concerned with it. But as long as I'm able to get out there and run and help my ballclub, that's all I want to do."
Lakers coach Phil Jackson said he had not received any negative feedback for expressing skepticism over whether Pierce had overdramatized the seriousness of his injury when he was carried off the court by several teammates and placed in a wheelchair, only to run back onto the court just a few minutes later. On Friday, Jackson joked that the Celtics must have had faith healer Oral Roberts treating Pierce in the locker room.
"Well, we really should have a lot of fun about this; this is sports, after all. These are fun and games," Jackson said. "I kid the NBA about taking the fun out of the Finals, but this is still fun. We try to make this fun."
Even Kobe Bryant had a little fun with a question comparing the intensity of rivalries in the NBA today to what they were -- especially between the Celtics and Lakers -- two decades ago.
"You know, I've heard stories in the past of them coming here and not getting room service and stuff like that. I mean, my room service is cool. You know, I got the nice apple pie with the ice cream on top, á la mode. I didn't even ask for the ice cream but they hooked me up," Bryant said. "There's a healthy competition, and they obviously want to win, the city wants to win, but it's not like 'I hate your guts.' "
Chris Sheridan covers the NBA for ESPN Insider. To e-mail Chris, click here
2008 NBA FINALS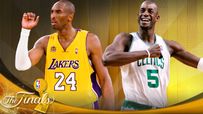 And then there were two -- the Lakers and Celtics. Who will win the NBA Finals? Let the games begin.
Finals schedule | Playoff bracket | Playoff home
Daily Dime
•
Celtics win 17th championship title
•
Did C's lose Regret Game?
•
A little help from Kobe's friends
•
Time for L.A. to go small
•
The Finals Can't Shake Donaghy Mess
•
Unlikely Game 4 comeback gives C's 3-1 lead
•
Rondo's ankle could change L.A.'s game plan
•
Kobe leads Lakers to Game 3 win
•
Lakers need to attack the paint
•
Lakers learn Powe's name in Game 2
•
Time for Gasol to step up
•
Lakers need better defense in Game 2
•
Pierce sparks Celtics in Game 1 victory
•
Expert predictions, clutch stats
•
Pierce loves playing Lakers
•
Celtics to meet L.A. in the Finals
Lakers vs. Celtics
•
Stein: Q&A after six-game "sweep"
•
MacMullan: Pierce's long road to greatness
•
Hollinger: From camp to champs
•
Stein: Boston's big three shine
•
Adande: Questions loom over Lakers' future
•
Hollinger: Celtics commit to defense
•
Scouts Inc.: Game 6 breakdown
•
Hollinger: Farmer steps up in Game 5
•
Sheridan: Late-game letdown for Celtics
•
Stein: Lakers ready to make history?
•
Adande: Greatness eluding Phil and Kobe
•
MacMullan: Doc adheres to dad's lessons
•
Jackson: Time for L.A.'s concession speech?
•
Stein: Game 4 not Kobe's finest hour
•
Adande: KG dominates Gasol again
•
Hollinger: Rivers makes all the right moves
•
Hill: Kobe's Laker legacy on the line
•
Hollinger: Vujacic lends helping hand in Game 3
•
Jackson: Jump shot Jesus has returned
•
Stein: Lakers need to earn sympathy
•
Adande: Lakers feel foul over whistle disparity
•
Jackson: Leading role suits Pierce
•
Adande: Kobe turns away from the pass late
•
Stein: Pierce's knee key to rest of series
•
Finals factor 1: Kobe Bryant
•
Finals factor 2: Celtics Defense
•
Finals factor 3: Paul Pierce
•
Finals factor 4: Home-court advantage
•
Finals factor 5: Battle of the benches
•
Hollinger: Lakers offense vs. Celtics defense
•
Broussard: Turning back the clock

•
Adande: How did Kobe get here?
•
Scouts Inc. breakdown: Lakers vs. Celtics
•
Coaching comparison: Red vs. Phil
•
Smith: Kobe's moving forward
•
Scoop: Fiendin' for a ring
•
Top 10 moments of Lakers-Celtics rivalry
•
ESPN Classic schedule: Relive the rivalry
TrueHoop
•
TrueHoop: Finals reflections
•
TrueHoop: Doc Rivers' redemption
•
TrueHoop: Lakers got Rondo'd
•
Tough night for Allen
•
Game 5 live blogging
•
Laker nation vs. NBA refs
•
Pierce and the evaporating knee story
•
Game 2 live blogging
•
Coaxing Kobe Bryant into hero mode
•
Game 1 live blogging
•
Today's game isn't so different
Simmons
•
Notes from the C's winning night
•
Boston's X factors
•
Game 4 running diary
•
Time for NBA Finals answers
•
The C's and city both look good
•
The Truth comes out in Game 1
•
NBA Finals forecast
•
Chat: NBA Finals preview
•
Simmons: You want a piece of Kobe, Boston?
ESPN The Magazine
•
Sporting Equivalency: NBA Finals meets hip hop
•
Broussard: Reporting from the NBA Finals
Fantasy
•
Join the fun of NBA Finals: Playcaller
Audio
•
Dish: NBA Finals recap
•
Wyc Grossbeck on C's championship
•
Ray Allen on how the Celtics evolved
•
Bob Ryan compares '86 C's to current one
•
Jon Barry credits Tom Thibodeau's team defense
•
Game 4 reactions
•
Rajon Rondo on Pierce, Game 2 plans
•
Bill Walton on Celtics-Lakers history
•
Dr. J on Finals, '80s hoops

MOST SENT STORIES ON ESPN.COM