Rondo skips practice after rolling ankle in Game 3
Updated:
June 11, 2008, 7:52 PM ET
Associated Press
LOS ANGELES -- Rajon Rondo side-shuffled down the floor during the Boston Celtics' off-day stretching drills Wednesday, lagging behind the teammates he usually sprints right past.
When the time came to jump, Rondo stood in place, unable to participate because of the ankle injury that left him on the bench for most of the second half during Game 3 of the NBA Finals.
Celtics On Point

The Lakers figured that the point guard matchup was one that they would have an advantage. That hasn't been the case so far in the first three games of the NBA Finals and the loss of Rajon Rondo, who expects to play in Game 4 despite an ankle bruise, could hurt the Celtics. Rondo is actually outplaying Derek Fisher overall.
Starting PG Comparison
2008 NBA Finals

| | | |
| --- | --- | --- |
| | Rondo | Fisher |
| PPG | 9.0 | 10.0 |
| FG pct | 40.9 | 34.8 |
| APG | 9.0 | 3.3 |
| RPG | 4.3 | 2.3 |
The speedy point guard said he has no intention of missing Game 4 against the Los Angeles Lakers on Thursday night, but he left open the possibility that he wouldn't be effective enough to help his team.
"Nobody in this league is 100 percent, but I'm sure I'll play," he said during the media availability period before practice at Staples Center. "There's no way I'm going to miss the game, probably. I don't want to hurt the team and go out there and not give it my all, but I think I'm sure I'll be playing tomorrow night."
Wearing a hard plastic brace on his left ankle -- and, when talking to reporters, no shoes -- Rondo described the injury as a bone bruise. He felt less pain after treatment with ice and a night of rest, and he expects to feel even better with another 24 hours to heal.
"I can walk on it," Rondo said, adding that he wouldn't be able to wear that brace during the game. "I made a walk around the hotel and I was limping a little bit, but the farther I walked the better it got."
On Wednesday, Rondo was on the floor for the stretching drills, but he took part in about half of them and appeared to be going at about half-speed. The rest of practice was closed to the media, and the Celtics were not planning a shootaround on Thursday morning.
"He's very important to this team. He's a big reason why we win," forward Kevin Garnett said. "He's the anchor of our defense. He's totally matured over the course of the year."
Rondo rolled his ankle early in the third quarter on Tuesday night, when the Lakers won 87-81 to trim their deficit in the best-of-seven series to 2-1. He returned in the fourth quarter for 3½ minutes and made a basket to give him eight points in the game.
"It felt pretty good, but I was just running off adrenaline," he said. "After the game it swelled up a little bit, it got a little tight. But other than that, like I said, it's just time. It's going to be all right."
In Game 3, the Celtics made up for Rondo's absence with backups Eddie House and Sam Cassell. Coach Doc Rivers said he would also consider using Tony Allen at point guard because of his success covering Kobe Bryant during the regular season.
"It's the Finals. I don't want to hold anything back," Rondo said. "If I'm going out there at 50 percent, I don't want to hurt the team. Eddie and Sam do a great job of running the team, so I'll let them have it."
All of the possibilities offer something.
Cassell is a fearless shooter who has won championships before. House had the long-range shooting touch that would keep the Lakers from double-teaming Garnett in the lane. Allen is a tough defender.
"Everybody brings something different to the table," Garnett said. "We shouldn't miss a beat."
But none of them have Rondo's speed.
"And he's the one pure point guard on our team that has the ability to make plays, and that's what we would lose," Rivers said. "I'm concerned because if Rondo can play but he doesn't have speed, then that's a concern."
If he can't play, Rivers said, he'll find some other combination.
"I don't worry about guys [being] out; I just don't. That's why we play them all," he said. "If a guy is out, somebody else has to step up and play. That's what we've done all year.
"Having said that, Rondo's value is extremely important to the team. We understand that. He gives us speed; he gives us great point guard play. He has the ability to pressure the ball. But if he can play, it's going to be great. But if he can't, we're not going to use that as a crutch, I can tell you that."

Copyright 2008 by The Associated Press
SPONSORED HEADLINES
MORE NBA HEADLINES
MOST SENT STORIES ON ESPN.COM
2008 NBA FINALS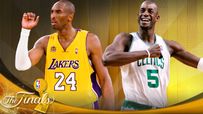 And then there were two -- the Lakers and Celtics. Who will win the NBA Finals? Let the games begin.
Finals schedule | Playoff bracket | Playoff home
Daily Dime
•
Celtics win 17th championship title
•
Did C's lose Regret Game?
•
A little help from Kobe's friends
•
Time for L.A. to go small
•
The Finals Can't Shake Donaghy Mess
•
Unlikely Game 4 comeback gives C's 3-1 lead
•
Rondo's ankle could change L.A.'s game plan
•
Kobe leads Lakers to Game 3 win
•
Lakers need to attack the paint
•
Lakers learn Powe's name in Game 2
•
Time for Gasol to step up
•
Lakers need better defense in Game 2
•
Pierce sparks Celtics in Game 1 victory
•
Expert predictions, clutch stats
•
Pierce loves playing Lakers
•
Celtics to meet L.A. in the Finals
Lakers vs. Celtics
•
Stein: Q&A after six-game "sweep"
•
MacMullan: Pierce's long road to greatness
•
Hollinger: From camp to champs
•
Stein: Boston's big three shine
•
Adande: Questions loom over Lakers' future
•
Hollinger: Celtics commit to defense
•
Scouts Inc.: Game 6 breakdown
•
Hollinger: Farmer steps up in Game 5
•
Sheridan: Late-game letdown for Celtics
•
Stein: Lakers ready to make history?
•
Adande: Greatness eluding Phil and Kobe
•
MacMullan: Doc adheres to dad's lessons
•
Jackson: Time for L.A.'s concession speech?
•
Stein: Game 4 not Kobe's finest hour
•
Adande: KG dominates Gasol again
•
Hollinger: Rivers makes all the right moves
•
Hill: Kobe's Laker legacy on the line
•
Hollinger: Vujacic lends helping hand in Game 3
•
Jackson: Jump shot Jesus has returned
•
Stein: Lakers need to earn sympathy
•
Adande: Lakers feel foul over whistle disparity
•
Jackson: Leading role suits Pierce
•
Adande: Kobe turns away from the pass late
•
Stein: Pierce's knee key to rest of series
•
Finals factor 1: Kobe Bryant
•
Finals factor 2: Celtics Defense
•
Finals factor 3: Paul Pierce
•
Finals factor 4: Home-court advantage
•
Finals factor 5: Battle of the benches
•
Hollinger: Lakers offense vs. Celtics defense
•
Broussard: Turning back the clock

•
Adande: How did Kobe get here?
•
Scouts Inc. breakdown: Lakers vs. Celtics
•
Coaching comparison: Red vs. Phil
•
Smith: Kobe's moving forward
•
Scoop: Fiendin' for a ring
•
Top 10 moments of Lakers-Celtics rivalry
•
ESPN Classic schedule: Relive the rivalry
TrueHoop
•
TrueHoop: Finals reflections
•
TrueHoop: Doc Rivers' redemption
•
TrueHoop: Lakers got Rondo'd
•
Tough night for Allen
•
Game 5 live blogging
•
Laker nation vs. NBA refs
•
Pierce and the evaporating knee story
•
Game 2 live blogging
•
Coaxing Kobe Bryant into hero mode
•
Game 1 live blogging
•
Today's game isn't so different
Simmons
•
Notes from the C's winning night
•
Boston's X factors
•
Game 4 running diary
•
Time for NBA Finals answers
•
The C's and city both look good
•
The Truth comes out in Game 1
•
NBA Finals forecast
•
Chat: NBA Finals preview
•
Simmons: You want a piece of Kobe, Boston?
ESPN The Magazine
•
Sporting Equivalency: NBA Finals meets hip hop
•
Broussard: Reporting from the NBA Finals
Fantasy
•
Join the fun of NBA Finals: Playcaller
Audio
•
Dish: NBA Finals recap
•
Wyc Grossbeck on C's championship
•
Ray Allen on how the Celtics evolved
•
Bob Ryan compares '86 C's to current one
•
Jon Barry credits Tom Thibodeau's team defense
•
Game 4 reactions
•
Rajon Rondo on Pierce, Game 2 plans
•
Bill Walton on Celtics-Lakers history
•
Dr. J on Finals, '80s hoops