Celtics are latest Boston team to get championship parade
Updated:
June 19, 2008, 11:12 AM ET
ESPN.com news services
• Watch the Celtics Parade on ESPN360.com

BOSTON -- Boston's streets will be crowded again with screaming fans celebrating a championship -- but this time they'll be wearing green.
Arrests Follow Game 6
BOSTON -- Prosecutors say 10 people have been arraigned on charges stemming from criminal acts during the Boston Celtics' championship celebrations. Police arrested 22 people before and after the Celtics won their 17th NBA title Tuesday night. Ten suspects were arraigned in Boston Municipal Court on Wednesday, the vast majority for disorderly conduct Several storefront windows were damaged near the TD Banknorth Garden after the Celtics' 131-92 win over the Los Angeles Lakers in Game 6 of the NBA Finals. Mayor Thomas Menino called the alleged offenders "punks" and called for tough penalties. Police increased patrols and used video surveillance at key areas around the city to control rowdiness. Previous New England Patriots and Boston Red Sox championship celebrations have been marred by deaths among revelers. -- The Associated Press
Mayor Tom Menino announced plans Wednesday for a "rolling rally" at 11 a.m. Thursday to celebrate the Boston Celtics' win over the Los Angeles Lakers in the NBA Finals. The parade will start at the TD Banknorth Garden and wind its way through downtown to Copley Square. The parade will also be broadcast on a Jumbotron in Copley Square and Boston Common.
Sixteen World War II-era amphibious "duck boats" will carry the Celtics players, owners and staff. The team's dancers, former Celtics greats and championship trophies from previous years will ride on two flatbed trucks.
City officials urged the hundreds of thousands of fans expected to attend the parade to use public transportation, with streets around the route closed to traffic beginning at 9:30 a.m.
"I'm happy for the Celtics and the city of Boston," Larry Bird said Wednesday. "I know what it means to win a championship as a Celtic and the place championships hold in the history of the franchise. I'm also pleased for Danny Ainge, Doc Rivers and his staff, knowing where they were last year and then making the decisions to put them in position to win the team's 17th title."
The city has held five other championship parades since 2002 -- three when the New England Patriots won the Super Bowl and two when the Boston Red Sox won the World Series. The last one was on Oct. 30, after the Red Sox swept the Colorado Rockies.
But Celtics fans haven't had much to cheer since 1986, the final time Larry Bird and Boston won the NBA championship. That all changed Tuesday night, when Paul Pierce, Kevin Garnett and Ray Allen helped secure the franchise's 17th championship.
"We're a city of champions," Menino said. "We are Title Town."
Information from The Associated Press was used in this report.
SPONSORED HEADLINES
MORE NBA HEADLINES
MOST SENT STORIES ON ESPN.COM
2008 NBA FINALS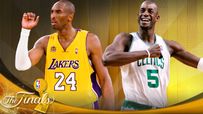 And then there were two -- the Lakers and Celtics. Who will win the NBA Finals? Let the games begin.
Finals schedule | Playoff bracket | Playoff home
Daily Dime
•
Celtics win 17th championship title
•
Did C's lose Regret Game?
•
A little help from Kobe's friends
•
Time for L.A. to go small
•
The Finals Can't Shake Donaghy Mess
•
Unlikely Game 4 comeback gives C's 3-1 lead
•
Rondo's ankle could change L.A.'s game plan
•
Kobe leads Lakers to Game 3 win
•
Lakers need to attack the paint
•
Lakers learn Powe's name in Game 2
•
Time for Gasol to step up
•
Lakers need better defense in Game 2
•
Pierce sparks Celtics in Game 1 victory
•
Expert predictions, clutch stats
•
Pierce loves playing Lakers
•
Celtics to meet L.A. in the Finals
Lakers vs. Celtics
•
Stein: Q&A after six-game "sweep"
•
MacMullan: Pierce's long road to greatness
•
Hollinger: From camp to champs
•
Stein: Boston's big three shine
•
Adande: Questions loom over Lakers' future
•
Hollinger: Celtics commit to defense
•
Scouts Inc.: Game 6 breakdown
•
Hollinger: Farmer steps up in Game 5
•
Sheridan: Late-game letdown for Celtics
•
Stein: Lakers ready to make history?
•
Adande: Greatness eluding Phil and Kobe
•
MacMullan: Doc adheres to dad's lessons
•
Jackson: Time for L.A.'s concession speech?
•
Stein: Game 4 not Kobe's finest hour
•
Adande: KG dominates Gasol again
•
Hollinger: Rivers makes all the right moves
•
Hill: Kobe's Laker legacy on the line
•
Hollinger: Vujacic lends helping hand in Game 3
•
Jackson: Jump shot Jesus has returned
•
Stein: Lakers need to earn sympathy
•
Adande: Lakers feel foul over whistle disparity
•
Jackson: Leading role suits Pierce
•
Adande: Kobe turns away from the pass late
•
Stein: Pierce's knee key to rest of series
•
Finals factor 1: Kobe Bryant
•
Finals factor 2: Celtics Defense
•
Finals factor 3: Paul Pierce
•
Finals factor 4: Home-court advantage
•
Finals factor 5: Battle of the benches
•
Hollinger: Lakers offense vs. Celtics defense
•
Broussard: Turning back the clock

•
Adande: How did Kobe get here?
•
Scouts Inc. breakdown: Lakers vs. Celtics
•
Coaching comparison: Red vs. Phil
•
Smith: Kobe's moving forward
•
Scoop: Fiendin' for a ring
•
Top 10 moments of Lakers-Celtics rivalry
•
ESPN Classic schedule: Relive the rivalry
TrueHoop
•
TrueHoop: Finals reflections
•
TrueHoop: Doc Rivers' redemption
•
TrueHoop: Lakers got Rondo'd
•
Tough night for Allen
•
Game 5 live blogging
•
Laker nation vs. NBA refs
•
Pierce and the evaporating knee story
•
Game 2 live blogging
•
Coaxing Kobe Bryant into hero mode
•
Game 1 live blogging
•
Today's game isn't so different
Simmons
•
Notes from the C's winning night
•
Boston's X factors
•
Game 4 running diary
•
Time for NBA Finals answers
•
The C's and city both look good
•
The Truth comes out in Game 1
•
NBA Finals forecast
•
Chat: NBA Finals preview
•
Simmons: You want a piece of Kobe, Boston?
ESPN The Magazine
•
Sporting Equivalency: NBA Finals meets hip hop
•
Broussard: Reporting from the NBA Finals
Fantasy
•
Join the fun of NBA Finals: Playcaller
Audio
•
Dish: NBA Finals recap
•
Wyc Grossbeck on C's championship
•
Ray Allen on how the Celtics evolved
•
Bob Ryan compares '86 C's to current one
•
Jon Barry credits Tom Thibodeau's team defense
•
Game 4 reactions
•
Rajon Rondo on Pierce, Game 2 plans
•
Bill Walton on Celtics-Lakers history
•
Dr. J on Finals, '80s hoops