Finals Factors: Ric Bucher's ballot
Originally Published:
June 5, 2008
ESPN.com
We asked 10 of our experts to rate the most important factors leading into the NBA Finals.
Each expert had 100 points to apportion among five key factors. The rules stated no factor could be worth more than 50 points or less than 10 points. Each expert named a wild-card factor as well.
Click through the pages to see how the voting went.
Finals Factors: No. 1 | No. 2 | No. 3 | No. 4 | No. 5 | Others | Wild cards | Results
---
THE BALLOTS
Click below to see the ballots of our 10 writers:
• Henry Abbott, TrueHoop
• J.A. Adande, ESPN.com
• Chris Broussard, ESPN The Mag
• Ric Bucher, ESPN The Mag
• John Hollinger, ESPN.com
• Tim Legler, ESPN
• Jalen Rose, ESPN
• Chris Sheridan, ESPN.com
• Marc Stein, ESPN.com
• David Thorpe, Scouts Inc.

Here's Ric Bucher's ballot:
1. Kobe (28 points): He's the best player in the series, the element the Celtics have no easy answer for. And no one has more to lose or gain by the outcome.
2. Phil vs. Doc (27 points): The Zen Master is making his 11th Finals coaching appearance and has lost only once. That alone gives him a major edge in what to look for among his players and how to prepare them for the league's biggest stage.
Then add that he has a far more versatile roster, which he has utilized all season long -- regular and postseason -- like Emerson working a synthesizer, and it's hardly a fair fight.
3. 2-3-2 format (18 points): Having won in Utah and San Antonio, the Lakers are thrilled that all they have to do is win one in Boston to entertain the thought of finishing the series in L.A. -- or, more precisely, against the Celtics' road persona, which is starkly different than their home one.
4. Celtics' defense (14 points): The problem the Lakers' offense poses is that Kobe, Lamar Odom and Pau Gasol are compatible; all three can have big scoring nights without impinging on one another's game.
The Celtics' defense is no mirage, but can they keep the clamps on L.A.'s big three and still have the will and energy to slow down L.A.'s run-and-gun bench mob?
5. Bench battle (13 points): The Lakers' bench was a huge factor against both San Antonio and Utah. It didn't just protect leads, it even expanded them in some games. And, in general, the subs gassed the opposition with their up-tempo, high-energy style.
Jordan Farmar, after dealing with Deron Williams and Tony Parker, should feel like a man unshackled when he faces Rajon Rondo, Sam Cassell and Eddie House.
Wild card: Hunger. Hearing Paul Pierce talking about being part of history and Kevin Garnett saying going to the Finals fulfilled a dream is all well and good -- but it just sounds too much like the Orlando Magic, circa 1995. They, too, were equipped on paper to give the Rockets a battle, but had the just-freakin'-blissed-out-to-be-here vibe, which grew into a full-blown gong after they lost the first game in the final seconds and three more quickly thereafter.
Several Lakers, meanwhile, talked about the bitter taste of losing in their last visit to the Finals, even though it was four years ago. I just don't get the sense the Lakers are the least bit satisfied, and I can't say the same for the fellas in green.
2008 NBA FINALS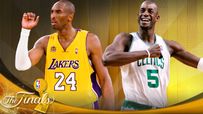 And then there were two -- the Lakers and Celtics. Who will win the NBA Finals? Let the games begin.
Finals schedule | Playoff bracket | Playoff home
Daily Dime
•
Celtics win 17th championship title
•
Did C's lose Regret Game?
•
A little help from Kobe's friends
•
Time for L.A. to go small
•
The Finals Can't Shake Donaghy Mess
•
Unlikely Game 4 comeback gives C's 3-1 lead
•
Rondo's ankle could change L.A.'s game plan
•
Kobe leads Lakers to Game 3 win
•
Lakers need to attack the paint
•
Lakers learn Powe's name in Game 2
•
Time for Gasol to step up
•
Lakers need better defense in Game 2
•
Pierce sparks Celtics in Game 1 victory
•
Expert predictions, clutch stats
•
Pierce loves playing Lakers
•
Celtics to meet L.A. in the Finals
Lakers vs. Celtics
•
Stein: Q&A after six-game "sweep"
•
MacMullan: Pierce's long road to greatness
•
Hollinger: From camp to champs
•
Stein: Boston's big three shine
•
Adande: Questions loom over Lakers' future
•
Hollinger: Celtics commit to defense
•
Scouts Inc.: Game 6 breakdown
•
Hollinger: Farmer steps up in Game 5
•
Sheridan: Late-game letdown for Celtics
•
Stein: Lakers ready to make history?
•
Adande: Greatness eluding Phil and Kobe
•
MacMullan: Doc adheres to dad's lessons
•
Jackson: Time for L.A.'s concession speech?
•
Stein: Game 4 not Kobe's finest hour
•
Adande: KG dominates Gasol again
•
Hollinger: Rivers makes all the right moves
•
Hill: Kobe's Laker legacy on the line
•
Hollinger: Vujacic lends helping hand in Game 3
•
Jackson: Jump shot Jesus has returned
•
Stein: Lakers need to earn sympathy
•
Adande: Lakers feel foul over whistle disparity
•
Jackson: Leading role suits Pierce
•
Adande: Kobe turns away from the pass late
•
Stein: Pierce's knee key to rest of series
•
Finals factor 1: Kobe Bryant
•
Finals factor 2: Celtics Defense
•
Finals factor 3: Paul Pierce
•
Finals factor 4: Home-court advantage
•
Finals factor 5: Battle of the benches
•
Hollinger: Lakers offense vs. Celtics defense
•
Broussard: Turning back the clock

•
Adande: How did Kobe get here?
•
Scouts Inc. breakdown: Lakers vs. Celtics
•
Coaching comparison: Red vs. Phil
•
Smith: Kobe's moving forward
•
Scoop: Fiendin' for a ring
•
Top 10 moments of Lakers-Celtics rivalry
•
ESPN Classic schedule: Relive the rivalry
TrueHoop
•
TrueHoop: Finals reflections
•
TrueHoop: Doc Rivers' redemption
•
TrueHoop: Lakers got Rondo'd
•
Tough night for Allen
•
Game 5 live blogging
•
Laker nation vs. NBA refs
•
Pierce and the evaporating knee story
•
Game 2 live blogging
•
Coaxing Kobe Bryant into hero mode
•
Game 1 live blogging
•
Today's game isn't so different
Simmons
•
Notes from the C's winning night
•
Boston's X factors
•
Game 4 running diary
•
Time for NBA Finals answers
•
The C's and city both look good
•
The Truth comes out in Game 1
•
NBA Finals forecast
•
Chat: NBA Finals preview
•
Simmons: You want a piece of Kobe, Boston?
ESPN The Magazine
•
Sporting Equivalency: NBA Finals meets hip hop
•
Broussard: Reporting from the NBA Finals
Fantasy
•
Join the fun of NBA Finals: Playcaller
Audio
•
Dish: NBA Finals recap
•
Wyc Grossbeck on C's championship
•
Ray Allen on how the Celtics evolved
•
Bob Ryan compares '86 C's to current one
•
Jon Barry credits Tom Thibodeau's team defense
•
Game 4 reactions
•
Rajon Rondo on Pierce, Game 2 plans
•
Bill Walton on Celtics-Lakers history
•
Dr. J on Finals, '80s hoops