Finals Factors: John Hollinger's ballot
Originally Published:
June 5, 2008
ESPN.com
We asked 10 of our experts to rate the most important factors leading into the NBA Finals.
Each expert had 100 points to apportion among five key factors. The rules stated no factor could be worth more than 50 points or less than 10 points. Each expert named a wild-card factor as well.
Click through the pages to see how the voting went.
Finals Factors: No. 1 | No. 2 | No. 3 | No. 4 | No. 5 | Others | Wild cards | Results
---
THE BALLOTS
Click below to see the ballots of our 10 writers:
• Henry Abbott, TrueHoop
• J.A. Adande, ESPN.com
• Chris Broussard, ESPN The Mag
• Ric Bucher, ESPN The Mag
• John Hollinger, ESPN.com
• Tim Legler, ESPN
• Jalen Rose, ESPN
• Chris Sheridan, ESPN.com
• Marc Stein, ESPN.com
• David Thorpe, Scouts Inc.

Here's John Hollinger's ballot:
1. Kobe (35 points): Like it or not, these are the Kobe Finals, and not just for the prima-donna-finally-sees-the-light story line.
He's the go-to scorer for the favorites and the reigning MVP, and he'll have more touches than anyone else by far. How he fares against Boston's vaunted defense likely will be the greatest determining factor in which side prevails.
2. Ray Allen (23 points): We know what to expect from Kevin Garnett and Paul Piece in this series, but we don't have a clue what to expect from Allen.
Maybe he shoots the lights out and gives Boston a much-needed third scorer; maybe he shoots bricks and gets pulled for James Posey or Tony Allen in crunch time.
3. Home-court advantage (17 points): If Boston wins, there's a good chance this will be the reason.
Remember that with the 2-3-2 format, it's likely L.A. would need to win a clincher in Beantown, which is always tricky. Historically, a seventh game at home has been a massive advantage, and Boston has been great at TD Banknorth Garden in the playoffs.
4. Pau Gasol (15 points): How Gasol fares against Kendrick Perkins is likely to dictate how Boston lines up in crunch time.
If he's too quick for Perkins, then Doc Rivers likely goes small and puts Garnett on Gasol. But if Perk can frustrate Pau with his physicality, then Boston can play its preferred big lineup and potentially dominate the glass.
5. Phil vs. Doc (10 points): The Zen Master's ability in these situations is unquestioned; suffice it to say that Doc's isn't. With Boston an underdog already, Rivers can't be overmatched on the chessboard.
The good omen was that he played nearly all the right cards against Detroit, though my pleas for more Leon Powe still fall on deaf ears.
Wild card: Tony Allen. A total nonfactor through the first three playoff rounds, Allen could potentially play a much larger role against L.A. if he's healed from a strained right Achilles tendon.
Though a bit of a train wreck offensively, his quickness and tenacity on D make him Boston's best matchup against Bryant.
2008 NBA FINALS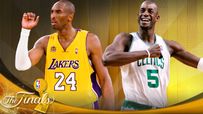 And then there were two -- the Lakers and Celtics. Who will win the NBA Finals? Let the games begin.
Finals schedule | Playoff bracket | Playoff home
Daily Dime
•
Celtics win 17th championship title
•
Did C's lose Regret Game?
•
A little help from Kobe's friends
•
Time for L.A. to go small
•
The Finals Can't Shake Donaghy Mess
•
Unlikely Game 4 comeback gives C's 3-1 lead
•
Rondo's ankle could change L.A.'s game plan
•
Kobe leads Lakers to Game 3 win
•
Lakers need to attack the paint
•
Lakers learn Powe's name in Game 2
•
Time for Gasol to step up
•
Lakers need better defense in Game 2
•
Pierce sparks Celtics in Game 1 victory
•
Expert predictions, clutch stats
•
Pierce loves playing Lakers
•
Celtics to meet L.A. in the Finals
Lakers vs. Celtics
•
Stein: Q&A after six-game "sweep"
•
MacMullan: Pierce's long road to greatness
•
Hollinger: From camp to champs
•
Stein: Boston's big three shine
•
Adande: Questions loom over Lakers' future
•
Hollinger: Celtics commit to defense
•
Scouts Inc.: Game 6 breakdown
•
Hollinger: Farmer steps up in Game 5
•
Sheridan: Late-game letdown for Celtics
•
Stein: Lakers ready to make history?
•
Adande: Greatness eluding Phil and Kobe
•
MacMullan: Doc adheres to dad's lessons
•
Jackson: Time for L.A.'s concession speech?
•
Stein: Game 4 not Kobe's finest hour
•
Adande: KG dominates Gasol again
•
Hollinger: Rivers makes all the right moves
•
Hill: Kobe's Laker legacy on the line
•
Hollinger: Vujacic lends helping hand in Game 3
•
Jackson: Jump shot Jesus has returned
•
Stein: Lakers need to earn sympathy
•
Adande: Lakers feel foul over whistle disparity
•
Jackson: Leading role suits Pierce
•
Adande: Kobe turns away from the pass late
•
Stein: Pierce's knee key to rest of series
•
Finals factor 1: Kobe Bryant
•
Finals factor 2: Celtics Defense
•
Finals factor 3: Paul Pierce
•
Finals factor 4: Home-court advantage
•
Finals factor 5: Battle of the benches
•
Hollinger: Lakers offense vs. Celtics defense
•
Broussard: Turning back the clock

•
Adande: How did Kobe get here?
•
Scouts Inc. breakdown: Lakers vs. Celtics
•
Coaching comparison: Red vs. Phil
•
Smith: Kobe's moving forward
•
Scoop: Fiendin' for a ring
•
Top 10 moments of Lakers-Celtics rivalry
•
ESPN Classic schedule: Relive the rivalry
TrueHoop
•
TrueHoop: Finals reflections
•
TrueHoop: Doc Rivers' redemption
•
TrueHoop: Lakers got Rondo'd
•
Tough night for Allen
•
Game 5 live blogging
•
Laker nation vs. NBA refs
•
Pierce and the evaporating knee story
•
Game 2 live blogging
•
Coaxing Kobe Bryant into hero mode
•
Game 1 live blogging
•
Today's game isn't so different
Simmons
•
Notes from the C's winning night
•
Boston's X factors
•
Game 4 running diary
•
Time for NBA Finals answers
•
The C's and city both look good
•
The Truth comes out in Game 1
•
NBA Finals forecast
•
Chat: NBA Finals preview
•
Simmons: You want a piece of Kobe, Boston?
ESPN The Magazine
•
Sporting Equivalency: NBA Finals meets hip hop
•
Broussard: Reporting from the NBA Finals
Fantasy
•
Join the fun of NBA Finals: Playcaller
Audio
•
Dish: NBA Finals recap
•
Wyc Grossbeck on C's championship
•
Ray Allen on how the Celtics evolved
•
Bob Ryan compares '86 C's to current one
•
Jon Barry credits Tom Thibodeau's team defense
•
Game 4 reactions
•
Rajon Rondo on Pierce, Game 2 plans
•
Bill Walton on Celtics-Lakers history
•
Dr. J on Finals, '80s hoops