Roundtable: Who will prevail in Game 7 -- Spurs or Hornets?
Originally Published:
May 19, 2008
ESPN.com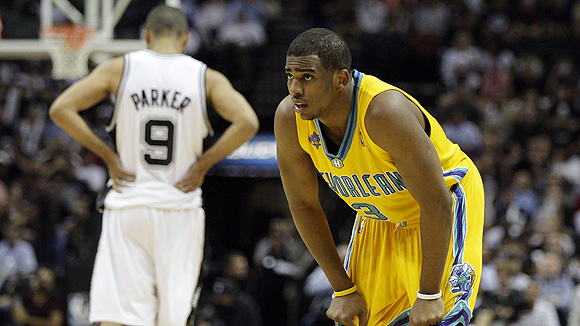 AP Photo/Matt SlocumChris Paul can put an end to the Spurs' quest for back-to-back titles with a big Game 7 victory tonight.
A trip to the Western Conference finals is on the line tonight (ESPN Radio/ESPNRadio.com, 8 ET). Can the Hornets hold off the defending champs? Or will the Spurs' experience help them win one on the road and advance? And can either team knock off the Lakers?
Our writers weigh in.
1. How will Game 7 go?

Henry Abbott, TrueHoop: I'll take New Orleans by a whisper. Here's where, to me, the experience comes into play: Tyson Chandler's fouls.
Sometimes, in an effort to play super hard, he picks up dumb early fouls. And he's a crucial player for New Orleans. He can single-cover Tim Duncan, he can protect the rim from Tony Parker and Manu Ginobili's drives, and he can turn just about any lob pass into a dunk.
So, a lack of experience could hurt the Hornets with the referees, in terms of calls.

J.A. Adande, ESPN.com: At home, the Hornets have just been better all around; San Antonio has made 3-pointers to stay close for a while, but that isn't the Spurs' strength.
Game 7 will go the way the other three games in New Orleans played out: The Spurs will have the lead at halftime, and the Hornets will use a big third quarter to win.
The difference is the Spurs won't go out as meekly in the fourth quarter as they did the previous three games (80-60 point edge for New Orleans).

Chris Broussard, ESPN The Mag: You can never count out champions like the Spurs, but I'm picking New Orleans to win Game 7.
I'll amend my pick if David West is visibly bothered by his back injury, but assuming he's healthy enough to play his game, I've got the Hornets. While the Spurs clearly have the experience edge, the Hornets have proven to be gamers. Byron Scott is great at getting them to relax and treat it as "just another game,'' and I expect Chris Paul to control the tempo.
San Antonio still doesn't have an answer for West (other than two fists to the back), and I don't expect him to miss as many open jumpers as he did in Game 6.

John Hollinger, ESPN.com: Game 7 probably will be closer than the past three games in Nawlins, but the Hornets will still win.
Though San Antonio's experience is an advantage, the other historical factors -- home-team dominance in Game 7, road teams' inability to win a series after losing the first two, etc. -- all favor the Hornets, and they've won going away in five of their six postseason home games.

Chris Sheridan, ESPN.com: I like the Spurs in a nail-biter, and I think what happened in the first six games -- or more specifically the first three games in New Orleans -- will have little bearing on the outcome.
On the experience factor, I'll just say this: Someone on the Hornets will get rattled at the end; no one on the Spurs will.

Marc Stein, ESPN.com: I'm not going to dwell on the Hornets' supposed inexperience, because they're not inexperienced anymore. However ...
I'm still going with San Antonio. I'm still not ready to believe that the Spurs -- for all their age and athleticism issues -- will go 0-for-4 in one building for an entire series.
I will continue to borrow ESPN colleague Jalen Rose's line: You have to pick these Spurs until you actually see them lose.
Seeing what's happened to Dallas and Phoenix can only raise your respect level for the Spurs' ability to do what they've done for the past decade.
---
2. Why is the home team so dominant in this series and in the playoffs?
Abbott: The referees probably play a small role, but more than anything, I think it just happens sometimes. Home teams usually win at a great rate. We just happened to get the year when we get to see the thin end of the bell-shaped curve.
Adande: When the teams are so close, sometimes the only difference is the home court. There isn't a great enough talent gap among any of the remaining teams to easily overcome the setback of playing on the road.
That's especially true in the West, in which the top seed won only two games more than the sixth seed this season.
Broussard: I think two things account for the home-court records this round.
First, the great parity in the league, especially among these second-round teams. I believe these clubs are so evenly matched in terms of level of play that the extra boost the teams get from playing at home puts them over the top.
Second, referees are human, and sometimes the crowd and the atmosphere can affect calls. This is not purposeful by the refs, but it's a natural human reaction.
Hollinger: I struggle to find a good explanation. It's a bit much even for chance to explain.
One theory is that because the teams are so evenly matched in general, home-court advantage has become the tiebreaker, but even so, we wouldn't expect the swings to be so dramatic.
[+] Enlarge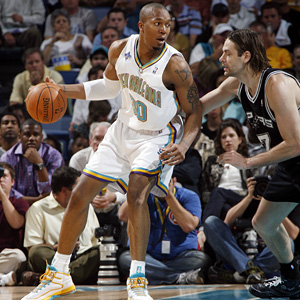 Layne Murdoch/NBAE/Getty ImagesThe Hornets are hoping David West has one more big-time home performance left against the Spurs.
Sheridan: It's a big comfort zone thing with the Hornets when they play in New Orleans, especially for David West, eh?
But it's hard to put a finger on why the trend has been so strong this year leaguewide. If Hedo made that shot in Game 4, we're talking 23-1.
I don't think the trend will hold in Round 3, though. The Pistons are too good on the road, and the Celtics might be emotionally cooked.
Stein: I've heard all of the theories.
Role players are playing out of their skin at home and are intimidated on the road.
Home teams are getting all the calls.
Especially in the West, teams are just too good this season to lose at home.
What I haven't heard is a theory I can buy. I hate to say it, but we might have to accept the fact that we're looking at a one-round anomaly.
If home teams keep winning all the games in the next round, I promise I'll concoct a theory that sticks.
---
3. If the Spurs win, how will the West finals go?
Abbott: I think the Lakers will win, because they are the only team in basketball that has played a top opponent -- Utah -- yet still has not had real trouble yet.
Adande: The Lakers should prevail because they have more firepower (as the top-scoring playoff team at 112 points per game). But their defense will be tested by the Spurs' discipline.
It's tough to get a read on a Spurs-Lakers matchup because they've never played a game with Tim Duncan, Manu Ginobili, Tony Parker and Pau Gasol all on the court.
Broussard: If the Spurs win, I believe the Lakers will take them out in six.
The Lakers' athleticism will bother the aging Spurs, and Derek Fisher is savvy enough, physical enough and strong enough to make Parker work for his stuff. Duncan will get his, of course, but in Gasol and Lamar Odom, the Lakers have the length and athleticism to make it tough for him. Then Ronny Turiaf will give him a different look with his energy and physical play.
Hollinger: The Spurs obviously have a good matchup for Kobe because they can use Bruce Bowen and Ime Udoka on him, and Duncan can neutralize Pau.
The problems are at the other spots -- they don't match up well with Odom, and L.A.'s supporting cast is much better.
So I think the Lakers would roll.
Sheridan: I hate to say this because I need the Spurs to get there first, but I think they'll pick apart the Lakers as they did against the Cavs in the Finals a year ago.
As in that series, Tony Parker should dominate the point-guard matchup to such an extent that he takes over the series, unless Kobe Bryant finds a way to lock him down.
Tim Duncan and Pau Gasol are a wash, Manu Ginobili could get Kobe into foul trouble, and Bruce Bowen will get into Kobe's head.
Stein: People will question how much San Antonio has left if it can scrape through Game 7 in New Orleans and how it will handle the short turnaround leading into that series.
Just don't look for the Lakers among those people.
The Spurs have the championship know-how, Kobe-specific personnel (Bruce Bowen and Ime Udoka) and years of data from past tussles with Phil Jackson teams to frustrate L.A. The Lakers know it, too.
The Spurs also almost certainly would see a more effective Tony Parker with the Lakers lacking an interior defensive presence of Tyson Chandler's caliber.
---
4. If the Hornets win, how will the West finals go?
Abbott: See answer to Question No. 3.
Adande: Kobe Bryant is too close to a return to the NBA Finals to let a team that's never been there keep him out. Bryant dropped the hammer on the Nuggets to finish them off and applied two crippling blows to Utah in closing out the Jazz.
New Orleans' athletic edge can help it overcome the experience deficit against San Antonio. But the Lakers have more players and more wisdom.
Broussard: I've got the Lakers in 7 if they meet New Orleans.
This will be a dream matchup of the top two MVP candidates (even though they won't guard each other), and whoever wins will go down as the people's MVP.
The Hornets have no one who can get in Kobe's way defensively, and on the other end, Odom will do a better job defending West than the Spurs have done.
The Gasol-Chandler matchup will be interesting. If Gasol can score on Chandler one-on-one and force double-teams, the Lakers' sharpshooters will make the Hornets pay. If he can't, and Chandler can guard him solo most of the time, that'll be a big boost for New Orleans.
Hollinger: New Orleans played the Lakers fairly well during the season, as neither team is particularly well constructed for stopping the other.
But the Hornets' lack of a Kobe stopper is problematic; whereas Derek Fisher can at least somewhat contain Chris Paul, I'm not sure Mo Peterson and Julian Wright can do anything at all to slow Kobe.
So again, Lakers roll.
Sheridan: A lot will depend on the Hornets' big men, because they have the ability to dominate the Lakers' bigs the same way they did against the Spurs' bigs in Games 1, 2 and 5.
Nobody on New Orleans can contain Kobe, so he'll be huge.
As for Chris Paul, I believe Kobe can keep him in check by blanketing him the same way he blanketed Leandro Barbosa in last summer's Tournament of the Americas.
Stein: Even if they pull out this Game 7, chances are that the Hornets will be no less of an underdog than they were going into the second round, when nine of ESPN.com's 10 experts picked San Antonio.
The matchup will be billed as a referendum on Kobe Bryant's MVP award, but Kobe presents even more of a threat to New Orleans than Chris Paul poses for the Lakers, mainly because L.A. has a backcourt rotation that should make Paul work on defense.
I'd also say David West's back is a greater concern than any of the Lakers' lesser injuries. Factor in their superior depth and you have to favor Kobe & Co.
2008 NBA PLAYOFFS Round 2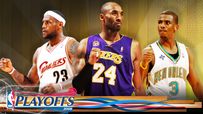 LeBron, Kobe and CP3 dominated Round 1 of the 2008 NBA playoffs, where the top four seeds in each conference advanced to the second round.
Playoff schedule | Playoff bracket | Playoff home
Daily Dime
•
Daily Dime: Lakers end Jazz season in Game 6
•
Daily Dime: Spurs dominate Hornets in Game 6
•
Daily Dime: Rondo gets C's rolling in Game 5
•
Daily Dime: Hornets one win from advancing
•
Daily Dime: Celtics with road woes
•
Daily Dime: Williams puts Utah on his back
•
Daily Dime: Cavs roll in Game 3 victory
•
Daily Dime: Boozer makes impact in Game 3
•
Daily Dime: Spurs keep head above water
•
Daily Dime: Kobe's most valuable promise
•
Daily Dime: Beauty is in eye of beholder
•
Daily Dime: CP3 making Spurs look old
•
Daily Dime: Kobe free to reign in Game 1
•
Daily Dime: Hornets sting the champs
Columns
•
Hollinger: Handing out some playoff awards
Cavaliers vs. Celtics
•
Windhorst: LeBron's chance to be Jordanesque
•
Sheridan: Legacies on the line for Celtics
•
Sheridan: Screwball finish to Game 6
•
Sheridan: Allen finds his range
•
Windhorst: Cavs search for offense
•
Windhorst: LeBron likes his chances
•
Scouts Inc.'s series breakdown
•
Wojciechowski: Rest easy, Celtics ... for now
•
Jackson: Do you still love the Celtics?
•
Series page: More coverage
Magic vs. Pistons
•
Magic eliminated, but won't disappear
•
Hollinger: Hunter dusts off rust
•
Hollinger: Pistons win without Billups
•
Scouts Inc.'s series breakdown
•
Series page: More coverage
Jazz vs. Lakers
•
Adande: Kobe plays supporting role
•
Adande: Jazz find Lakers out of tune
•
Wojciechowski: Miller won't listen on the Sabbath
•
Adande: A year to remember for Fisher
•
Scouts Inc.'s series breakdown
•
Series page: More coverage
Spurs vs. Hornets
•
Stein: Spurs knew Hornets were trouble
•
Neel: Enjoy Chris Paul while you can
•
Hollinger: Champs back to winning ways
•
Palmer: Birdman's redemption bittersweet
•
Adande: Chris Paul's mean streak
•
TrueHoop: Spurs stung twice by Hornets
•
Scouts Inc.'s series breakdown
•
Series page: More coverage
TrueHoop
•
Stat Geek Smackdown: 2008 playoffs
SportsNation
•
Which teams will advance to conference semis?
•
Rank the remaining eight playoff teams

MOST SENT STORIES ON ESPN.COM