Commentary
TrueHoop's Stat Geek Smackdown: 2008 Playoffs
Updated:
June 22, 2008, 8:19 AM ET
By
Henry Abbott
| ESPN.com
Go to: Scoreboard Predictions Bios
It's Year 2 of the TrueHoop Stat Geek Smackdown, won in 2007 by Justin Kubatko of Basketball-Reference.com.
The rules are simple: Based on stats, hunches and anything else, each person predicts the outcome of each series, round by round. Each correctly picked series is worth five points. Correctly predicting the number of games is worth two additional points. Winner take all.
As a little something to raise the stakes, I'm also challenging these stat experts to go head to head against ... my mom. She watched a lot of Blazer basketball in the 1990s. Fear her.
On to the contest ...
SCOREBOARD
TRUEHOOP'S STAT GEEK SMACKDOWN SCOREBOARD
ROUND 1
CONFERENCE SEMIS
CONF. FINALS
FINALS
STAT EXPERT

TOTAL

CLE-BOS

ORL-DET

UTA-LA

SA-NO

DET-BOS

SA-LA

LA-BOS

TOTAL

John Hollinger

32

5

5

7

0

5

7

0

61

Mike Kurylo

35

5

5

5

5

5

5

7

72

Kevin Pelton

32

5

5

7

0

0

5

0

54

Jeff Ma

36

5

5

0

5

7

0

7

65

Steve Ilardi

39

7

5

5

5

5

5

0

71

Justin Kubatko

44

5

7

5

0

5

7

0

73

Henry's Mom

32

0

5

0

0

0

5

0

42
TRUEHOOP'S STAT GEEK SMACKDOWN SCOREBOARD: FIRST ROUND
STAT EXPERT

ATL-BOS

PHI-DET

TOR-ORL

WAS-CLE

DEN-LA

DAL-NO

PHO-SA

HOU-UTH

TOTAL

John Hollinger

5

5

5

0

5

5

0

7

32

Mike Kurylo

5

5

5

5

5

5

5

0

35

Kevin Pelton

5

5

5

0

5

5

0

7

32

Jeff Ma

5

7

7

0

5

0

5

7

36

Steve Ilardi

5

5

7

5

7

5

0

5

39

Justin Kubatko

5

5

7

5

5

5

5

7

44

Henry's Mom

5

5

5

5

5

7

0

0

32
---
SERIES PREDICTIONS
Finals
Lakers-Celtics
Conference finals
Pistons-Celtics | Spurs-Lakers
Conference semifinals
Cavs-Celtics | Magic-Pistons | Jazz-Lakers | Spurs-Hornets
First-round matchups
ATL-BOS | PHI-DET | TOR-ORL | WAS-CLE | DEN-LAL | DAL-NO | PHX-SA | HOU-UTH
EXPERT PICKS: DETROIT PISTONS (2) VS. BOSTON CELTICS (1)

Hollinger

Kurylo

Pelton

Ma

Ilardi

Kubatko

Mom

(In 6)

(In 6)

(In 6)

(In 6)

(In 6)

(In 6)

(In 6)
SMACKDOWN BREAKDOWN
Boy oh boy. These Finals are not easy to pick.
And here's why: For the most part, the most successful pickers in this contest have stuck with what the numbers have said over the long haul -- a bigger sample size is a more useful predictive tool than a small one. But the Lakers have been, in many ways, a different team with Pau Gasol.
So the essential dilemma is: When you calculate how strong the Lakers are, do you consider the big picture of the Lakers all season long, or the smaller picture of the Lakers with Gasol?
In this series, by most measures, that crucial little question determines which team you think will win.
Reigning champ and current leader (by a whisper) Justin Kubatko talks through his decision-making process:
"As you know, this series is huge for Steve [Ilardi] and me. There are three things that can happen: 1) Stephen and I pick the same winner in the same number of games. If that happens, I win the contest. 2) Stephen and I pick the same winner, but in a different number of games. In that case, Stephen would have to get the 2-point bonus in order to tie me. 3) Stephen and I pick different winners. This scenario results in winner takes all.
"This series provides an interesting dilemma, as a case can be made for picking either team. The Celtics were hands-down the best team during the regular season, and they have the home-court edge in the Finals. The Lakers, on the other hand, have been the best team in the NBA since the Gasol acquisition, and their playoff competition has been stronger than the Celtics'. In the end, I decided to go with the numbers post-Gasol, and I will pick the Lakers in six games."
Mike Kurylo, on the other hand, is picking the Celtics:
"My gut," he writes, "is telling me that Gasol has given Los Angeles a Rasheed Wallace-like increase in performance. And that's nearly cemented in my right brain by the Lakers' breeze through the playoffs. However, my left brain keeps telling me that Boston has the edge. Not only do they own the home-court advantage, but they had the superior 2008 season. Even including the playoffs, the Celtics' record is still superior to the Lakers. Additionally, the Lakers haven't been much better since the Gasol trade. They won 69.2 percent of their games before acquiring Gasol, and 69.8 percent after the deal. So I'm sticking with my promise and going with the numbers. I'll be taking the Celtics in 6, and crossing my fingers."
Kevin Pelton wrestled with the pick for a long time:
"The more I look at this series, the better I feel about the Celtics' chances. On paper, given the way both teams have played in the postseason, the Lakers should be the clear favorites. However, Boston matches up well with the Lakers. In some sense, you could consider the Celtics a more talented, deeper version of the San Antonio squad the Lakers faced in the Western Conference finals. While that series went just five games, two of them (Games 1 and 4) were essentially toss-ups, both won by the Lakers. Change the outcome of either of those games and the series easily could have gone the distance. The Lakers only had one convincing win, as many as the Spurs did.
"It's easy to see how Boston could win this series. With Pierce leading the Celtics' offense and scoring against weaker Lakers defenders and the Boston D doing enough to slow down Bryant and contain the other Los Angeles weapons, the Celtics could have the upper hand. Ultimately, two factors work against Boston.
"The first is the matchup on the sidelines. While Doc Rivers did a better job in the Eastern Conference finals, his maddeningly inconsistent rotations have been troublesome throughout this postseason. Twelve Celtics have seen action in at least 12 games, while just 10 Lakers have seen more than 10 minutes of game time in the entire postseason. Phil Jackson has the clear advantage in terms of experience on this stage and has done a masterful job in getting the Lakers to this point.
"The other factor is the outcome of close games. More likely than not, any games that come down to a possession or two in this series will be decided by the bounce of the ball. Still, if these teams played 100 such games, we'd expect the Lakers to come out on top the majority of the time. Boston's difficulty generating offense down the stretch has been well-documented. Meanwhile, in Bryant the Lakers have the game's ultimate closer. That might not end up being a factor at all, but along with the coaching it's enough to reaffirm my pick: Lakers in six."
What about poor Steve Ilardi? The picks are, of course, made in secret, so Ilardi had no way of knowing that he had sealed his own second-place fate, by picking the same as almost everybody else.
"The Lakers have a 1.5-point advantage in postseason adjusted plus-minus analyses (based on playing-time allocation in the playoffs), which should be just enough to offset the Celtics' home-court edge in the series," Ilardi writes. "However, the two teams are closely matched, so it could go either way; for example, any key injury to the other side would likely be decisive. And, while much has been written about Kobe stepping up his game in the playoffs, his adjusted plus-minus has remained essentially unchanged from the regular season; in contrast, KG's rating has gone up by roughly +2 points per game, placing him in a virtual 3-way tie at the top of the league with Kobe and LeBron."
Any remaining battling will not be for first place. The only movement left in these standings will come from Kurylo and Ma. But Ilardi has found another field where the competition rolls on: the Stat Geeks vs. ESPN's experts. And here the Stat Geeks hope to close out a strong postseason.
At the moment, Kubatko has 73 points, Ilardi has 71, Kurylo has 65, and Hollinger has 61.
By the same rules, the ESPN.com experts are as follows:
1. Chad Ford -- 68
2. Chris Sheridan -- 63
3. Tim Legler -- 62
4. J.A. Adande -- 59
5. Chris Broussard -- 57
6. Henry Abbott -- 55
7. David Thorpe -- 53
8. Marc Stein -- 51
9. Jalen Rose -- 50
---
BIOS

John Hollinger writes for ESPN.com. He created the Player Efficiency Rating (PER) and several other statistical measures.

Justin Kubatko is Vice President of Sports Reference LLC. He runs the web site Basketball-Reference.com.

Jeff Ma is co-founder of Citizen Sports Network in 2004. He was the protagonist, under the name Kevin Lewis, in the bestseller "Bringing Down the House," the story of the MIT blackjack team, which is the basis of the movie "21."

Kevin Pelton is the interactive marketing coordinator for the Seattle SuperSonics and a writer for the team's site. He runs the APBRMetrics Forum for basketball analysis.

Mike Kurylo is a writer and founder of KnickerBlogger.Net. In 2006 he developed OTTER, a unique non-biased team ranking system.

Stephen Ilardi is a professor of clinical psychology at the University of Kansas, a former statistical consultant to the KU men's basketball team under Roy Williams, and an expert on adjusted plus/minus.

Abbott's mom: Henry's mom hasn't watched all that much NBA since "JeRomeo" Kersey retired.
TrueHoop, NBA
Senior writer for ESPN.com
Founder of TrueHoop blog and network
Began writing about NBA for magazines in 1999
SPONSORED HEADLINES
MORE NBA HEADLINES
MOST SENT STORIES ON ESPN.COM
2008 NBA FINALS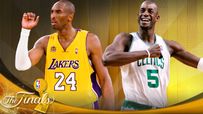 And then there were two -- the Lakers and Celtics. Who will win the NBA Finals? Let the games begin.
Finals schedule | Playoff bracket | Playoff home
Daily Dime
•
Celtics win 17th championship title
•
Did C's lose Regret Game?
•
A little help from Kobe's friends
•
Time for L.A. to go small
•
The Finals Can't Shake Donaghy Mess
•
Unlikely Game 4 comeback gives C's 3-1 lead
•
Rondo's ankle could change L.A.'s game plan
•
Kobe leads Lakers to Game 3 win
•
Lakers need to attack the paint
•
Lakers learn Powe's name in Game 2
•
Time for Gasol to step up
•
Lakers need better defense in Game 2
•
Pierce sparks Celtics in Game 1 victory
•
Expert predictions, clutch stats
•
Pierce loves playing Lakers
•
Celtics to meet L.A. in the Finals
Lakers vs. Celtics
•
Stein: Q&A after six-game "sweep"
•
MacMullan: Pierce's long road to greatness
•
Hollinger: From camp to champs
•
Stein: Boston's big three shine
•
Adande: Questions loom over Lakers' future
•
Hollinger: Celtics commit to defense
•
Scouts Inc.: Game 6 breakdown
•
Hollinger: Farmer steps up in Game 5
•
Sheridan: Late-game letdown for Celtics
•
Stein: Lakers ready to make history?
•
Adande: Greatness eluding Phil and Kobe
•
MacMullan: Doc adheres to dad's lessons
•
Jackson: Time for L.A.'s concession speech?
•
Stein: Game 4 not Kobe's finest hour
•
Adande: KG dominates Gasol again
•
Hollinger: Rivers makes all the right moves
•
Hill: Kobe's Laker legacy on the line
•
Hollinger: Vujacic lends helping hand in Game 3
•
Jackson: Jump shot Jesus has returned
•
Stein: Lakers need to earn sympathy
•
Adande: Lakers feel foul over whistle disparity
•
Jackson: Leading role suits Pierce
•
Adande: Kobe turns away from the pass late
•
Stein: Pierce's knee key to rest of series
•
Finals factor 1: Kobe Bryant
•
Finals factor 2: Celtics Defense
•
Finals factor 3: Paul Pierce
•
Finals factor 4: Home-court advantage
•
Finals factor 5: Battle of the benches
•
Hollinger: Lakers offense vs. Celtics defense
•
Broussard: Turning back the clock

•
Adande: How did Kobe get here?
•
Scouts Inc. breakdown: Lakers vs. Celtics
•
Coaching comparison: Red vs. Phil
•
Smith: Kobe's moving forward
•
Scoop: Fiendin' for a ring
•
Top 10 moments of Lakers-Celtics rivalry
•
ESPN Classic schedule: Relive the rivalry
TrueHoop
•
TrueHoop: Finals reflections
•
TrueHoop: Doc Rivers' redemption
•
TrueHoop: Lakers got Rondo'd
•
Tough night for Allen
•
Game 5 live blogging
•
Laker nation vs. NBA refs
•
Pierce and the evaporating knee story
•
Game 2 live blogging
•
Coaxing Kobe Bryant into hero mode
•
Game 1 live blogging
•
Today's game isn't so different
Simmons
•
Notes from the C's winning night
•
Boston's X factors
•
Game 4 running diary
•
Time for NBA Finals answers
•
The C's and city both look good
•
The Truth comes out in Game 1
•
NBA Finals forecast
•
Chat: NBA Finals preview
•
Simmons: You want a piece of Kobe, Boston?
ESPN The Magazine
•
Sporting Equivalency: NBA Finals meets hip hop
•
Broussard: Reporting from the NBA Finals
Fantasy
•
Join the fun of NBA Finals: Playcaller
Audio
•
Dish: NBA Finals recap
•
Wyc Grossbeck on C's championship
•
Ray Allen on how the Celtics evolved
•
Bob Ryan compares '86 C's to current one
•
Jon Barry credits Tom Thibodeau's team defense
•
Game 4 reactions
•
Rajon Rondo on Pierce, Game 2 plans
•
Bill Walton on Celtics-Lakers history
•
Dr. J on Finals, '80s hoops