Top 10 moments in Celtics-Lakers postseason history
Updated:
June 1, 2008, 7:31 PM ET
ESPN
With 10 NBA Finals series under their belts, the Boston Celtics and Los Angeles Lakers have had plenty of historic moments. Below is a list compiled by ESPN research of the top 10 moments in Finals history between the Celtics and the Lakers.
[+] Enlarge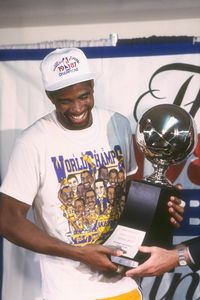 Getty ImagesMagic Johnson clutches his third Finals MVP award in 1987.
1. 1987 NBA Finals, Game 4 (June 9)
Trailing by one point, the Lakers put the ball and the game in the hands of Magic Johnson. Like he had so many times before, he delivered the game-winning blow, a running hook shot in the lane.
The 107-106 victory over the Celtics gave the Lakers a 3-1 edge in the series, which they would eventually win in six games. Magic's performance led him to winning his third NBA Finals MVP.
2. 1962 NBA Finals, Game 7 (April 18)
Frank Selvy had a chance to end the game for the Lakers in regulation, but his miss forced the game into overtime, when the Celtics, behind Bill Russell's 30 points and 40 rebounds, would go on to win 110-107 and win Boston's fifth NBA title.
3. 1962 NBA Finals, Game 5 (April 14)
Elgin Baylor scored a Finals-record 61 points for the Lakers, who were making their first title-game appearance. Baylor also added 22 rebounds in leading the Lakers to a 126-121 victory and a 3-2 series lead. However, Boston would go on to win the final two games and win the title.
[+] Enlarge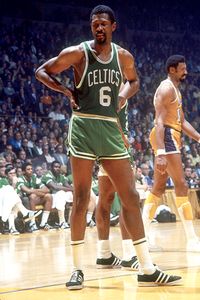 George Long/WireImageRussell and Wilt had their battles but Russell's 11 rings do the final talking.
4. 1969 NBA Finals, Game 7 (May 5)
In what turned out to be Russell's final game, the Celtics saw a 17-point fourth-quarter lead almost disappear. Up only one point, Don Nelson put up a shot the bounded off the back of the rim and dropped into the net to keep the Celtics up for good.
Boston went on to win the game 108-106 and send Russell off with his unprecedented 11th title.
5. 1984 NBA Finals, Game 2 (May 31)
Trailing 1-0 after dropping Game 1 at home, the Celtics found themselves trailing Game 2 by two points with only 18 seconds left.
In jeopardy of losing the first two games of the series at home, Gerald Henderson intercepted a James Worthy pass and scored a game-tying layup. The Celtics won the game in overtime 124-121 and the series in seven games.
6. 1962 NBA Finals, Game 3 (April 10)
The logo made his presence felt in a tight Game 3 matchup. In a game tied at 115, Jerry West stole an inbounds pass intended for Bob Cousy with four seconds left in regulation and beat the clock for a game-winning layup.
[+] Enlarge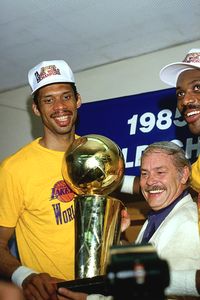 Andrew D. Bernstein/Getty ImagesKareem led the Lakers in 1985 over the Celtics for the first time in Finals history.
7. 1985 NBA Finals, Game 6 (June 9)
After receiving most of the blame for the Lakers' 148-114 loss in Game 1, Kareem Abdul-Jabbar went on to carry the Lakers the rest of the series. His 29-point performance in the series-clinching 111-100 win at Boston in Game 6 helped him become the oldest Finals MVP in NBA history and give the Lakers their first Finals series win over Boston after eight previous failed attempts.
8. 1984 NBA Finals, Game 4 (June 6)
This game will always be remembered as the game in which Kevin McHale sent a message to the Lakers by clotheslining Kurt Rambis to the ground on a breakaway layup. The message seemed to have worked as the Lakers went on to make several key mistakes in blowing a five-point lead with less than a minute to go.
The Celtics won the game 129-125 in overtime thanks to a Larry Bird game-clinching shot over Magic Johnson.
9. 1969 NBA Finals, Game 4 (April 29)
This game's importance was signified by the real-life version of the Hoosiers "picket fence" play. Sam Jones hit the game-winning shot to give the Celtics an 89-88 victory. The win tied the series at two against the heavily favored Lakers and set up one of the greatest upsets in Finals history.
10. 1985 NBA Finals, Game 4 (June 5)
Dennis Johnson's 20-foot jumper with one second left gave the Celtics a two-point victory over the Lakers in the Forum. The 107-105 victory tied the series 2-2. However, it would be Boston's final celebration -- the Celtics dropped the next two to lose the series in six games.
Rankings by Peter Newmann of ESPN
SPONSORED HEADLINES
MORE NBA HEADLINES
MOST SENT STORIES ON ESPN.COM
2008 NBA FINALS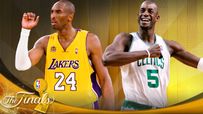 And then there were two -- the Lakers and Celtics. Who will win the NBA Finals? Let the games begin.
Finals schedule | Playoff bracket | Playoff home
Daily Dime
•
Celtics win 17th championship title
•
Did C's lose Regret Game?
•
A little help from Kobe's friends
•
Time for L.A. to go small
•
The Finals Can't Shake Donaghy Mess
•
Unlikely Game 4 comeback gives C's 3-1 lead
•
Rondo's ankle could change L.A.'s game plan
•
Kobe leads Lakers to Game 3 win
•
Lakers need to attack the paint
•
Lakers learn Powe's name in Game 2
•
Time for Gasol to step up
•
Lakers need better defense in Game 2
•
Pierce sparks Celtics in Game 1 victory
•
Expert predictions, clutch stats
•
Pierce loves playing Lakers
•
Celtics to meet L.A. in the Finals
Lakers vs. Celtics
•
Stein: Q&A after six-game "sweep"
•
MacMullan: Pierce's long road to greatness
•
Hollinger: From camp to champs
•
Stein: Boston's big three shine
•
Adande: Questions loom over Lakers' future
•
Hollinger: Celtics commit to defense
•
Scouts Inc.: Game 6 breakdown
•
Hollinger: Farmer steps up in Game 5
•
Sheridan: Late-game letdown for Celtics
•
Stein: Lakers ready to make history?
•
Adande: Greatness eluding Phil and Kobe
•
MacMullan: Doc adheres to dad's lessons
•
Jackson: Time for L.A.'s concession speech?
•
Stein: Game 4 not Kobe's finest hour
•
Adande: KG dominates Gasol again
•
Hollinger: Rivers makes all the right moves
•
Hill: Kobe's Laker legacy on the line
•
Hollinger: Vujacic lends helping hand in Game 3
•
Jackson: Jump shot Jesus has returned
•
Stein: Lakers need to earn sympathy
•
Adande: Lakers feel foul over whistle disparity
•
Jackson: Leading role suits Pierce
•
Adande: Kobe turns away from the pass late
•
Stein: Pierce's knee key to rest of series
•
Finals factor 1: Kobe Bryant
•
Finals factor 2: Celtics Defense
•
Finals factor 3: Paul Pierce
•
Finals factor 4: Home-court advantage
•
Finals factor 5: Battle of the benches
•
Hollinger: Lakers offense vs. Celtics defense
•
Broussard: Turning back the clock

•
Adande: How did Kobe get here?
•
Scouts Inc. breakdown: Lakers vs. Celtics
•
Coaching comparison: Red vs. Phil
•
Smith: Kobe's moving forward
•
Scoop: Fiendin' for a ring
•
Top 10 moments of Lakers-Celtics rivalry
•
ESPN Classic schedule: Relive the rivalry
TrueHoop
•
TrueHoop: Finals reflections
•
TrueHoop: Doc Rivers' redemption
•
TrueHoop: Lakers got Rondo'd
•
Tough night for Allen
•
Game 5 live blogging
•
Laker nation vs. NBA refs
•
Pierce and the evaporating knee story
•
Game 2 live blogging
•
Coaxing Kobe Bryant into hero mode
•
Game 1 live blogging
•
Today's game isn't so different
Simmons
•
Notes from the C's winning night
•
Boston's X factors
•
Game 4 running diary
•
Time for NBA Finals answers
•
The C's and city both look good
•
The Truth comes out in Game 1
•
NBA Finals forecast
•
Chat: NBA Finals preview
•
Simmons: You want a piece of Kobe, Boston?
ESPN The Magazine
•
Sporting Equivalency: NBA Finals meets hip hop
•
Broussard: Reporting from the NBA Finals
Fantasy
•
Join the fun of NBA Finals: Playcaller
Audio
•
Dish: NBA Finals recap
•
Wyc Grossbeck on C's championship
•
Ray Allen on how the Celtics evolved
•
Bob Ryan compares '86 C's to current one
•
Jon Barry credits Tom Thibodeau's team defense
•
Game 4 reactions
•
Rajon Rondo on Pierce, Game 2 plans
•
Bill Walton on Celtics-Lakers history
•
Dr. J on Finals, '80s hoops