The path to greatness
Originally Published:
October 29, 2003
By
Darren Rovell
| ESPN.com
LeBron James is only 18 years old, but
1984
Dec. 30: James is born in Akron, the only child of teenage mom, Gloria James. He shares the same birth date with golfer Tiger Woods, who is nine years older.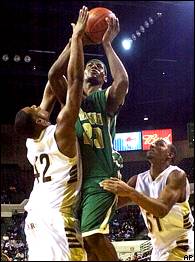 Even as a high school junior, LeBron James was head and shoulders above his peers.
1999
Dec. 3:
A freshman named LeBron James scores 15 points for St. Vincent-St. Mary in his high school debut against Cuyahoga Falls.
2000
March 25: James scores 25 and St. Vincent-St. Mary wins the Division III state championship, completing a 27-0 season.
June 6: After seeing video of rising high school sophomore LeBron James, Adidas basketball czar Sonny Vaccaro signs St. Vincent-St. Mary's basketball team to a two-year shoe deal.
November: Now 6-foot-7, 225 pounds, James is named All-Ohio in football as a wide receiver.
2001
March 22: Already named Sporting News' high school sophomore player of the year, James becomes the first sophomore in its 14-year history to be named Mr. Basketball in Ohio.
March 24: James scores 25 against Casstown Miami East as St. Vincent-St. Mary wins its second straight Division III state title.
April 10: Named to USA Today's All-American team, the first sophomore to make the team.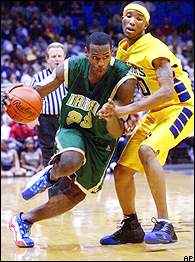 LeBron gave up football after his junior season, but he knew how to hit the hole on the basketball court.
July 10:
James faces off against highly touted Lenny Cooke in Adidas' ABCD Camp. James scores 24 and hits a 30-foot three-pointer at the buzzer to give his All-Star team an 85-83 victory. Cooke, who won the camp's MVP award the year before, only scores nine points. James' performance gains him nationwide recognition for the first time. "People will forget about this, but this was the first time LeBron really emerged," Vaccaro says. "He clearly beat the No. 1 player in the country."
November: Named All-Ohio in football a second time. It's his last season on the field as he gives up the sport to concentrate on basketball.
2002
January: Profiled for the first time in national feature story by The Associated Press.
Feb. 18: James appears as "The Chosen One" on the cover of Sports Illustrated, making him the first underclassman basketball player to ever grace the magazine's cover. Soon, his autographed magazine covers are selling for more than $200 each on eBay. An average of 20 copies of the magazine are mailed by autograph-seeking fans to James' school each day. James tells a reporter that he will only sign autographs for the people he knows -- and he won't sign any covers.
March 13: The largest crowd ever to witness a high school basketball game in Ohio -- 20,562 -- packed Gund Arena to see James in the boys high school regional tournament semifinals.
March 19: James averages 29 points, 8.3 rebounds, 5.7 assists and 3.3 steals as a junior and wins Mr. Basketball for the second straight season. He's just the third player to repeat as the award's winner.
March 23: James and his No. 1 St. Vincent-St. Mary team are denied a third straight state championship with 71-63 loss against St. Bernard Roger Bacon.
April 17: Becomes the first high school junior to be named Gatorade's national basketball player of the year in the award's 17-year history.
April 25: A Dime Magazine report that James has been offered a $9 million contract by an unnamed Italian team to play his senior season overseas is denied by Eddie Jackson, James' surrogate father. One source says the deal was for $5 million and serious negotiations were never broached.
May 7: James is named to USA Today's All-USA Boys Basketball Team, a list that includes Carmelo Anthony and Amare Stoudamire. James will be named to the list for the third straight time in 2003.
May 28: The Cleveland Cavaliers are fined $150,000 and head coach John Lucas is suspended for the first two games of the regular season for inviting James to work out with the NBA team on May 22. NBA rules prohibit contact between teams and players not yet eligible for the draft.
June 8: James breaks his non-shooting hand while attempting to dunk during an AAU game in Chicago. Millions of dollars are on the line if somehow he can't recover. Eight weeks later, James was back on the court.
July 8: Grant Innocenzi signs on to the toughest high school job in the country as athletics director at St. Vincent-St. Mary. On average, he will issue 50 media credentials per game and take at least one call per day from a reporter from Oct. 1-March 22. Almost every reporter will ask him how much money the school is making off LeBron.
July 11: Having already stopped by at the Nike summer camp, James attends the ABCD Camp in a "King James" shirt. Because of his wrist, he can't play, but he makes his presence known and starts the buzz about his imminent shoe deal. "I think it's great having two companies chasing me," he says. "I'm liking it. It's going to be a race to the finish line."
October: St. Vincent-St. Mary announces James and teammates will go a on five-city tour to play top teams in the country, causing some to question whether the school was overexposing James.
Nov. 8: Time Warner in Northeast Ohio announces that it will offer ten St. Vincent-St. Mary games on a pay-per-view basis. At $7.95 each and available to customers in 600,000 homes in 14 counties, the money could be huge. The network says it will split the net profits between itself, St. Vincent-St. Mary high school and the University of Akron, where the majority of the home games will be played.
Dec. 1: James and his team play their first home game at the University of Akron's 5,900-seat arena against George Junior Republic. Season tickets for the nine games cost $70 for general admission, $100 for upper reserve seating and $125 for lower bowl seating. The sellout crowd gets its money's worth as James scores 21 points in a 101-40 blowout.
Dec. 4: Sonny Vaccaro, who signed Michael Jordan to a five-year, $2.5 million deal in the mid-'80s, predicts that James' shoe contract will top $25 million over five years.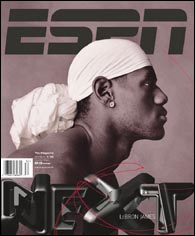 Sports Illustrated dubbed him "The Chosen One," but ESPN the Magazine knew LeBron had NEXT.
Dec. 12:
James' team hits the road for the first of nine national road games that will have it visiting Cleveland; Pittsburgh; Philadelphia; Columbus, Ohio; Los Angeles; Winston Salem, N.C.; and Trenton, N.J. For each game, a promoter pays the team between $5,000 and $15,000, plus the team's travel expenses. In the first game, James and his teammates make their national television debut against No. 1 ranked Oak Hill Academy on ESPN2. BoDog.com, an online sports bookie, takes in 1,200 wagers on the game. James comes through, scoring 31 points in the victory before a crowd of 11,523 at Cleveland State's Convocation Center. The game is watched in 1.67 million homes, the largest audience for an ESPN2 show since its coverage of Dale Earnhardt's death at the Daytona 500 in 2001.
Dec. 23: James notches his second major magazine cover, with ESPN The Magazine putting him on the front of its NEXT issue. In the magazine story, James' mother says she is upset that LeBron, who helps generate $298,000 in revenue for St. Vincent-St. Mary's in the 2001-02 season, is treated like every other student. "Who paid for that sound system?" she says. "Bron did. And do you know they want him to pay almost $40 a year to park at school?"
Dec. 30: For his 18th birthday, LeBron's mother gives him a Hummer H2 -- a luxury SUV with a base retail value of $50,000. LeBron's ride though is hooked up with three televisions and a video game system.
2003
Jan. 4: St. Vincent-St. Mary faces off against and California basketball power Mater Dei High, led by D.J. Strawberry, the son of former baseball star Darryl Strawberry. The game is televised on ESPN2, drawing 592,848 viewers . The network does not pay the school to show the two St. Vincent-St. Mary games. After victories over No. 1 Oak Hill Academy, No. 4 Mater Dei and No. 6 Columbus Brookhaven, James' Fighting Irish team (7-0) are named the No. 1 high school team in the country in USA Today's Super 25 rankings.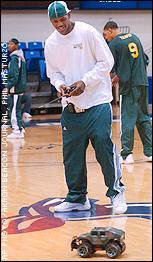 LeBron's basketball skills may be beyond his years, but he proved he wasn't too old to have fun, even in the wake of controversy.
Jan. 12:
The Ohio High School Athletic Association becomes concerned with how LeBron obtained his Hummer and launches an inquiry. Two days later, before scoring a school-record 50 points against Mentor High School, James brings a remote control toy Hummer to the game to ease tensions.
Jan. 24: The Shillelagh Shack, a concession stand next to the St. Vincent-St. Mary gym, gets its last shot of business from LeBron. It's the second and final home game at the high school. Parents are buying raffle tickets for a school fundraiser that will give the winner a yellow Chevrolet Cavalier. Can you say omen?
Jan. 25: James receives two retro jerseys -- a Wes Unseld Bullets jersey and a Gale Sayers Bears jersey -- with a retail value of $845 for free from "Next Urban Gear and Music," a local clothing store. Ohio High School Athletic Association rules stipulate that athletes can't receive gifts of value as a result of their athletic fame.
Jan. 27: James cleared of wrongdoing related to the purchase of his Hummer after his mother provides documentation of a bank loan used to obtain the vehicle. Hours after his clearance, an 88-year-old Akron woman files a police report after James' backed into her car with his truck. James tells her he will pay for the damage.
Jan. 31: The OHSAA rules James ineligible for the rest of the season for accepting the throwback jerseys. When James sits out his first game two days later, Innocenzi receives 75 media requests to the Canton McKinley game anyway. He tells some reporters that he can't accommodate them. LeBron doesn't talk to the media after the game, save for a one-on-one with Deion Sanders for CBS' "The Early Show." James' coach Dru Joyce tells the media that his star player returned the jerseys.
Feb. 3: Replicas of James' high school jersey start popping up on eBay, some selling for more than $300 each. None of the jerseys are produced by OnSports, the company that made the team's official jerseys for Adidas. Sales of James' high school jerseys start a high school retro jersey craze. Unauthorized high school retro jerseys of Kobe Bryant, Kevin Garnett, Michael Jordan, Darius Miles, Paul Pierce and Tracy McGrady soon begin appearing, too.
Feb. 5: James wins a temporary court injunction of the OHSAA's ruling. Three days later, in his first game back, James scores career-high 52 points in Prime Time Shootout at Trenton, N.J.
Feb. 20: A Time Warner official admits the network lost money on its pay-per-view experiment. After paying about $5,000 in production costs per game, Time Warner had to sell about 630 subscriptions per game to break even. The network, though, said it never reached that threshold for even one game. "Many people thought we'd be making a big fat payday, but even if we did really well, we still wouldn't have been able to buy LeBron's Hummer," said Bill Jasso, spokesman for the cable outlet.
Feb. 24: While sitting out the second game of his two-game suspension, James steps back onto the court during a ceremony to retire his jersey before a game against Akron Firestone.
Feb. 28: Fred Nance, James' Cleveland-based attorney, begins sending out cease-and-desist letters to those making and distributing unauthorized LeBron items. By May, Nance's firm will have sent out several hundred such letters.
March 4: With its shoe deal with Adidas expired, the entire St. Vincent-St.Mary team takes the court while wearing Nikes. With Irish written on the tongues, speculation is fueled that Nike now has the upper hand in the LeBron shoe race. A month prior to the change, Vaccaro says that Nike representatives "have been living in Akron so long they will have to pay Ohio taxes.''
March 8: A university report reveals that the St. Vincent-St. Mary basketball team has grossed $268,735 and $222,116 for its games at the Akron University's Rhodes Arena in James' junior and senior seasons.
March 18: St. Vincent-St. Mary coach Dru Joyce II agrees to send James' game jersey, a pair of shoes, headband and wristband to the Naismith Memorial Basketball Hall of Fame in Springfield, Mass. "LeBron James is recognized as the top high school player in America, maybe of all time," Howie Davis, the museum's director of sports media, told the Associated Press. "In any other year, if you ask basketball fans to name the best high school player in America, they would give you a variety of names. Not this year."
March 19: James becomes Ohio's most honored basketball player, becoming the first player to win Mr. Basketball in Ohio three straight years.
March 22: In his final high school game, James leads St. Vincent-St. Mary to its third state title. Tickets to the championship game sell for as much as 20 times their $5 face value. Innocenzi estimates that the team generated between $350,000 and $370,000 that will go into the school's general fund.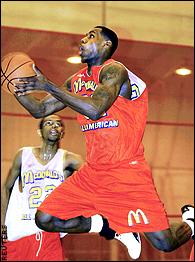 LeBron performed spectacularly in a (Mc)Nuggets uniform, but thanks to the NBA Lottery, he's now a Cleveland Cavalier.
March 26:
James plays in the McDonald's All-America Game, which is moved to James' home state of Ohio for the first time in the tournament's 25-year history. He scores 27 points in leading the East to a 122-107 victory and wins the MVP award. A record crowd of 18,728 shows up at the event.
April 6: Vaccaro ups the ante, doubling his prediction to $50 million on how much it will cost to sign James to a shoe deal.
April 10: A judge dismisses the original OHSAA lawsuit, ruling that the OHSAA cannot strip the team of its state championship. With James' high school career over, OHSAA officials say they won't challenge the ruling.
April 17: James plays in Nike's Jordan Capital Classic high-school all-star game, winning the tournament MVP. Before agreeing to play, executive director Bob Geoghan secures a $10 million insurance policy for James.
April 25: James declares himself eligible for the NBA Draft. The announcement is broadcast locally, as well on ESPNEWS. James wears an Air Jordan shirt and Nike shoes, but his mother wears Adidas. Behind the podium, where James is speaking, is a LeBronJames.com banner. Reebok for the first time acknowledges that it will be in the race to sign LeBron. "Everything that has happened before today was just the regular season," says Reebok executive Tom Shine. "Now it's the postseason -- where it really counts. The only thing I do know is that it's going to get very interesting."
May 10-11: Missing his senior prom, James flies to Los Angeles to hear a presentation by Adidas. James pays for fellow St. Vincent-St. Mary seniors Sian Cotton, Dru Joyce III and Romeo Travis to accompany him.
May 12: James returns home to Akron to see a full-fledged campaign by Adidas, which planned to have an advertising blitz in place before James visited Los Angeles, but the message is just as flattering. Billboards and buses in the town are adorned with the Adidas logo and have targeted phrases like, "Do You Want To Be The Next Superstar?'' "LeBron loved them," James' publicist Alexandria Boone told the Akron Beacon-Journal. "He thought they were the coolest thing."
May 14: LeBron formally signs with agent Aaron Goodwin to represent him. Goodwin's most high profile client is Gary Payton. "I came to most of the marquee games on his schedule," Goodwin said. "I think a lot of agents didn't realize how important it was for the family that they had a relationship with whoever was going to work with them."
May 15: Individuals claiming to represent LeBron James pitch national endorsements to companies. Nance and Goodwin get calls from these people saying that they might have good deals on the table for James, hoping to get a piece of the action.
May 17-18: LeBron flies to Beaverton, Ore., to hear a presentation by Nike. Nike officials show James a powerpoint presentation and show him nine prototypes of what his signature shoe may look like. Some are designed by Air Jordan designer Tinker Hatfield. The presentation costs more than $1 million, according to sources.
May 21: James and Goodwin meet with Reebok CEO Paul Fireman in an Akron hotel. But, later that night, James signs a seven-year, $100 million shoe and apparel deal with Nike, that includes a $10 million signing bonus. A five-year, $6 million memorabilia deal with Upper Deck is also announced.
May 22: At 6:52 p.m., the Cavaliers with the combination -- 6-2-3-12 -- land the first pick in the NBA Draft. Instantly, Cavs owner Gordon Gund leaps from years of financial losses to foreseeable profitability.
June 20: James appears on HBO's "On the Record with Bob Costas" and is asked where his allegiance lies -- his team or with Nike. "That's kind of a tough question," James answers. "Because right now my family is Nike. I don't have an NBA team right now. Once I get into the organization, I'm a team player. Once I get to know my teammates and coaches, I think it's going to be 50-50."
June 25: Online sportsbook BetWWTS.com posts odds that LeBron James will win 2003-04 Rookie of the Year Award. James is the favorite at 6-to-5. The Pistons' Darko Milicic has odds of 5-2, and Denver Nuggets forward Carmelo Anthony is 11-4.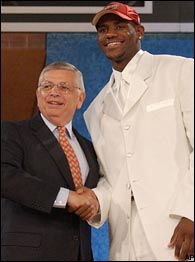 LeBron already had signed a $100 million endorsement deal with Nike before David Stern announced him as the first pick in the NBA draft.
June 26:
NBA commissioner David Stern ends what little suspense there might have been, calling LeBron's name as the first pick in the NBA Draft. Simultaneously, the Cavs make available LeBron's new jerseys -- with the No. 23, of course. That's $36 for the youth size, $45 for the replica, $140 for the official and $400 for the Pro Cut, which is tailored to James' dimensions. Upper Deck unveils basketballs signed by James that read, "#1 Pick 2003 NBA Draft." They sell for $649.99 and are limited to 230 balls.
July 3: LeBron signs a three-year, $12.96 million deal with the Cavs, the maximum under the NBA's rookie salary cap. James will average more than that from Nike every year of his contract.
July 8: The Orlando Magic, playing LeBron's Cavaliers, open one day of their summer league to the public for the first time in its three-year history. A total of 15,123 people show up to see James play for the first time in an NBA uniform. At least 9,000 fans are paying customers, including 13-year-old Sterling Jewell and his father, Eric. "If (LeBron) comes out with a pair of shoes, I'm definitely buying them," says Sterling Jewell, already wearing a James jersey.
July 16: Approximately 74,000 LeBron James jerseys have been sold in two and half weeks, according to SportScanINFO, a sporting goods industry market research firm. That's $3.26 million worth of jerseys sold at retail and the best launch of an athlete's jersey in sports history. "I'm not surprised. LeBron sells," said James' mom, Gloria.
July 21: A group of cash-strapped monks of the Benedictine Order of St. John the Beloved, looking to purchase a new monastery and headquarters in the Poconos comes up with the idea of selling the naming rights to the monastery, church building and grounds, a retreat center, with choir books and stained glass windows to follow. The inspiration? LeBron James, of course. "I told them about LeBron's contract with Nike and said that they should try to sell the naming rights to their new facilities," said Tony Reynolds, an Ohio man in the music industry who helped put the auction online. "They didn't like it at first, but it kind of caught on." Not enough, though; no one places a bid.
July 26: A LeBron James' Topps Gold Refractor rookie card -- limited to 25 cards -- sells on eBay for $1,525.
July 29: NBA schedule is announced. LeBron game tickets hit eBay. Surprise! LeBron's first three games are on national television. In all, the Cavaliers -- who finished 17-65 last season -- are scheduled to appear on 13 national broadcasts on ABC, ESPN and TNT. Cleveland's last regular-season game on national TV? Dec. 6, 2000 against the Chicago Bulls. Local coverage is the most extensive ever with the UPN local affiliate scheduling 30 games and the Fox Ohio affiliate planning another 40 games.
July 31: The Cavs announce a contract extension and promotion for senior vice president and general manager Jim Paxson. Paxson's greatest accomplishment as GM? Getting lucky with LeBron James. Since becoming general manager, his teams have gone 108-220.
Aug. 5: Mike Wiant, a real estate agent with Coldwell Banker in Canton, Ohio, puts up the first of four billboards with a picture of a $1.1 million home in Bath Township, Ohio. The sign reads, "Hey LeBron, You're the King. This is Your Castle. Call Me!" James never calls, but Wiant reaps the reward for the $4,000 stunt. "I got tons of business from it," said Wiant, who noted that a 20-year-old who made his money on the Internet, agreed to buy the house a week later.
Aug. 10: Despite not having a jersey on sale for the first 32 weeks of the year, James' jersey already ranks seventh on the best selling list for 2003, according to SportScanINFO. That puts his jersey ahead of sales jerseys of Chris Webber, Steve Francis, Ben Wallace, Shaquille O'Neal and Dirk Nowitzki.
Aug. 21: Ten days after Gatorade pulls out of the sports drink endorsment race, James signs a deal with Coca-Cola to pitch its Sprite and Powerade brands. Sources peg the six-year deal at at least $2 million annually. As part of the deal, James will receive additional compensation if he helps grow Powerade's market share, which is second behind Gatorade at about 14 percent. Because Gatorade has the NBA sponsorship, Coke cannot use James in his NBA outfit to endorse the brand.
Sept. 8: The day after partial season ticket packages go on sale for the Cleveland Cavaliers, radio commercials featuring James, Carlos Boozer and Zydrunas Ilgauskas hit the airwaves. The Cavaliers only sold out two games in 2002-03 and three games in 2001-02. The last sellout not featuring Michael Jordan? Feb. 21, 2001 against the Los Angeles Lakers. "We definitely expect to sellout more games this year," says Cavs president Len Komoroski with a laugh.
Sept. 27: James films his first commercial. It's for Nike and involves teammates Carlos Boozer and Dajuan Wagner.
Oct. 7: James scores eight points and has seven assists in his first exhibition game against the Detroit Pistons. Fans yell at Cavs coach Paul Silas for not playing James enough.
Oct. 16: Two James books are already in book stores, one written by SLAM editor Ryan Jones, another written by Akron Beacon Journal writer David Lee Morgan Jr.
The Associated Press contributed to this report
ESPN.com Sports Business reporter
ESPN.com's sports business reporter since 2012; previously at ESPN from 2000-06
Appears on SportsCenter, ESPN Radio, ESPN.com and with ABC News
Formerly worked as analyst at CNBC
EDITORS' PICKS
Why Durant is smart to go for surgery over heroism.
Adande »

Fitting in is Jeremy Lin's biggest challenge now.
Torre »

Who are the best -- and worst -- owners in the league?
Rankings »

MOST SENT STORIES ON ESPN.COM