Expert predictions: Philadelphia 76ers
Originally Published:
October 20, 2009
ESPN.com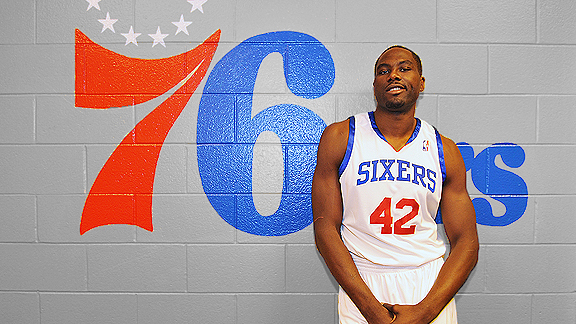 ---
Predicted Finish For Philadelphia 76ers: 2009-10
ANALYST
COMMENT
PREDICTIONS
Andre Miller was the reason the 76ers survived Elton Brand's injury and reached the playoffs. Now Brand is back but Miller's gone, leaving the team with no figurative center.

Atlantic: 3

East: 10

Elton Brand is back and Thaddeus Young is going to blossom into a big-time player. The loss of Andre Miller is big. Lou Williams is a shoot-first type of player -- that is my biggest concern with them heading into the season.

Atlantic: 3

East: 8

Early indications are that Eddie Jordan's found a way to mesh Elton Brand with his running, gunning, young teammates. Lou Williams will try to replace Andre Miller, but Jordan's Princeton offense will hide his lack of "true point guard skills.''

Atlantic: 2

East: 6

Andre Iguodala, Thaddeus Young and Lou Williams give the Sixers youth and athleticism, but a rusty and aging Elton Brand combined with the loss of veteran point guard Andre Miller means that the Sixers will slip in the East.

Atlantic: 3

East: 11

Jemele Hill, ESPN.com Page 2 | Hill's picks

The Sixers will take a step back without Andre Miller's calm and steady influence. Not convinced Lou Williams is ready to be a pure point guard, or that Iguodala can flourish as a 2. And given Brand's track record, you can't count on him to be healthy an entire season.

Atlantic: 3

East: 10

Don't look at who left, but rather at who's left. Andre Miller may be gone, but Elton Brand returns to join several young studs -- Andre Iguodala, Thaddeus Young, Louis Williams, Marreese Speights -- on the East's most underrated squad.

Atlantic: 2

East: 5

Eddie Jordan will start to implement his Princeton-style offense. Brand is a force in the paint and plays as hard as any player in the league. Iguodala is an improving shooter who can finish above the hoop, and he still has upside.

Atlantic: 3

East: 10

No, we are not sold on Andre Miller as being so easily replaceable -- especially by a shoot-first, pass-second point guard like Louis Williams. Didn't they decide to acquire Miller because they were tired of having one of those?

Atlantic: 3

East: 10

I'm intrigued by Thaddeus Young, I'm amused by Jason Kapono's formula to arrive at No. 72 and I've followed Eddie Jordan since his "Thief of Baghdad" days with the Lakers. But let's face it: Elton Brand's comeback is the story in Philly.

Atlantic: 3

East: 8

If Miller was still their point guard, this team could play for a top-three seed. But he's not, so the lack of a veteran and capable point guard will cost the 76ers wins until Williams figures it out. Their athleticism and paint scoring will be enough to get them into the playoffs.

Atlantic: 2

East: 7


AVERAGE RANKING Atlantic: 2.7 | Standings East: 8.5 | Standings



Click below to see more predictions
Follow our NBA coverage on Twitter here.