Expert predictions: Charlotte Bobcats
Originally Published:
October 20, 2009
ESPN.com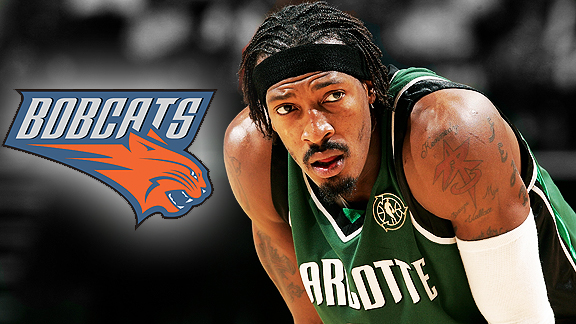 ---
Predicted Finish For Charlotte Bobcats: 2009-10
ANALYST
COMMENT
PREDICTIONS
Larry Brown will somehow make this team competitive, even if he can't stand half his roster by December. Gerald Wallace will bounce back from a down year last season.

Southeast: 5

East: 11

They have a good coach but very little talent. I thought Allen Iverson would have been a good addition for them. He is a big-time scorer who would have been good for their fan base and would have had them in the playoff hunt.

Southeast: 5

East: 13

Here's all you need to know: Team prez Michael Jordan, at 46 years old, would be one of the club's best players (at least for as long as he could stay healthy). After that Hall of Fame speech, you get the impression he knows that.

Southeast: 5

East: 13

Larry Brown is trying to rebuild the Bobcats into his own image, but I'm not convinced he's doing anything more than making lateral moves. The Emeka Okafor-Tyson Chandler swap seems like a wash. The rest of the team is solid but lacks a go-to guy.

Southeast: 5

East: 13

Jemele Hill, ESPN.com Page 2 | Hill's picks

Just call Chandler Mr. Glass. Under normal circumstances Chandler would be an impressive addition, but he dealt with injuries all of last season. Felton has flourished under Brown's direction, but the Bobcats just don't have the horses to improve on last year's surprising season.

Southeast: 5

East: 12

Emeka Okafor-Tyson Chandler trade is a killer because the Bobcats were already clawless on offense. They'll defend and Larry Brown will get them playing smart and together, but if they're in the bottom three in scoring it won't matter.

Southeast: 5

East: 12

They will battle for the eighth spot all season. Gerald Wallace is an overlooked player who contributes in a lot of ways. Will the team re-sign Raymond Felton? Tyson Chandler will run the floor, protect the rim and rebound.

Southeast: 5

East: 11

They were trending upward big time over the latter half of last season, so it's risky to predict this far of a fall. But ... the franchise is for sale and in disarray, and disarray is not the setting in which you want Larry Brown to lead.

Southeast: 5

East: 13

Is swapping Okafor for Chandler, importing Flip Murray and leaning heavily on Larry Brown's coaching enough to get Charlotte off the short list of North American major sports franchises with zero playoff berths? I'm skeptical.

Southeast: 5

East: 12

Losing Okafor is a killer, and they will have to execute well on almost every possession to score. That's not easy when they also have to really grind things out defensively to stay competitive. Developing their future (D.J. Augustin, Gerald Henderson) may take precedence quickly.

Southeast: 5

East: 14


AVERAGE RANKING Southeast: 5.0 | Standings East: 12.4 | Standings



Click below to see more predictions
Follow our NBA coverage on Twitter here.