Expert predictions: Milwaukee Bucks
Originally Published:
October 20, 2009
ESPN.com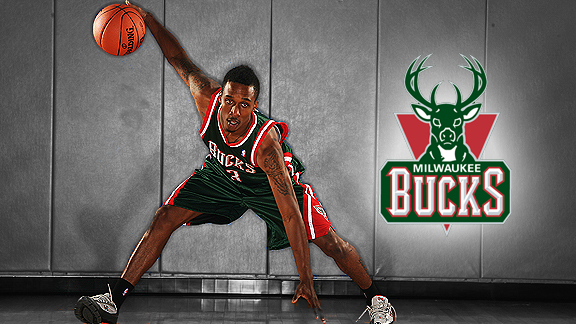 ---
Predicted Finish For Milwaukee Bucks: 2009-10
ANALYST
COMMENT
PREDICTIONS
A shell of a team. Their Nos. 2-4 scorers from last year are gone. The only sure bet: Michael Redd will exercise his $18 million player option next summer.

Central: 5

East: 14

Michael Redd better work miracles. Even if he does, 35 wins will still be a reach for this latest edition of the Bucks.

Central: 5

East: 15

There are two reasons to watch the Bucks this season: the silky stroke of Michael Redd, and the development of lightning-quick rookie Brandon Jennings. Jennings has star potential and will look like Isiah Thomas on some nights. On others he'll look like a youngster with a lot to learn.

Central: 5

East: 14

The Bucks gave away three of their best players this summer -- Richard Jefferson, Charlie Villanueva and Ramon Sessions -- in an attempt to slash payroll. Andrew Bogut is solid and Michael Redd is back, but the rest is a work in progress.

Central: 5

East: 15

Jemele Hill, ESPN.com Page 2 | Hill's picks

The Bucks seem like they're treading water. They lost Villanueva, Ramon Sessions and Richard Jefferson, and unless young guys like Brandon Jennings and Joe Alexander do something dramatic, why should anyone believe the Bucks are more than just a basement team in the Central?

Central: 5

East: 13

Combine bad finances with a few self-inflicted wounds and you get a pretty depressing outlook. Bogut and Redd are healthy and Skiles will get others to overachieve, but the Bucks lost three productive starters and got nothing back.

Central: 5

East: 14

In the offseason this roster had a massive overhaul. As long as sharpshooter Michael Redd is on the roster and Andrew Bogut is patrolling the paint, coach Scott Skiles will get this team to play hard. Brandon Jennings is a blur and has a natural feel for the game at the point. He could be ROY.

Central: 5

East: 14

One overriding, pertinent question: At what point during the season do they decide it is time to cut their losses with Michael Redd? Best-case scenario is they package him with Dan Gadzuric (two years, $14M remaining) for expiring contracts, a young upside guy and draft picks.

Central: 5

East: 15

I will still be tuning in, because I could watch Redd flick those quick-release jumpers all day, but it ain't easy to put a glossy spin on the Bucks after the financially motivated departures of Jefferson, Villanueva and Sessions.

Central: 5

East: 14

I was very skeptical of Brandon Jennings before I saw him in Vegas. He converted me with his interest in passing the ball to anyone open. But playing the point, for this coach, as a young rookie, will be a very tough thing for him to do. Yet, he must play to become the star they need.

Central: 5

East: 15


AVERAGE RANKING Central: 5.0 | Standings East: 14.3 | Standings



Click below to see more predictions
Follow our NBA coverage on Twitter here.