Expert predictions: Chicago Bulls
Originally Published:
October 20, 2009
ESPN.com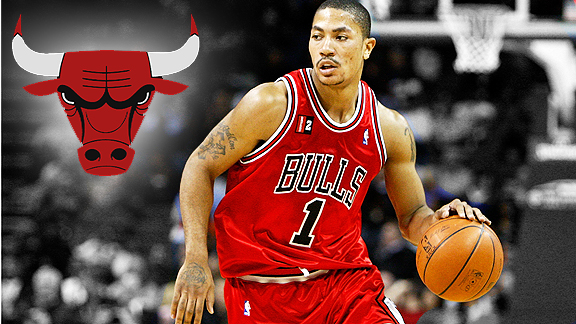 ---
Predicted Finish For Chicago Bulls: 2009-10
ANALYST
COMMENT
PREDICTIONS
Two things that are easy to forget: Luol Deng, who has battled injuries, was the Bulls' top player three years ago, and Derrick Rose was only a rookie last season. Those two facts will have the Chicago Bulls in the thick of the playoffs.

Central: 2

East: 5

Luol Deng is back but the loss of Ben Gordon is going to be tough to overcome. They have officially become Derrick Rose's team. James Johnson is the steal of the draft.

Central: 2

East: 5

Chicago could certainly crack the top eight, but don't expect it to build on last season's historic series with Boston without Ben Gordon. The Bulls should've found a way to keep him. Period. They'll recognize the error of their ways soon enough.

Central: 3

East: 10

Derrick Rose is the future of the Bulls, but I think they'll miss Ben Gordon's fourth-quarter heroics badly -- Gordon's hot streaks were good for about 10 wins a year for the Bulls. Rose will pick up some of the slack, but Chicago still lacks the low-post scoring presence to take some heat off its guards.

Central: 3

East: 7

Jemele Hill, ESPN.com Page 2 | Hill's picks

I have my doubts as to whether the Bulls are ready to stop teasing us and play up to their potential. While Deng's return is a huge plus, not having Gordon as the consummate dagger-maker will cause a significant ripple effect. Rose is good enough to replace Gordon's late-game heroics.

Central: 2

East: 7

Hot bandwagon team after taking C's to seven games last season, but let's chill for a year. Loss of Gordon leaves a hole, Thomas-Noah frontcourt remains mismatched and depth will be a problem if the rooks don't deliver right away.

Central: 3

East: 9

If Luol Deng is back playing at a high level, the Bulls will be in the mix in the East. Sky's the limit for a Rose-Salmons backcourt, and Kirk Hinrich will be productive every night.

Central: 2

East: 4

I don't buy the argument that Jannero Pargo is a poor man's Ben Gordon, but the Bulls will be OK getting their fourth-quarter points from John Salmons now. And with Noah and Rose arching upward quickly, this is a solid team.

Central: 2

East: 6

Put me in the camp that says D-Rose's Year 2 maturity, Luol Deng's return from injury and having John Salmons and Brad Miller for the whole season will enable the Bulls to keep building on that epic Boston series. Even without Ben Gordon.

Central: 2

East: 5

Chicago's memorable playoff loss should help unify what has been a somewhat disjointed collection of talent. Brad Miller and Joakim Noah form the best combo of passing centers in the game, which helps make up for the Bulls' lack of scoring in the paint and the loss of Gordon.

Central: 2

East: 6


AVERAGE RANKING Central: 2.3 | Standings East: 6.4 | Standings



Click below to see more predictions
Follow our NBA coverage on Twitter here.