Expert predictions: Boston Celtics
Originally Published:
October 20, 2009
ESPN.com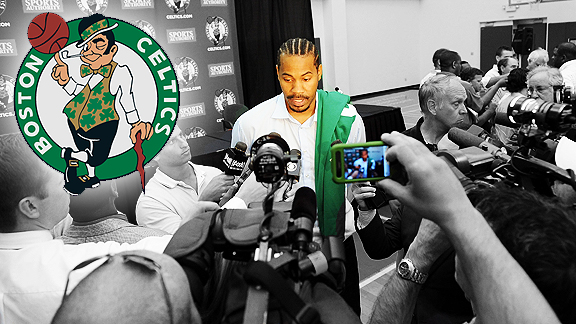 ---
Predicted Finish For Boston Celtics: 2009-10
ANALYST
COMMENT
PREDICTIONS
The Celtics get Rasheed Wallace's range and length, and should get his best behavior. They won't run out of gas or frontcourt players like they did last season.

Atlantic: 1

East: 1

The addition of Sheed and the return of Kevin Garnett make this the best defensive team in the league. They aren't concerned with getting the best record. They just want to be healthy for the playoffs. This is the last run for these guys.

Atlantic: 1

East: 2

Each member of the Big Three is at least 32 years old and they have a combined 38 seasons under their belt. That's great experience, but also lots of mileage. They can get their second ring ... if Father Time doesn't get them first.

Atlantic: 1

East: 3

The Celtics still have the Big Three, the question is: Who's in it? Last season, Rajon Rondo -- not KG, Paul Pierce or Ray Allen -- was the Celtics' best player. With KG coming off knee surgery and Allen starting to show his age, can Rondo lead the Celtics to the promised land?

Atlantic: 1

East: 3

Jemele Hill, ESPN.com Page 2 | Hill's picks

Perfectly appropriate the Celtics and the Incredible Hulk share the color green because the East isn't going to like the Celtics now that they're angry. Age and health are concerns, but Sheed will turn back KG's odometer and Daniels was a real steal. There is nothing this team doesn't have.

Atlantic: 1

East: 1

The big, obvious question is KG's knee, but it's not the only one. Ray Allen and Paul Pierce aren't kids, either, and Rajon Rondo's extension talks could get touchy. C's will win division regardless, but can't see them surpassing Cavs and Magic.

Atlantic: 1

East: 3

The return of KG and all he brings to the table at both ends will be the key for the Celtics. Pierce and Allen are both clutch and they need to re-sign Rondo ASAP. Wallace can play power forward and center and is a matchup nightmare.

Atlantic: 1

East: 3

The pregame player intros this season include a scoreboard shot of Rasheed Wallace and Marquis Daniels with the title "RE-LOADED." How about "OVERLOADED" or "SUPERLOADED"? Sheed says 73-9 is possible. I say 69 is their max.

Atlantic: 1

East: 1

The Celts have the manpower to ask very little of Kevin Garnett during the regular season and nurse him to full strength -- or as close as he can get -- for the playoffs. If that's how Boston's season plays out, watch out.

Atlantic: 1

East: 3

Thanks to KG's injury, this team never got a fair chance to defend its crown. Now, the Celtics have some new weapons to bolster their terrific core. Most importantly, they will still defend at an elite level, which will translate into a ton of wins. Rasheed Wallace must be a good follower.

Atlantic: 1

East: 1


AVERAGE RANKING Atlantic: 1.0 | Standings East: 2.1 | Standings



Click below to see more predictions
Follow our NBA coverage on Twitter here.