Expert predictions: L.A. Clippers
Originally Published:
October 21, 2009
ESPN.com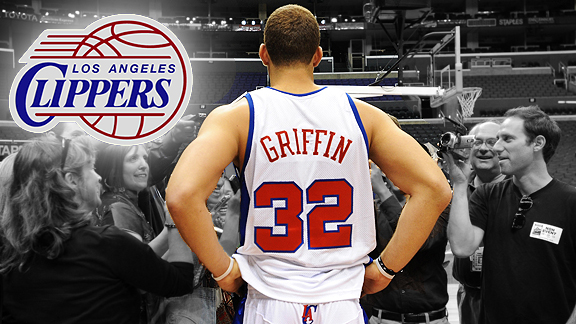 ---
Predicted Finish For Los Angeles Clippers: 2009-10
ANALYST
COMMENT
PREDICTIONS
Yeah, the Clippers. If healthy, they're deep and talented ... and it looks like Baron's motivated.

Pacific: 2

West: 7

I love Blake Griffin. He is a lock for rookie of the year. The team has a lot of talent, but hey, it's the Clips.

Pacific: 3

West: 10

They have the goods to reach the postseason and do some damage once there. It all depends on noted malcontent, filmmaker and (when he wants to be) point guard phenom Baron Davis. A fully engaged Baron could have the Clippers duplicating the 2007 Golden State Warriors.

Pacific: 3

West: 9

The Clippers have been a long-standing joke, but adding Griffin should change that. He brings athleticism, toughness and a work ethic that should be infectious. Put him with Baron Davis, Camby, Gordon and Thornton, and the Clippers have a real shot at the playoffs.

Pacific: 2

West: 8

Jemele Hill, ESPN.com Page 2 | Hill's picks

Griffin's hustle and work ethic should have a rub-off effect, and Camby will be even more motivated because he's in a contract year. Problem is, it's the Clippers, and you can think only worst-case scenario. How long before Baron Davis is playing like he doesn't care?

Pacific: 4

West: 12

Could improve their standing with another trade or two, as the Clips have the deepest frontcourt in basketball but iffy depth in the backcourt. Current alignment bets on health from Baron Davis, and that's normally not a winning hand.

Pacific: 4

West: 12

On paper this team should take the final playoff spot. If it's to happen, Baron and Camby have to lead the way. Kaman is proven. Gordon and Thornton score in flurries and Griffin will provide a workmanlike attitude and fresh face.

Pacific: 3

West: 9

Pound for pound and position by position, they are rock-solid, deep and should not be overlooked just because of their historical pedigree. That said, the dynamic between Mike Dunleavy and Baron Davis remains a shaky foundation.

Pacific: 2

West: 8

Am I gullible enough to believe that the arrival of Blake Griffin, shedding of Zach Randolph and swipe of Rasual Butler will combine to finally deliver the Clippers-Lakers showdown in the first round that I've always dreamed of? Maybe.

Pacific: 3

West: 9

Griffin will affect the entire culture on the Clippers. He "beasts it" every second he plays. Combined with Camby and Kaman, the Clippers will be tough in the paint. If B-Davis locks in, and Gordon keeps improving, this team has a real heartbeat.

Pacific: 3

West: 9


AVERAGE RANKING Pacific: 2.9 | Standings West: 9.3 | Standings



Click below to see more predictions
Follow our NBA coverage on Twitter here.