Expert predictions: Memphis Grizzlies
Originally Published:
October 21, 2009
ESPN.com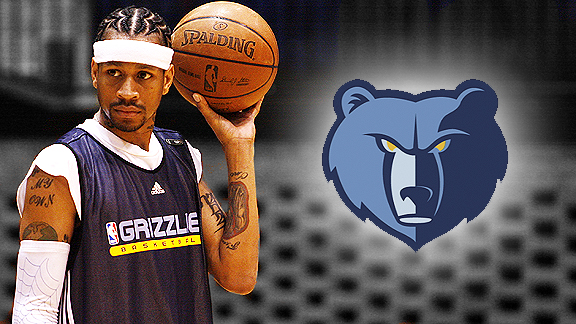 ---
Predicted Finish For Memphis Grizzlies: 2009-10
ANALYST
COMMENT
PREDICTIONS
Admit it, you're fascinated to see how A.I., Zach Randolph, Rudy Gay and O.J. Mayo can possibly work this out. Might not end well, but as crashes go it could be spectacular.

Southwest: 5

West: 14

They are turning to Allen Iverson? They are going to thwart the maturation of O.J. Mayo, Rudy Gay and the other young players? I don't quite understand the move.

Southwest: 5

West: 13

Memphis has more shooters than a John Wayne flick, which spells C-H-A-O-S when there's only one ball. Three words: Poor Marc Gasol. It'll be Jan. 1 before he gets his first touch.

Southwest: 5

West: 13

GMs and coaches always want a few veterans on young, rebuilding teams to teach leadership, professionalism and work ethic. That Michael Heisley chose Allen Iverson and Zach Randolph to lead this young but talented core may be his most head-scratching move yet.

Southwest: 5

West: 13

Jemele Hill, ESPN.com Page 2 | Hill's picks

A.I. has a chip on his shoulder, but it would be better if he had the same explosion in his game. Not sure if it's a good idea to expose young, emerging players like Conley, Thabeet and Mayo to Randolph and A.I., who might not be a happy camper if Conley starts ahead of him.

Southwest: 5

West: 13

With Allen Iverson, Zach Randolph, Rudy Gay and O.J. Mayo fighting one another for shots, this team puts the "Me" in Memphis. Griz won't be a playoff threat, but will threaten the record for fewest assists by a team in an NBA season.

Southwest: 5

West: 14

Gay and Mayo will be the headline performers. Randolph scores and grabs rebounds at will. Can Conley hold down the point? A.I. will have something to prove to all the teams that overlooked him in free agency.

Southwest: 4

West: 12

Their top six (Gay, Mayo, Iverson, Gasol, Randolph, Conley) will certainly put up some points. But will they stop anybody at the other end? Hasheem Thabeet might get 50 blocks alone from picking up the guy who just dusted Zach.

Southwest: 4

West: 11

Most interesting team in the league? Most interesting lottery team for sure. You mix Gay, Mayo, Thabeet and Marc Gasol with Iverson and Zach Randolph and you get must-see League Pass. No matter what the standings say.

Southwest: 5

West: 14

You tell me, how's a team that finished dead last in assist rate one year going to do the next season after adding A.I. and Randolph? They will help the Griz score, but the team culture will probably remain on the lower side of the dial.

Southwest: 5

West: 13


AVERAGE RANKING Southwest: 4.8 | Standings West: 13.0 | Standings



Click below to see more predictions
Follow our NBA coverage on Twitter here.