Expert predictions: Atlanta Hawks
Originally Published:
October 20, 2009
ESPN.com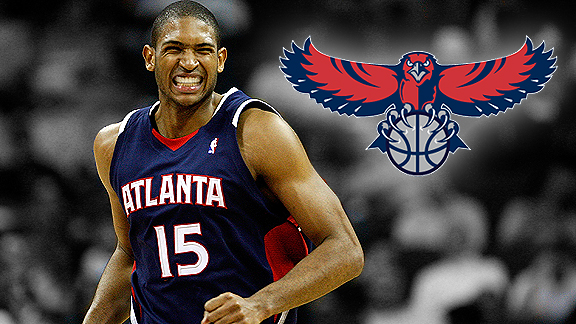 ---
Predicted Finish For Atlanta Hawks: 2009-10
ANALYST
COMMENT
PREDICTIONS
Can we call them Dirty Birds 2? It's Atlanta's best team since the Super Bowl Falcons, with talented players who finally get what it takes to win. The Hawks only lack one superstar to get them to the next level.

Southeast: 2

East: 4

I don't think they'll improve on their 47 wins from last season. They have tremendous guards and wing players, but they still need to get some bigs.

Southeast: 2

East: 4

After improving in each of the past four seasons, they've finally maxed out. Problem is, their ceiling is well below the space where Cleveland, Orlando and Boston operate. So the Hawks will once again be fun, exciting and home watching with the rest of us by mid-May.

Southeast 3

East: 5

The Hawks found a way to re-sign their key free agents and now just have to be patient. Their young core continues to develop and while they aren't an elite team yet, with the Celtics aging and the Cavs in danger of losing LeBron James, the Hawks may move up a seed or two come spring.

Southeast: 2

East: 4

Jemele Hill, ESPN.com Page 2 | Hill's picks

The Hawks seem content to be just a flash in the pan, failing to capitalize on the momentum they created when they took Boston to seven games in 2008. Crawford gives them another weapon, but this team won't be a serious contender until Smith and Johnson play like superstars consistently.

Southeast: 2

East: 4

Hawks filled out their roster after only going eight deep last season, but that's really all that changed. And they're no longer young enough to bank on internal improvement. Looks like another year atop the East's pretender heap.

Southeast: 2

East: 4

Contender is the next step for this group led by Joe Johnson, one of the most complete talents in the game. Josh Smith and Al Horford have huge upsides. And Jamal Crawford can get buckets and break down a defense.

Southeast: 2

East: 5

Mike Bibby didn't look like he had a lot left in the tank last season. I was surprised they re-signed him and thought Andre Miller would have been a better fit. Joe Johnson is entering a contract year. And newcomer Jamal Crawford likes to put up 20 shots a night. Hmmm.

Southeast: 3

East: 7

It's not something you print up on T-shirts or brag about, but the Hawks are indeed the clear-cut Fourth Best Team in the East after re-signing Mike Bibby, Zaza Pachulia and Marvin Williams, and adding Jamal Crawford and Joe Smith.

Southeast: 2

East: 4

Imagine if a blue-chip free agent ends up here next summer. This athletic and dynamic team would explode with a guy who can make everyone better. As it stands, they can defend and score well enough to be a solid playoff team. I'd like to see more offensive opportunities for Al Horford.

Southeast: 2

East: 4


AVERAGE RANKING Southeast: 2.2 | Standings East: 4.5 | Standings



Click below to see more predictions
Follow our NBA coverage on Twitter here.