Expert predictions: Miami Heat
Originally Published:
October 20, 2009
ESPN.com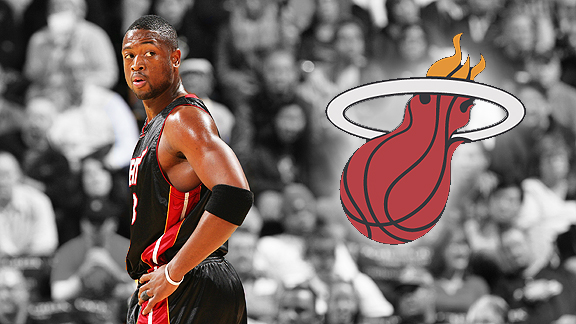 ---
Predicted Finish For Miami Heat: 2009-10
ANALYST
COMMENT
PREDICTIONS
D-Wade's at the magic 27 (check MJ, Kobe, Bird, Magic at that age). Just as important, the Heat's young pups are a year older. But does Jermaine O'Neal have anything left?

Southeast: 4

East: 7

Dwyane Wade was off the charts last season and I expect him to do it again, but he has no help. I can't imagine Jermaine O'Neal playing a full season. Hopefully, Michael Beasley, who is very talented, can get his life in order.

Southeast: 4

East: 10

Giving Miami a playoff spot is merely an acknowledgement of Wade's greatness, because chances are he'll be one of the league's biggest one-man shows. Help could be there if Jermaine O'Neal turns back the clock and Beasley can mature and blossom, but Miami fans shouldn't count on it.

Southeast: 4

East: 8

Wade alone can get the Heat into the playoffs when he's healthy. With Beasley developing and O'Neal claiming he's finally healthy they have the juice to be a tough team. But they're weak at virtually every other position -- one big injury and they slide out of the playoffs.

Southeast: 4

East: 9

Jemele Hill, ESPN.com Page 2 | Hill's picks

Miami makes the playoffs only if D-Wade puts up another MVP-like season. That's entirely possible, but the man isn't superhuman. O'Neal is past his prime and Beasley's tumultuous offseason could be a factor. A bad season and D-Wade is house hunting in Chicago.

Southeast: 4

East: 9

Wade is a monster, but an already awful supporting cast arguably got worse this offseason as the Heat save up for next summer. Beasley could break out if his head's on straight, but otherwise it's the same one-man show.

Southeast: 4

East: 7

Beasley and Chalmers had successful rookie seasons. Wade competes on every play and is still improving. Scary. Haslem will battle and knock down the midrange jumper.

Southeast: 4

East: 7

We know what Wade will give them: 30 a night. The big key is what Jermaine O'Neal does in his contract year. Beasley at the 3 could be a genius move if he's truly developed the quickness coach Erik Spoelstra claims he has.

Southeast: 2

East: 5

Wade missed three games last season and willed the Heat to 43 wins. He will have to be similarly brilliant -- and durable -- to keep his ultra-thin team at that level until the 2010 summer arrives and Riley starts making moves again.

Southeast: 4

East: 9

Wade did so much to carry the Heat to the playoffs last year, and now they can look to Beasley to help with that load. The team also has savvy and tough veterans to help provide some glue. If O'Neal stays healthy, this should be an excellent defensive team.

Southeast: 3

East: 5


AVERAGE RANKING Southeast: 3.7 | Standings East: 7.6 | Standings



Click below to see more predictions
Follow our NBA coverage on Twitter here.