Expert predictions: N.O. Hornets
Originally Published:
October 21, 2009
ESPN.com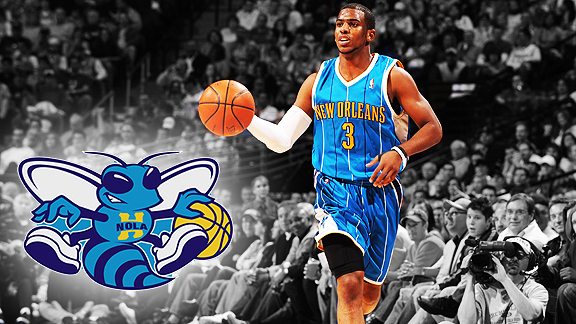 ---
Predicted Finish For New Orleans Hornets: 2009-10
ANALYST
COMMENT
PREDICTIONS
They're in the worst place. Not N.O. (I love the Big Easy), but that luxury-tax area that keeps it from adding talent. CP3 can get his team to the playoffs but not out of red ink.

Southwest: 3

West: 6

They were on the cusp of being a great team two years ago and neglected to make any big moves. Chris Paul is the best point guard in the league, but this team lacks depth.

Southwest: 3

West: 8

Last season was not the aberration; the season before, when the Hornets nearly reached the Western Conference finals, was. Outside of future all-time great Chris Paul, this roster scares no one -- except perhaps coach Byron Scott.

Southwest: 3

West: 8

Chris Paul may be the best point guard in basketball, but can his supporting cast help the Hornets get over the hump in the West? If newcomer Emeka Okafor along with veterans such as Peja Stojakovic and David West can stay healthy, they'll make some noise again this season.

Southwest: 3

West: 7

Jemele Hill, ESPN.com Page 2 | Hill's picks

This team is poised to go backward, even though Emeka Okafor was a brilliant offseason pickup. CP3 still doesn't have a reliable backup, and without consistent scoring from the wing, the Hornets become woefully predictable.

Southwest: 3

West: 7

Addressed last season's bench shortcomings with the pickups of Darren Collison, Ike Diogu and Darius Songaila, and added scoring pop with Okafor. CP3 supplies star power, but mediocre wings keep them from true contention.

Southwest: 2

West: 5

When healthy, Okafor is a rebounding and shot-blocking force. Paul will dazzle and be in the MVP conversation. Will Peja return to his form of a few years back?

Southwest: 3

West: 7

If Hollinger will go so far out on a limb that he ranks him No. 1 in the league, the least I can do is predict Chris Paul & Co. will edge Dallas for second place in the conference -- even with their gaping hole at 2-guard.

Southwest: 2

West: 5

A healthy Chris Paul will get the Hornets to 50 wins. But that's about as far as the New Orleans Hornets can go as currently constituted, which makes you wonder whether that's enough to keep CP3 from getting frustrated. Again.

Southwest: 3

West: 7

In today's pick-and-roll world, with defenses mostly handcuffed, a point guard such as Paul can mean so much. Adding Okafor will help the front line, and I'm a fan of rooks Darren Collison and Marcus Thornton. If the Hornets had a topflight 2-guard, they'd be a Finals contender.

Southwest: 3

West: 6


AVERAGE RANKING Southwest: 2.8 | Standings West: 6.6 | Standings



Click below to see more predictions
Follow our NBA coverage on Twitter here.