Expert predictions: Utah Jazz
Originally Published:
October 21, 2009
ESPN.com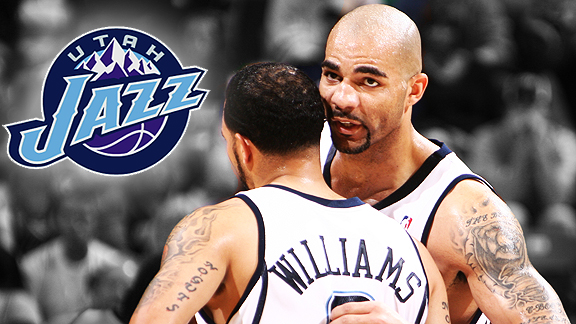 ---
Predicted Finish For Utah Jazz: 2009-10
ANALYST
COMMENT
PREDICTIONS
I have them in the playoffs only because it's hard to picture a Jerry Sloan-coached team not in the playoffs. But they don't play Sloan-style D and probably will move Boozer.

Northwest: 3

West: 8

They are always in the mix. Carlos Boozer wants a contract, so expect him to play very well.

Northwest: 3

West: 6

Give the Jazz credit for putting performance ahead of the pocketbook and re-signing Paul Millsap. Of course, it created a logjam, a luxury tax and an uncomfortable situation for Boozer, but hey, everybody -- including those who pay the bills -- will just have to man up.

Northwest: 3

West: 6

My sleeper team in the West. The Jazz had injuries and chemistry problems last season, but with everyone healthy and Boozer motivated to play well going into free agency, they can be dangerous. They're deep and well-coached, and their young players still have room to improve.

Northwest: 2

West: 4

Jemele Hill, ESPN.com Page 2 | Hill's picks

I suspect this will be another season when we'll wonder why the Jazz didn't go any further. Health was a big issue last season, but it still seems as if Sloan has more heart and intensity than many of his players. Millsap's pushing Boozer could be a good thing ... or it could be disastrous.

Northwest: 3

West: 6

Boozer's future remains uncertain, so let's focus on the certainties: Deron Williams will finally make the All-Star team, the Jazz will kill at home and struggle on the road and the wings will keep them out of the West's top tier.

Northwest: 3

West: 6

Will Boozer be traded? This team takes advantage of its home court as well as any team but must find a way to play better on the road. The Jazz have great size and depth, and Williams is the second-best point guard in the league.

Northwest: 2

West: 5

As the guy who triggered some of the Carlos Boozer histrionics last season when I asked him on the record whether he planned to opt out (using the phrase "on the record" in my question), I predict he'll stay and boost his free-agency value.

Northwest: 2

West: 4

The Jazz have to be healthier this season. Have to be. Not sure this season will be any easier, though, given the uncertainty surrounding Boozer's future that will dominate conversation and the lack of difference-making new blood.

Northwest: 3

West: 8

Williams and his post players provide difficult matchups for any team, but the uncertainty with Boozer will play a part in many of their games. A team is either committed or not, and everything in between is pain.

Northwest: 3

West: 8


AVERAGE RANKING Northwest: 2.7 | Standings West: 6.1 | Standings



Click below to see more predictions
Follow our NBA coverage on Twitter here.