Expert predictions: Sacramento Kings
Originally Published:
October 21, 2009
ESPN.com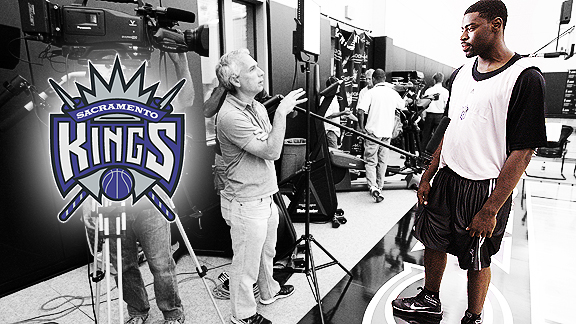 ---
Predicted Finish For Sacramento Kings: 2009-10
ANALYST
COMMENT
PREDICTIONS
This season could make the dark times before the Webber-Vlade-Peja era look like the good ol' days.

Pacific: 5

West: 15

Tyreke Evans could be special, but the Kings don't have anywhere near the talent needed to compete in the West.

Pacific: 5

West: 15

The backcourt, talented rookie Tyreke Evans and big scorer Kevin Martin, is legit, but there are craters everywhere else on this team. Bottom line: The Kings will be the worst team in the league for the second straight season.

Pacific: 5

West: 15

The Kings have been gutting the team for years, and now it's on Kevin Martin, one of the most underrated players in the league, and newcomer Tyreke Evans to start turning the ship around. They'll play hard and fast, but on most nights, they'll lack the talent to compete.

Pacific: 5

West: 15

Jemele Hill, ESPN.com Page 2 | Hill's picks

A retread coach and a bunch of young players is a bad recipe. The Kings finished near the bottom in every important NBA category last season, and it doesn't seem that will change, even if Tyreke Evans is this season's Derrick Rose.

Pacific: 5

West: 15

Kings won't be as awful as they were last season, especially if Martin stays upright all season. Alas, empty seats and a lack of new arena deal mean most of this season's Kings news will involve words like "San Jose" and "Kansas City."

Pacific: 5

West: 15

Kevin Martin can score with the best of them. Evans will be the rookie of the year. Sergio Rodriguez will continue to improve.

Pacific: 5

West: 15

Question: What'll it take in addition to Jared Jeffries to get the Kings to send Kenny Thomas and his expiring contract to New York? Question No. 2: Can they get value for Andres Nocioni, who could be a major difference-maker for a top-six team?

Pacific: 5

West: 14

The only time we heard about the Kings this preseason was when Francisco Garcia suffered a major wrist injury after the workout ball he was sitting on exploded. You fear it'll be that kind of regular season, too.

Pacific: 5

West: 15

All eyes should be on how the frontcourt of Jason Thompson-Spencer Hawes fares. The lottery picks have to start measuring up for this team to have any chance of competing. Paul Westphal is a positive guy with tons of bench experience, which will be a welcome change.

Pacific: 4

West: 14


AVERAGE RANKING Pacific: 4.9 | Standings West: 14.8 | Standings



Click below to see more predictions
Follow our NBA coverage on Twitter here.