Expert predictions: New York Knicks
Originally Published:
October 20, 2009
ESPN.com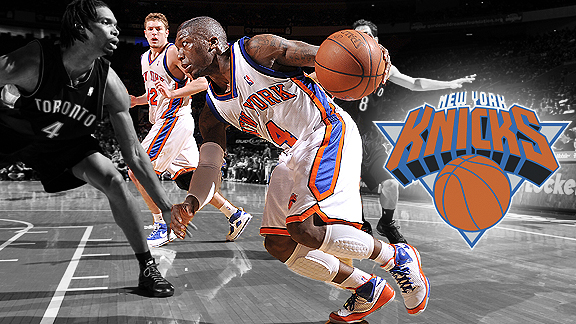 ---
Predicted Finish For New York Knicks: 2009-10
ANALYST
COMMENT
PREDICTIONS
Sure, the fans and front office are excited about the upcoming cap space, but what's in it for the seven players on expiring contracts? Not the makings of a unified team.

Atlantic: 4

East: 12

They are going to score points, but they need to improve on defense. Their hopes clearly ride on next summer.

Atlantic: 4

East: 11

Nearly half the team is playing for a contract and once the losses start mounting, it'll be "get mine'' time, especially since this season is being sacrificed like a fattened calf for the summer of 2010. "LeBron or Bust'' is a great motto for your fan base, but not for your undermanned squad.

Atlantic: 4

East: 12

Does anyone in NY even care about this season? Mike D'Antoni will do his best to field an entertaining team, and we'll be watching the development of Danilo Gallinari closely, but the truth is everyone really only has one question -- will LeBron be wearing a Knicks jersey next season?

Atlantic: 4

East: 12

Jemele Hill, ESPN.com Page 2 | Hill's picks

Can we just fast-forward to the summer of 2010, when the Knicks' real season begins? With seven players in the last year of their contract, a ninth consecutive losing season is a foregone conclusion. The Knicks need to get something out of Gallinari and Eddy Curry -- that's how ugly things could get.

Atlantic: 4

East: 14

Good news: Knicks have gobs of cap room in 2010. Bad news: It's still 2009. Added size in Darko Milicic and Jordan Hill should help the D, but paucity of decent wings makes it tough to play Mike D'Antoni's preferred style successfully.

Atlantic: 4

East: 13

The majority of the players are on one-year contracts. Fun-and-gun will be on display. Lee will be among the league leaders in double-doubles. Harrington will be the team leader in scoring, while Chandler continues to really impress. Robinson is a sixth man of the year candidate.

Atlantic: 4

East: 13

Oh, what a delight it'll be over the first three months of the season to watch the many ways they try to showcase Jared Jeffries. ("Look, he guards centers and PGs, and he's making his 3s and finishing his drives with dunks. Want him?")

Atlantic: 4

East: 12

What would qualify as a successful season for the Knicks? Al Harrington would obviously say playoff berth. Team prez Donnie Walsh would undoubtedly settle for trading Eddy Curry or Jared Jeffries before July 1.

Atlantic: 4

East: 13

This is "wait until next year" for the Knicks, but some of their pieces have a lot to prove if they hope to stick around. And D'Antoni's style is even more fun to play when constantly an underdog with something to prove. Gallinari might shock the league a bit this season.

Atlantic: 5

East: 13


AVERAGE RANKING Atlantic: 4.1 | Standings East: 12.5 | Standings



Click below to see more predictions
Follow our NBA coverage on Twitter here.