Expert predictions: Los Angeles Lakers
Originally Published:
October 21, 2009
ESPN.com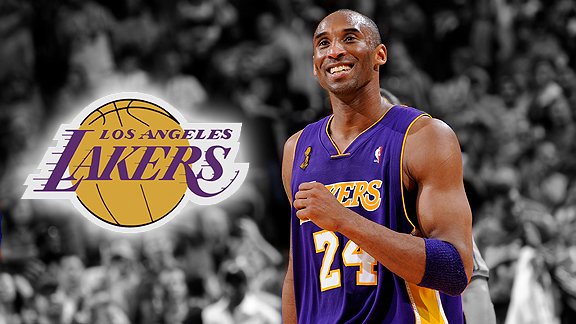 Predicted Finish For Los Angeles Lakers: 2009-10
ANALYST
COMMENT
PREDICTIONS
Next parallel MJ challenge for Kobe Bryant: Keep the Lakers focused with the Rodmanesque Ron Artest around. If Kobe's will prevents the Lakers from becoming reality-show fodder, it's another title on the way for Los Angeles.

Pacific: 1

West: 1

This team is better with Ron Artest. That was a brilliant move by Mitch Kupchak. They improve defensively and get a guy who can score 25-30 points on a night when Kobe might be off. Offensively they are as good as any team in the league.

Pacific: 1

West: 1

They were already a top-4 offensive team. Now with Ron-Ron, they'll be top-4 on the other end too. Yeah, they took a risk, but the rewards could be devastating -- for opponents. Also, look for bigger and better things from Andrew Bynum.

Pacific: 1

West: 1

The Lakers are still the team to beat, but I think they lost something when they essentially swapped Trevor Ariza for Ron Artest. Artest provides toughness and grit, but at a huge cost of stability. Nevertheless, even if Ronnie implodes, the Lakers may still have the goods to rule the West.

Pacific: 1

West: 1

Jemele Hill, ESPN.com Page 2 | Hill's picks

L.A. checkmated everyone by adding Ron Artest and Khloe Kardashian in the same offseason. Artest's presence guarantees Kobe will be fresh for the repeat run. L.A.'s weak link Fish, who was the man in the playoffs, returns a year older and likely a step slower.

Pacific: 1

West: 1

Scary thought: L.A.'s two best young players (Andrew Bynum and Jordan Farmar) gave them virtually nothing in its title run. Throw in Artest's Rottweiler D and doses of Kobe and Pau, and the only West team that can beat L.A. is L.A.

Pacific: 1

West: 1

Every player in the league will still give Kobe the ball at crunch time. Gasol is an All-NBA performer. Odom along with Artest will provide all kinds of post-up and perimeter problems on both ends of the floor. They need Bynum to dominate.

Pacific: 1

West: 1

Strangely, IMHO, the conventional wisdom seems to be that the Artest signing will backfire on them. I see it giving them some knocks and pings, but making them far more dangerous in the postseason. Got 'em at 65-68 W's.

Pacific: 1

West: 1

The champs are indeed this season's favorites to win it all again. Their potential is frightening if Artest blends in and Bynum can finally be a consistent force. But they'd be bigger favorites on this scorecard had they just kept Ariza.

Pacific: 1

West: 1

They are the easy pick, but I have some concerns about Artest. Will he be consumed by the media circus surrounding the team? Will he accept a well-defined role by season's end? They'll win a ton regardless, but may not be there at the end.

Pacific: 1

West: 1


AVERAGE RANKING Pacific: 1.0 | Standings West: 1.0 | Standings



Click below to see more predictions
Follow our NBA coverage on Twitter here.